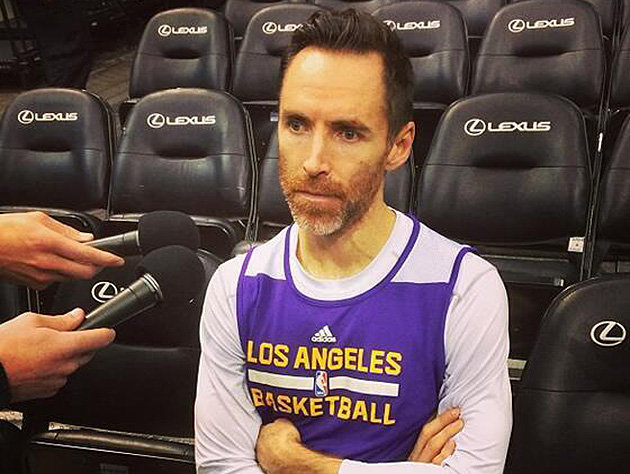 There is no set protocol for celebrating aging — or more appropriately, having aged — in the NBA. If anything, there's a standard set of practices for decrying the aging process; an intricate cocktail of denial, anger, grief and, hopefully, acceptance of what cannot be changed; what can only be delayed, never fully avoided. This feeling exists for every participant in the NBA, from the players to the coaches; from the owners to the fans. One needs to only look at Kobe Bryant's historically stubborn season to get an idea of how aging is viciously battled, with everyone — the player, the coach, the owners and the fans — holding on to the ideas of what things were more than the reality of how things are. Of course, this makes an incredible amount of sense, that aging is seen as an enemy rather than a friend one makes later in life, after the physical damage to the body has been done, and the mind has moved on to different things. No pregame celebration filled with dazzling highlights will replace the thrill of creating the plays being highlighted, no jersey in the rafters or touching video tribute will match the sheer, soaring elation of seeing the players play. The players are here to perform, and once the act is done, and the final bows have been made, the player fades from our minds. There is little to like about aging, in the NBA; in professional sport.
In this regard, the current case of Steve Nash presents an interesting conundrum. To their credit, the individuals who have brought you this exquisitely abhorrent version of the Los Angeles Lakers have been very civil about the Nash "issue," as much as it exists as an issue in a season full of damn issues for a sour milk team like the Lakers. Naturally, there are certain rules and about discussing the absence of the former two-time MVP. After all, facts are facts: Nash has played 65 games over the course of two seasons, and in those games, either limped about the court, or failed to resemble even the most diluted version of the dynamic, debonair hardwood marshal who, arguably, was the most dominant point guard over the last decade. Head Coach Byron Scott — he of blank stares and vapid post-game pressers, who loves watching his team languish for interminable minutes on end while the other team runs up the score like an arcade game — has balanced his puzzlement with politeness when discussing the AWOL point guard, stating as recently as Monday that Nash would have a place on the team, if and when he decides to show up. Jeanie Buss, who has truly become her brother's keeper, has answered "I don't know," when asked on the radio where, exactly, Steve Nash is, but also has been gracious and kind when discussing the politics of paying a man who seems to have no intentions of playing again, at least as a Los Angeles Laker. There are far more pressing matters in Lakerland these days than a sidelined great who never was all that great, at least as a member of the home team.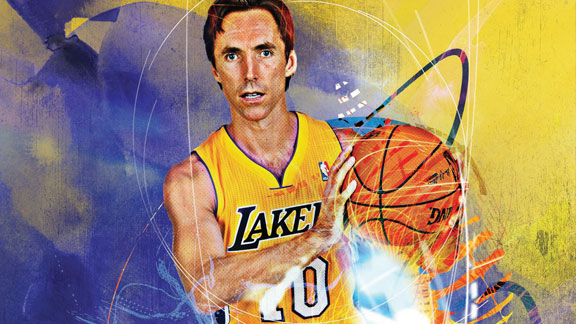 Aside from a small, unsurprisingly-humorous commercial — likely filmed before the season started, when it seemed like Nash was going to be, at least, a part-time NBA player this year — the ol' boy Steve is gone. Like the Lakers, we, as fans of the NBA, have no idea where he is, and if he'll ever be back. This is not the case for most former greats, who we can still vaguely place a finger on, even if their sneakers stopped squeaking for us ages ago. Nash has ghosted his NBA career; grabbed his coat, called Uber, and left the party without saying goodbye. The standard protocol for saying "so long" to a beloved player who also produced amply during his career — a celebration tour throughout the league, video tributes and campy jersey retirements, wistful recollections of brilliant Suns teams and a bento box of "what if?" moments — is going by the wayside, in this case. It seems as if Steve Nash will not submit to anyone's emotions, and grant them a final chance to show their love. He will not play the role of Derek Jeter, waving appreciatively to crowds in foreign cities, standing and clapping, essentially, for memories, and not for individuals. He will not be Mariano Rivera, snapping shots with arena staff, and using his last days as a professional athlete to thank those who made him who he is. He is done, finished, wrapped up. Whatever emotions you have must be swallowed harshly, choked down like a wad of chewing gum. The chance for public remembrance is over, and frankly, we never had a chance to begin with.
In such a crowded league, where attention spans are short, and careers are even shorter, it is sometimes easy to forget that scores of players retire each year, and fade into the dusk completely. Many have led long, fruitful careers. Others barely had a chance to get going. For many of these players, these departures from the game are by design, and not by choice, and the endgame, of course, did not play out as seamlessly as was originally planned. In most cases, there is no celebration of aging; the player is not offered a contract, and so they do not return, to either the team they previously played for, or to the league that kept them handsomely employed for a period of time. In Steve Nash, however, we have a different scenario: a player who cannot perform on the court, but is still cherished by both the team with whom he currently holds a financial contract, and beloved by the fans with whom he holds countless emotional contracts. The accolades made by the player, as well as the memories generated from the accolades, seem worthy of some sort of recognition; a final curtain call, a hearty round of applause, a seat on the bench next to the coaches. But seemingly, for Nash, that doesn't seem necessary; not on an awful team, not when the stakes are so very low. There need be neither a celebration against aging, or a last stand to try and fight it, and lace up the sneakers one last time. It seems as if the mind has moved on; to a place where the Lakers, NBA, or basketball can not reach him, and he can move on with his life.
If Steve Nash never showed his face again, not much would change. The focus of the average fan has firmly shifted to different players; younger stars who are starting to enter their primes and shifting the balances of power throughout the association. On a base level, this seems fine. Nash himself seems fine with it; a mutual parting of ways, peace made between two parties who used to have something special, but over time, have grown older; have grown apart. But to not go through the motions, and at least offer a chance to celebrate his accomplishments undoubtedly leaves a bad taste in the mouth of the average fan. It is not the expected outcome for anyone who once looked at his flowing hair, youthful exuberance, and blur of a body, and felt that the fun could last forever, or at the very least, for seven brilliant seconds.