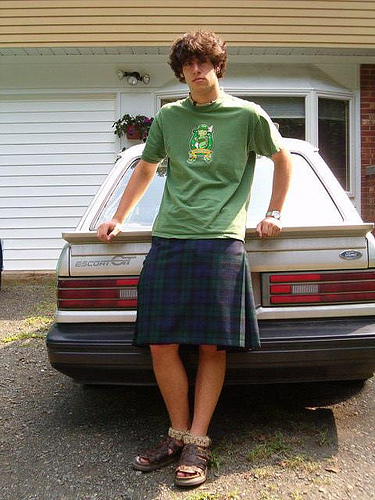 Back in, as of today: anklets.  Count it!
Monday: Orlando Magic at Golden State Warriors (7:30 PM PST on League Pass)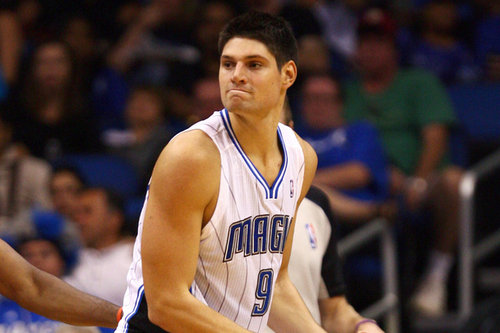 Oh me oh my I am pumped for this game.  I don't even have to be that much of a homer anymore; the 9-6 Dubs are looking good!  They won a litmus test game on Saturday, beating a playoff team (maybe, Indiana is confusing me) at home.  And the Magic looked good against Dwight and the Fake Show (burn!) Sunday night.  Nic Vucevic was ballin'.  This should be good Monday night fun.
Tuesday: Oklahoma City Thunder at Brooklyn Nets (4:30 PM PST on NBA TV)
Draper's hero Hasheem Thabeet takes on the prolific Brook "Lyn" Lopez in this compelling Tuesday night TV dinner.  Will Hasheem be the flavor destroying Hidden Valley Ranch on the Stoffer's Salisbury Steak, and slow down Lyn Lope, who is averaging 20 a game?  Or will he be the sneaky Sri Racha on the Hungry Man Chicken, and inadvertently boost Lyn Lope to another All Starlike night?  Buy a $189 cable package to find out.
Wednesday: Toronto Raptors at Sacramento Kings (7:00 PM PST on League Pass)
I'm not sure what it is about this wanton battle that calls to me.  It seems to have the potential for a drunken punch up at a wedding-type affair.  Boogie Cuz is going up against Jonas Valanciunas, who has scrapped around a bit in the games I've watched.  This could get hot!
Thursday: New York Knicks at Miami Heat (5:00 PM PST on TNT)
Because your other option is Dallas vs. Phoenix, aka the much anticipated preview for 11th in the West.  And everyone's going to spit Eastern Conference Finals preview at you.  How 'bout the Knicks win a playoff series first?
Friday: Houston Rockets at San Antonio Spurs (5:30 PM PST on League Pass)
I keep watching Rockets games.  Why? James Harden has sort of slacked as of late, and Jeremy Lin has looked all of the 13 and 8 type of guy that we thought he probably was.  Omer Asik, of course.  11 and 12.3 a game. 3rd in rebounding.  8th in field goal percentage.  One of only three guys averaging a double-double.  Make no mistake: he's the reason the Rockets are 8-8, and have a chance to hang around to compete for 8th.  Let's see if they can be competitive in this game, their first against San Antonio.
Saturday: Atlanta Hawks at Memphis Grizzlies (5:00 PM PST on League Pass)
Really, just the most interesting matchup on a sort of crappy college potluck of games.  Sacramento and Portland is your cop-out store-bought pasta salad.  Golden State and Washington is that bulgar thing that you're positive has no salt in it.  And nothing says poorly prepared sesame noodles like Detroit/Cleveland.  Horford and Z-Bo.  J-Smoove and Rudy.  It'll at least be delivery pizza.  Thank god for delivery pizza guy.  You knew his family came from money.
Sunday: Milwaukee Bucks at Brooklyn Nets (3:00 PM PST on League Pass)
The Hangover Game — my new favorite tradition — sucks this week; Toronto and Clippers.  I think I'd puke in my bed if Blake Griffin gave me a pouty look while my head pounded.  So we'll watch Larry Sanders' Bucks take on the Nets again.  Yeah, Larry Sanders.  Dude's averaging about 9 and 10 in his last 5, and the Bucks are still hanging on to first place in the blah Central.  But let's be honest, I'll be watching the Niners.