As we pass the halfway mark of the season, there are some players and teams that are dramatically outpacing preseason expectations. Are these surprising performances for real, or are some players and teams simply flying too close to the sun? Can we expect the same level of production throughout the second half of the season, or are we about to witness serious reversion to the mean?
Golden State Warriors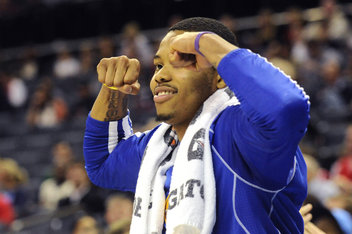 Jacob Greenberg: Perhaps a bit too close to the sun, but not fatally. The Warriors can't lose any more players to injury. Really, not a single one, at least not for a lot of time. I think 5th seed's a bit high; the Dubs will settle around the 7th seed.
Kevin Draper: Despite 20 years of history suggesting otherwise, 40 games is too big of a sample size for me to predict doom and gloom for the Warriors. Their current record is the perfect reflection of their talent: not as good as the top teams in the West, but a step ahead of those just fighting for a playoff birth.
Alex Maki: 25-15 seems like a record they could maintain. They seem clearly better than the teams scrapping for their playoff lives in the Western Conference, but not as good as the top performers.
Long Bui: Sure, as long as Steph Curry stays healthy that offense will be effective. David Lee deployed correctly is a very good player, Klay can shoot, and I like the flashes I'm seeing out of Festus Ezeli… but let's take a moment and recognize the good work put in by Jarrett Jack. He had a nice jump shot coming into the NBA but this year he seems to be making just a few more long rainbow twos every game and is superb as the secondary driver of this offense. He's the reason they'll end up in the playoffs at 50-32 instead of 42-40 and on the outside looking in.
Andrew Snyder: Since I rolled my ankle pretty hard throwing a sweet no look pass on the fast break at LifeTime yesterday, I'm guessing it's about that time of year for Steph Curry… However, if Curry can pull a reverse Kevin Love, play out the entire season (and playoffs) and continue to shoot 46% from three (ridiculous), then I think the Dubs could really keep up their winning ways.
Jamal Crawford
Jacob Greenberg: Probably too close to the sun on the potential All-Star berth. You figure Russ West makes the team. Steph Curry, Tony Parker, James Harden and Damian Lillard are in the conversation as well. I'm not sure Jamal deserves to be in over two of these guys. I'd definitely buy him as a 6th man candidate; I think it'll be a two man race between him and Jarrett Jack (provided the Warriors aren't flying too close to the sun).
Kevin Draper: Crawford takes a bunch of shots, and is making them at a slightly higher rate than normal. His defense remains atrocious, requiring the Clippers to scheme around him every time he is on the court. He is who he has always been, nothing more.
Alex Maki: I will probably be proven wrong, but traditionally Jamal Crawford has passed the eye test as a player, but has not been as serviceable when examining the advanced statistics. As we say in social psychology, the best predictor of future behavior is past behavior. I think he regresses to the mean a bit.
Long Bui: I think we're finally seeing Jamal Crawford used correctly. He shouldn't be your PG, your SG, or anything else to your team other than a mercenary off the bench with a license to do whatever he wants, which, as we well know means shoot the ball as often as possible. Here's an interesting stat stolen from the Elias Sports Bureau (current as of a week ago):
Jamal Crawford scored 30 points but had only one assist and no rebounds in the Clippers' win against the Rockets. He is the only NBA player this season to score at least 30 points in a game without producing either two or more rebounds or at least two assists. The previous player to do so had been Crawford himself, in a 34-point, one-rebound, one-assist performance for Portland, last April against Golden State.
Sounds about right, kudos to you VDN for understanding your personnel.
Andrew Snyder: Will Jamal Crawford's usage rate continue to be so high when Chauncey Billups returns and now that Grant Hill has broken into the rotation after also returning from injury? However, in the few Clips games I've seen, he's been playing with ridiculous confidence this season, which never hurts in the NBA.
Carmelo Anthony
Jacob Greenberg: He's flying a bit close to the sun. I think he's gonna have his ups and downs. Some recent injuries slowed him down this month a bit anyways.
Kevin Draper: I think Carmelo's shooting is a bit unsustainable, but there is a good reason he has better numbers: he is taking better shots. It's not that he has been surprisingly hot shooting his long twos, it is that he is eliminating them in favor of 3-pointers and shots at the rim, much better shots.
Alex Maki: Not to totally contradict my previous answer, but I think Carmelo has figured it out now. The difference between Carmelo and Jamal Crawford? Carmelo has rearranged his game, and takes smarter shots these days. I think Crawford is pretty much shooting the same shots, but just hitting them at a higher clip.
Long Bui: Carmelo doesn't need to take stupid shots anymore because he has JR.
Andrew Snyder: Amare Stoudamire and Iman Shumpert's returns from injury are going to take a few touches away from Carmelo per game, but I think he'll continue to score at a career high efficiency even if his overall stats decline. I think one key to Melo's success this year is the aging bunch of elite forwards in the Eastern Conference. Nobody other than LeBron and maybe Luol Deng, Luc Richard Mbah a Moute, or KG in the East can really guard Melo, and old division rivals that could have frustrated Melo last year in NY, like Paul Pierce (old), or Andre Iguodala (Denver), are out of the stopping Melo picture.
Tim Duncan
Jacob Greenberg: I buy it. I watched the Spurs two nights ago, and it was amazing to see how active Duncan was on messing with the Sixers big men. Just made all the right rotations, stepped into passing lanes. Timmy is the best center in the Western Conference, and it's really not even that close.
Kevin Draper: Duncan's an old man, and this is only the first half of the season. As his minutes drop, as he gets more fatigued, as the Spurs start sitting him nearer to the playoffs, those numbers will drop.
Alex Maki: I think Timmy D keeps it going this year. Again, I think as a savvy veteran he has made some tweaks to his game that will hold through for the year. Next year is another story, however…
Long Bui: I assume most people don't watch the Spurs enough to realize this but TD's changed his game! He doesn't really play in the block anymore and he shoots the elbow jumper so frequently that it would be troubling except that he keeps making them. It's actually a half decent play call at this point. Another Chip Engelland [Spurs assistant coach] success story? Also career best FT % and legacy calls will certainly keep his offensive stats inflated but Jacob's right, his defense looks tremendous, too. One may suspect PED use or Germany to be in play at this point but you look at Duncan, still classically un-chiseled, and you realize he's lost a bunch of weight, too. So yea, this is very sustainable.
Andrew Snyder: I'm still bitter that the Celtics missed out on Duncan after they mercilessly tanked for him. Probably missed out on a few banners there—I have no idea if he'll be able to keep up his ridiculous season.
New York Knicks
Jacob Greenberg: Knicks are flying so, so close to the big hard sun. There always seems to be a flurry of injuries following all star break, and I have a sinking suspicion the Knicks will get bit by the injury bug right when some weaker teams (aka Chicago) get some players back.
Kevin Draper: The Knicks hot start was fueled by near record 3-point shooting. They are in the midst of, and due for some more, serious regression to the mean.
Alex Maki: Pretty much everyone in the East sucks, as far as I am concerned. So yes, the Knicks will finish in the top four when the season ends. Can they make a serious run at the Finals? I actually think so.
Long Bui: What, no love for the Wages of Wins Journal (scroll to bottom)? I thought it a laughably poor prediction at the time but I think they nailed it. Either that or JKidd proves intangibles can lead to winning.
Andrew Snyder: BOLD PREDICTION: The Knicks will lose 4-2 to the Heat in the Eastern Conference semis after finishing with the 4 seed in the East. #TrippingIcarus