Editor's Note: The idea for this post was shamelessly taken from Akis Yerocostas, who did a very similar exercise a couple of years ago. If you love the idea, credit him. If you hate the content, blame Kevin.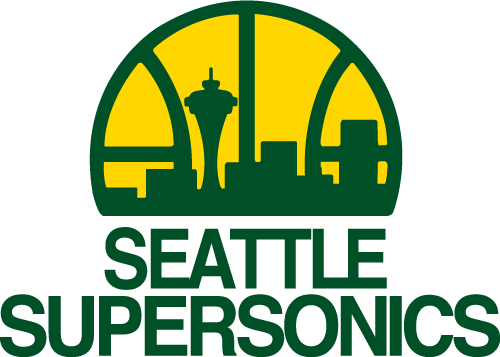 If I had to hazard guess at the eventual resolution of the Sacramento Kings murky existence, I would predict that they will be bought by a Seattle-based ownership group led by Chris Hansen and moved to Seattle. Indeed, Hansen has reached an agreement with the Maloofs to buy the Kings from them, and reportedly will put a $30 million non-refundable deposit down by February 1st.
But as we have cautioned in every post about the Kings, don't consider this a done deal until it is actually a done deal: the Maloofs have screwed up "done deals" before. Besides, Sacramento mayor Kevin Johnson won't let the Kings leave without a fight, and I wouldn't advise on betting against Kevin Johnson.
There is a third solution however, that splits the difference between Kings Leave and Kings Stay: expansion. Kings blogger Tom Ziller has written extensively on this issue, and the case for expansion is probably more compelling than you think.
So, what if a local group bought the Kings and the NBA granted Seattle an expansion franchise? What would that expansion team look like? The first thing to note is that there are a lot of unknowns in this situation. The last expansion came in 2004 when the Charlotte Bobcats entered the league, and there is no guarantee that it will be done the same way nearly ten years later. But if Seattle did get an expansion team, and the league held an expansion draft the same way they did for the Bobcats, who would be on the new-look Sonics?
Let's find out!
Before we begin, it is important to know that there are a bunch of phenomenally complicated rules that guide the expansion draft. Trust that I have read all of those rules, am following those rules, and you don't want to. If you really do want to know all the rules, read the post that inspired this one. The most pertinent rules are:
The Sonics must select at least 14 players that are under contract for the 2013-14 season, or will be restricted free agents
The Sonics can only select one player from each team, and can only select players that are left unprotected
Each team may protect up to eight players on their roster, who cannot be selected by the Sonics, but they must leave at least one player unprotected
With that out of the way, I will play GM for every NBA team and decide who they would protect and who they wouldn't. Generally, I am making decisions based up on what I think the team would do, not what I think they should do.
Atlanta Hawks
Protected Players: Al Horford, Louis Williams, Jeff Teague, DeShawn Stevenson, John Jenkins, Ivan Johnson
Unprotected Players: Mike Scott
Pretty easy choice for the Hawks to make. If there are indications that Lou Williams' season ending injury is even more serious, maybe he is left unprotected.
Boston Celtics
Protected Players: Kevin Garnett, Rajon Rondo, Brandon Bass, Courtney Lee, Jason Terry, Avery Bradley, Jared Sullinger, Fab Melo
Unprotected Players: Paul Pierce, Jeff Green
I'm not positive that the Celtics would dangle Paul Pierce, given that he is the face of the franchise, but they should. He will be making $15 million next season…and at this point is barely worth half that. Jeff Green is also a pretty obvious choice, as I'm still wondering why they signed him to such a big contract in the first place.
Charlotte Bobcats
Protected Players: Ramon Sessions, Michael Kidd-Gilchrist, Gerald Henderson, Bismac Biyombo, Kemba Walker, EJ Mullens, Brendan Haywood, Jeffery Taylor
Unprotected Players: Ben Gordon, Tyrus Thomas
The Bobcats would LOVE it if the Sonics took either Ben Gordon or Tyrus Thomas off their hands.
Chicago Bulls
Protected Players: Derrick Rose, Luol Deng, Joakim Noah, Rip Hamilton, Kirk Hinrich, Taj Gibson, Jimmy Butler, Marquis Teague
Unprotected Players: Carlos Boozer
It has been rumored for over a year that the Bulls would amnesty Boozer to get out from under his contract…here's their chance for an even better outcome.
Cleveland Cavaliers
Protected Players: Anderson Varejao, Kyrie Irving, Tristan Thompson, Dion Waiters, Alonzo Gee, CJ Miles, Wayne Ellington, Tyler Zeller
Unprotected Players: Marreese Speights, Omri Casspi (RFA), Jeremy Pargo (RFA), Josh Selby
The Cavs have a ton of young, cheap pieces under contract, making it pretty difficult to guess who they would hold onto. It's definitely possible they hold on to Speights and instead leave Wayne Ellington unprotected.
Dallas Mavericks
Protected Players: Dirk Nowitzki, Shawn Marion, OJ Mayo, Vince Carter, Rodrigue Beaubois, Jae Crowder, Jared Cunningham
Unprotected Players: Darren Collison (RFA)
If the Mavericks were ballsy, or if they really wanted to keep Collison, they would leave Dirk unprotected, as I think there is almost no chance the Sonics would take him. But given that they are currently giving Mike James (Mike James!) serious minutes, I don't think they have any qualms with losing Collison.
Denver Nuggets
Protected Players: Andre Iguodala, Danilo Gallinari, Wilson Chandler, Andre Miller, Kosta Koufos, Ty Lawson, Kenneth Faried, Jordan Hamilton
Unprotected Players: JaVale McGee, Anthony Randolph, Evan Fournier, Julyan Stone (RFA)
It will be pretty easy for the Nuggets to leave Randolph, Fournier and Stone unprotected, but that final spot is a real conundrum. I wouldn't be surprised if Jordan Hamilton or Wilson Chandler were left unprotected, but given George Karl's recent negative comments about him, I'm going to guess it is McGee.
Detroit Pistons
Protected Players: Jonas Jerebko, Greg Monroe, Brandon Knight, Austin Daye, Andre Drummond, Kyle Singler, Kim English, Khris Middleton
Unprotected Players: Rodney Stuckey, Charlie Vilanueva, Tayshuan Prince, Vyacheslav Kravtsov
At first glance, it looks like the Pistons have to make tough choices with 12 players under contract next year. But as it turns out, the Pistons have three bad contracts they would love somebody to take and a guy you've never heard of.
Golden State Warriors
Protected Players: Andrew Bogut, David Lee, Carl Landry, Stephen Curry, Harrison Barnes, Klay Thompson, Festus Ezeli, Draymond Green
Unprotected Players: Richard Jefferson, Andris Biedrins, Brandon Rush, Jeremy Tyler, Kent Bazemore
While the Warriors do have to leave five players unprotected, they're all pretty easy choices. The Warriors have a core of eight players, so they protect them. It would be nice to have Brandon Rush next year, but he will be coming off of major surgery, and isn't a clear upgrade over Draymond Green or Harrison Barnes, especially at his price.
Houston Rockets
Protected Players: James Harden, Jeremy Lin, Omer Asik, Patrick Patterson, Marcus Morris, Terrance Jones, Chandler Parsons, Greg Smith
Unprotected Players: Carlos Delfino, Toney Douglas (RFA), Royce White, Donatas Motiejunas
Oy vey. Daryl Morey will have some incredibly tough decisions to make. I could see Jeremy Lin, Marcus Morris or Terrance Jones all being left unprotected. No matter how you slice it, the Rockets will lose a quality player.
Indiana Pacers
Protected Players: Roy Hibbert, Danny Green, George Hill, Ian Mahinmi, Gerald Green, Paul George, Miles Plumlee, Lance Stephenson
Unprotected Players: Tyler Hansbrough (RFA), Orlando Johnson
Maybe they keep Hansbrough instead of Plumlee.
Los Angeles Clippers
Protected Players: DeAndre Jordan, Caron Butler, Blake Griffin, Jamal Crawford, Grant Hill, Eric Bledsoe, Willie Green
Unprotected Players: Trey Thompkins
Did you even know Trey Thompkins was an NBA player? Did you know he was on the Clippers roster? Did you know he's signed through next year?
Los Angeles Lakers
Protected Players: Pau Gasol, Steve Nash, Metta World Peace, Chris Duhon, Jordan Hill, Steve Blake
Unprotected Players: Kobe Bryant
Yeah, I know what you're thinking, but there is absolutely no way the Sonics take Kobe. Besides the fact that he will be a 35 year old with around 1500 games worth of wear and tear on his body, making $30 million, I'm almost positive the Sonics cannot take him and stay under their artificially-low salary cap (more on that later).
Memphis Grizzlies
Protected Players: Zach Randolph, Marc Gasol, Mike Conley, Jerryd Bayless, Darrell Arthur, Quincy Pondexter, Tony Wroten, Jon Leuer
Unprotected Players: Rudy Gay, Hamed Haddadi
Really unsure what the Grizzlies would do. I kind of think they'd dangle one of Gay/Gasol/Randolph because of their obvious concerns with paying the luxury tax, and of that trio, I'm guessing it's Gay.
Miami Heat
Protected Players: LeBron James, Chris Bosh, Dwyane Wade, Udonis Haslem, Mario Chalmers, Shane Battier, Ray Allen, Norris Cole
Unprotected Players: Mike Miller, Joel Anthony, James Jones, Rashard Lewis, Dexter Pittman (RFA)
Too many okay bench options for the Heat to protect them all. They might leave Cole unprotected instead of Joel Anthony or James Jones.
Milwaukee Bucks
Protected Players: Monta Ellis (PO), Ersan Ilyasova, Luc Mbah a Moute, Ekpe Udoh, Brandon Jennings, Larry Sanders, John Henson, Tobias Harris
Unprotected Players: Drew Gooden, Doron Lamb
This one is pretty obvious.
Minnesota Timberwolves
Protected Players: Kevin Love, Andrei Kirilenko, Derrick Williams, JJ Barea, Ricky Rubio, Greg Stiemsma, Dante Cunningham, Malcolm Lee
Unprotected Players: Brandon Roy, Luke Ridnour
The Timberwolves will leave Brandon Roy unprotected (who might even have retired by the time this draft is conducted), but the last spot isn't clear. It might be Greg Stiemsma, or even Dante Cunningham, instead of Luke Ridnour.
New Jersey Nets
Protected Players: Joe Johnson, Deron Williams, Brook Lopez, Kris Humphries, Gerald Wallace, Reggie Evans, Marshon Brooks, CJ Watson (PO)
Unprotected Players: Mirza Teletovic, Tyshawn Taylor, Tornike Shengelia
The Nets could dangle one of their huge contracts, but even if the Sonics took it, the Nets would still be in terrible financial shape. Might as well move forward and compete with the current core as long as they can. If they like Teletovic a lot, maybe they keep him over CJ Watson.
New Orleans Hornets
Protected Players: Eric Gordon, Ryan Anderson, Anthony Davis, Robin Lopez, Jason Smith, Austin Rivers, Greivis Vasquez, Lance Thomas
Unprotected Players: Darius Miller, Brian Roberts
I'm guessing the Hornets like Lance Thomas more than Miller or Roberts, but that's just a guess.
New York Knicks
Protected Players: Carmelo Anthony, Tyson Chandler, Steve Novak, Raymond Felton, Jason Kidd, JR Smith, Iman Shumpert, Pablo Priginoi
Unprotected Players: Amar'e Stoudemire, Marcus Camby
The Knicks would love to be rid of Amar'e's contract. Alas, I don't think anybody is that stupid.
Oklahoma City Thunder
Protected Players: Kevin Durant, Russell Westbrook, Thabo Sefolosha, Nick Collison, Serge Ibaka, Jeremy Lamb, Perry Jones, Hasheem Thabeet
Unprotected Players: Kendrick Perkins, Eric Maynor (RFA), Reggie Jackson
This may be the one place where my wishes overruled "reality", as for some bizarre reason the Thunder organization seems to really like Kendrick Perkins. He should absolutely be left unprotected. Maybe the Thunder like Maynor more than Thabeet, but lately he's barely gotten any run.
Orlando Magic
Protected Players: Jameer Nelson, Aaron Afflalo, Glen Davis, Nikola Vucevic, Moe Markless, Gustavo Ayon, Andrew Nicholson, E'Twauon Moore
Unprotected Players: Hedo Turkoglu, Al Harrington, Quentin Richardson, Ishmael Smith
The Magic are moving forward with a young core built around Afflalo, Vucevic, E'Twauon Moore and others. They would be more than pleased if the Sonics took any of these unprotected contracts off their books.
Philadelphia 76ers
Protected Players: Thaddeus Young, Spencer Hawes, Jason Richardson, Evan Turner, LaVoy Allen, Jrue Holiday, Arnett Moultrie
Unprotected Players: Kwame Brown
Kwame's actually on a pretty reasonable contract, but there's still no way he is protected.
Phoenix Suns
Protected Players: Goran Dragic, Marcin Gortat, Luis Scola, Jared Dudley, Shannon Brown, Markieef Morris, Kendall Marshall, PJ Tucker
Unprotected Players: Michael Beasley, Channing Frye
LOL Michael Beasley. It's possible the Suns keep Frye instead of Scola, but I doubt it.
Portland Trail Blazers
Protected Players: LaMarcus Aldridge, Nicolas Batum, Wes Matthews, Damian Lillard, Meyers Leonard, Jared Jeffries, Sasha Pavlovic, Will Barton
Unprotected Players: Joel Freeland, Victor Claver
The Blazers seem to vaguely like Freeland, but these are still two easy choices to leave unprotected.
Sacramento Kings
Protected Players: Chuck Hayes, Tyreke Evans, Jason Thompson, DeMarcus Cousins, Thomas Robinson, James Johnson, Jimmer Fredette, Isaiah Thomas
Unprotected Players: John Salmons, Marcus Thornton, Francisco Garcia, Aaron Brooks, Travis Outlaw, Tyler Honeycutt
The Kings could go in so many different directions here, and this is the set of decisions I feel the least confident about. I think they obviously keep Hayes, Thompson, Cousins, Robinson, Fredette and Thomas, but I wouldn't be surprised by them swapping out Evans or Johnson for literally any of the unprotected players.
San Antonio Spurs
Protected Players: Tony Parker, Tim Duncan, Boris Diaw, Tiago Splitter, Danny Green, Kawhi Leonard, Nando De Colo, Gary Neal
Unprotected Players: Matt Bonner, Cory Joseph, Patty Mills
The Spurs would love to be able to protect Matt Bonner, but the numbers just don't work.
Toronto Raptors
Protected Players: Amir Johnson, Kyle Lowry, Linas Kleiza, Jonas Valanciunas, DeMar DeRozan, Terrance Ross, Aaron Gray, Ed Davis
Unprotected Players: Andrea Bargnani, Landry Fields, John Lucas
The Raptors have to leave Bargnani unprotected and hope he is taken right? They don't actually still think he's good right?
Utah Jazz
Protected Players: Derrick Favors, Enes Kanter, Gordon Hayward, Alec Burks, Jeremy Evans, Kevin Murphy
Unprotected Players: Marvin Williams
You've never heard of Kevin Murphy because he has only played 13 minutes this year, yet he still has more value than paying Marvin Williams $8 million a year.
Washington Wizards
Protected Players: Nene, John Wall, Bradley Beal, Jan Vesely, Kevin Seraphin, Chris Singleton, Trevor Booker, Jordan Crawford
Unprotected Players: Emeka Okafor, Trevor Ariza
It's possible the Wizards could leave Nene unprotected if they don't want to pay for the rest of his contract, but I think it's more likely Okafor and Ariza are left unprotected.
***
The Sonics have 77 players players that they can choose from, and must select 14 of them. Before we select, there are a few more stipulations. In their first year of operation, the Sonics salary cap is only 66% of what it is for the rest of the league, meaning their cap is ~$40 million instead of ~$60 million. They also must assume the full contract of any player they select. So, if they take Amar'e Stoudemire, they must pay him his $20 million a year. Finally, if any player they select is a restricted free agent, instead of getting that player, they instead become an unrestricted free agent, allowed to negotiate with any team in the league.
Here are all of the players the Sonics have to choose from, roughly sorted by position.
Point Guards
Josh Selby, Darren Collison, Julyan Stone, Toney Douglas, Steve Blake, Luke Ridnour, Tyshawn Taylor, Brian Roberts, Eric Maynor, Reggie Jackson, Ishmael Smith, Aaron Brooks, Cory Joseph, Patrick Mills, John Lucas
Shooting Guards
Ben Gordon, Jeremy Pargo, Evan Fournier, Rodney Stuckey, Kent Bazemore, Orlando Johnson, Doron Lamb, Brandon Roy, Quentin Richardson, Marcus Thornton, Francisco Garcia
Small Forwards
Paul Pierce, Jeff Green, Omri Casspi, Tayshaun Prince, Richard Jefferson, Brandon Rush, Carlos Delfino, Rudy Gay, Mike Miller, James Jones, Tornike Shengelia, Darius Miller, Hedo Turkoglu, Michael Beasley, Victor Claver, John Salmons, Travis Outlaw, Tyler Honeycutt, Landry Fields, Marvin Williams, Trevor Ariza
Power Forwards
Mike Scott, Tyrus Thomas, Carlos Boozer, Anthony Randolph, Charlie Villanueva, Royce White, Donatas Motiejunas, Tyler Hansbrough, Trey Thompkins, Rashard Lewis, Marcus Camby, Al Harrington, Channing Frye, Joel Freeland, Matt Bonner, Andrea Bargnani
Centers
Marreese Speights, JaVale McGee, Vyacheslav Kravtsov, Andris Biedrins, Jeremy Tyler, Hamed Haddadi, Joel Anthony, Dexter Pittman, Drew Gooden, Mirza Teletovic, Amare Stoudemire, Kendrick Perkins, Kwame Brown, Emeka Okafor
Those 77 players being sorted, here is the team I would select, and the initial depth chart.
PG: Luke Ridnour, Reggie Jackson, Brian Roberts
SG: Kent Bazemore, Orlando Johnson, Doron Lamb
SF: James Jones, Tyler Honeycutt
PF: Matt Bonner, Donatas Motiejunas, Mike Scott
C: JaVale McGee, Marreese Speights, Hamed Haddadi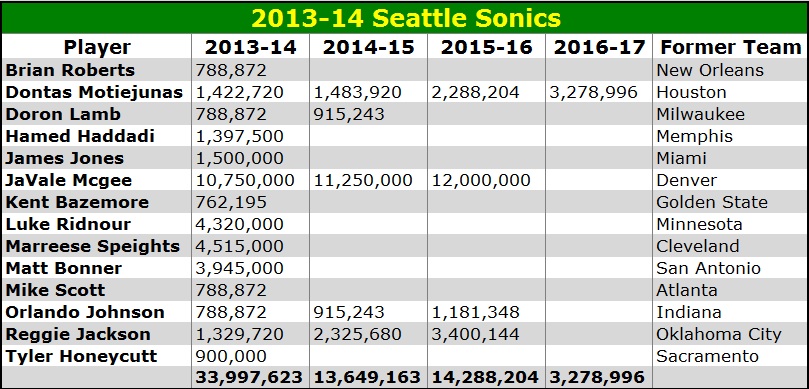 My first reaction: wow, this team is absolutely awful. Its only NBA starter-quality players are JaVale McGee and MAYBE Luke Ridnour and Matt Bonner. The rest of the team can barely crack an NBA rotation.
The first decision to make was whether to take any big money players. Most them are obvious passes, but JaVale McGee is intriguing. He's had his issues, but he remains a phenomenally athletic, young center that has show flashes of brilliance. Players like him just can't be picked off the scrap heap, and I think the Sonics would have to take him, even though he immediately takes up 25% of their salary cap.
Luke Ridnour, James Jones, Matt Bonner and Marreese Speights were all pretty obvious picks. All of those guys have shown that they are decent NBA players, and I still hold out a bit of hope that Speights can reach his potential as a starter.
After that, I might as well be throwing darts in the dark, trying to hit a former second round draft pick. Motiejunas was a first round pick, so why not? Reggie Jackson has been decent for OKC. I once saw Tyler Honeycutt absolutely tear apart a Kansas team that has the Morris twins, Tyshawn Taylor and Thomas Robinson. Mostly, the guys I've selected are players who have been given almost no run in the NBA, and are on minimum contracts. Seeing as the Sonics won't be any good in year one (or year two, and probably year three), it's worth taking a flyer on these players and hoping that one or two of them develop into solid NBA players.
There are also a few players I would've liked to have taken, but couldn't because I had already selected a player from their team. Tyler Hansborough, Patty Mills, Evan Fournier, Brandon Rush and Toney Douglas were all under consideration before I decided I would rather have one of their current teammates.
So there you have it, your absolutely awful 2012-13 Seattle Sonics. I know you're all excited up there in Seattle, but I'd hold off on those season tickets unless you're a masochist…or former Bobcats fan.
Would you have selected different players? Don't think the Nuggets would leave JaVale McGee unprotected? Get at me in the comments.
There were a few places where salary numbers or free agency status was unclear. In all such disputes, the numbers and designations at hoopshype were the final arbiter.