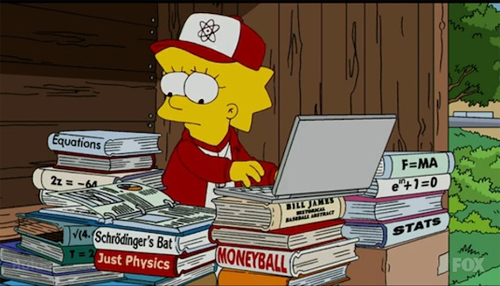 The advanced statistics revolution is out of control. At first it was a breath of fresh air in a room full of stodgy, unenlightened writing. Advanced statistics were a needed dose of empiricism during an era when columnists distorted the definition of fact and opinion. They also led to a newfound respect of previously under-appreciated players, coaches and teams whose contributions to winning weren't properly recorded, and have led to a more nuanced understanding of the game of basketball.
Perhaps it was inevitable, but we have reached a point in which the quality of basketball analysis has been degraded specifically because of the increased ubiquity of statistics. Basketball writing today suffers from three problems that certainly existed 10 or 20 or 30 years ago, but not to the same degree that they exist today.
An unjustified depiction of certainty.

On a scale of understanding from "impossible to tell if LeBron James is better than Adam Morrison" to "why bother playing the games, our simulations are 100% accurate", we are much closer to the former than the latter. The increasing closeness to the sort of certainty provided by quantitative evidence has been grossly exaggerated, and thus statistics are being used by writers to end discussions rather than begin them.
Take this perfectly reasonable, defensible position: Tony Parker is one of the best five point guards in the NBA. If somebody wrote a piece asserting this,  a sneeringly toned comment like, "You're an idiot. According to [insert advanced metric of choice] Parker was the seventh best point guard in the NBA last year" would show up.
There are numerous problems with this commonly uttered sentiment. It posits that there is a definitive way to objectively measure the skills and abilities of basketball players to rank them. There isn't. It also creates a false tautology. Does best mean across the past season, or a career, or perhaps for the upcoming season? To those misusing advanced statistics, it doesn't matter because the definition of best is the one with the biggest [insert advanced metric of choice], and we measure who the best is by [insert advanced metric of choice]. Within this self-reinforcing cycle, there is no room for discussion.
Advanced statistics are an improvement on the information understood 20, or even five, years ago. We have a better understanding of how players claim rebounds now that we don't solely measure rebounds, but also total rebound percentage. What that means is we better understand the skill of rebounding. What that doesn't mean is that we fully understand the skill of rebounding. Any practitioner of advanced basketball statistics should tell you that there is still much more about basketball that we don't know than we do know.
So why are advanced statics used more often to win arguments than they are to explore questions?
Statistical illiteracy.
Perhaps one of the causes of the above problem is statistically illiterate writers. Primary schools, secondary schools and colleges across the United States are pushing math requirements and increasing the use of numbers in traditionally non-quantitative courses. Educators have recognized that many (most?) Americans graduate without enough statistical literacy to effectively do their taxes, save for retirement, calculate the cost of groceries and every other regular chore that requires math.
Statistical illiteracy impacts both the production and the consumption of basketball writing. While quantitative education has moved forward at a glacial pace, the use of advanced statistics in basketball writing has rapidly emerged in the last ~10 years. This has led to an increasing disconnect between the statistics NBA teams use and the average basketball writer's ability to understand them. Thus you have writers (not necessarily maliciously) incorrectly using advanced statistics and misinterpreting what they do and do not say.
Now, writers (and people) have always warped numbers to suit their purposes—lies, damned lies, and statistics and what not—and advanced statistics are no different. The difference is that 10 years ago the average basketball reader understood the concept of points, rebounds and assists and how they should be used. They were an effective check against any abuse of the numbers.
Instead we have a situation where writers are incorrectly using advanced statistics—usually by believing they are much more powerful and explanatory than they really are—and readers that don't have the tools to evaluate their claims.
The writing sucks.
This is perhaps a complaint based solely on aesthetics, but what is writing if not arranging words in not only an informative but also pleasing arrangement? As Ethan Sherwood Strauss asserted when I interviewed him, numbers and words don't meld together seamlessly. It is easier to write a compelling story without numbers because the writer has full control over the prose. The addition of numbers takes some of this control away and gives it to the "empiric" evidence being presented.
Take this piece on shooting efficiency for example. The conclusions may be interesting, but the 1,000 words are stilted and awkwardly broken up by graphs and explanations of the methods used. That's not to say it's impossible to write well with numbers—Sherwood Strauss points to John Hollinger and Tom Haberstroh as writers able to do it effectively and compellingly—it is just more difficult to do so. There aren't too many basketball writers who are good at writing, fully understand advanced statistics and have the ability to seamlessly combine these two things.
***
I'm not here to tell anybody how they should or should not enjoy the game of basketball. If the increased use of advanced statistics in basketball writing is something that you enjoy, bully for you.
From a macro perspective however, the use of advanced statistics is leading to a degradation in the overall quality of basketball writing. Especially among those that would traditionally be described as "bloggers", the movement towards empiricism has resulted in a reduction in creative forms of writing. There is more writing that serves to win an argument or be "right" about a point, and less writing designed to explore the unknown. There is a greater homogeneity in viewpoints when it is agreed upon that [insert advanced metric of choice] is the ultimate arbiter of value.
Sometime later today the NBA will officially announce that it is purchasing and installing movement-tracking cameras in all 29 NBA arenas. This torrent of data will no doubt be a boon for analysts inside basketball, but for my enjoyment of the craft of basketball writing, I hope it stays proprietary for at least a few years.