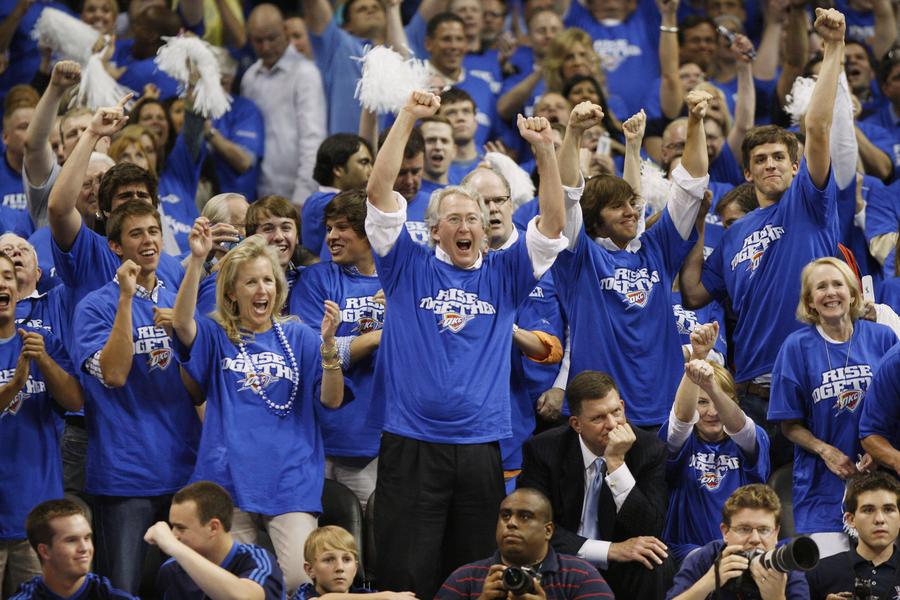 Oklahoma City Thunder fans are universally considered some of the "best" in basketball. They show up, selling out nearly every game, and while they're there they scream their heads off. "Welcome to Loud City" is an incredibly lame moniker, but it's not exactly inaccurate. When players are asked which opposing arenas are the loudest, Chesapeake Energy Arena comes up frequently.
Of course, Thunder fans don't know much about rooting for a bad basketball team. They went 22–59 in their debut season, but fans were contented by a new team, new arena, and rooting for an exciting young core anchored by the previous season's Rookie of the Year. Since then they've won at least 50 games (not counting the lockout) each season, and made several deep playoff runs. As only the Thunder, they are tied with the Lakers for highest franchise winning percentage in NBA history.
This season, however, the Thunder might actually be bad, or at least not good. They're 1–4 and face a rough month without Kevin Durant or Russell Westbrook. Practically every other player in the roster is banged up in some way, and they still have Kendrick Perkins and a coach who can't really design an offense. In a Western Conference where 50 wins might be the minimum to get into the playoffs, the Thunder are in real danger of missing out.
The Thunder also don't have the brightest of futures. They continue to refuse going into the luxury tax, hampering their options. The haul of picks they got back in the ill-conceived trade of James Harden haven't yielded even a borderline star. There are also the rumblings (perhaps just fantasy) that Durant wants to return home to DC in 2016. It's not inconceivable to think we might be witnessing the decline of the Oklahoma City Thunder.
If that does happen, what will the Thunder fans do? Everybody likes to judge and make pronouncements about which fanbases are "good" or not, but are they really doing anything other than simply pointing at fans of successful franchises? We have numerous examples of "good" fanbases deserting their team, and "bad" ones showing up in great numbers.
The Trail Blazers sold out a million games in a row, and then dropped to near-bottom of the league in attendance for a while in the mid-2000s following the Jail Blazers debacle. Throughout most of the 1990s the "best fans in the NBA" title was given to Charlotte Hornets fans, and things got so bad there the team had to move, and things still haven't really recovered. The previously loud-as-hell Arco Arena has been silent since 2008.
On the flipside, do Warriors fans really deserve the "best" moniker? Sure, they showed up more than expected given a decade of terrible play, but it's not like they were selling out the arena, intimidating opponents, and travelling well. Are Knicks fans really that passionate, or is it just that approximately a billion people live in New York City and occasionally a couple of them go to a basketball game?
The bigger question here is how we define a "good" fan whether it even matters. Does a "good fan" just need to show up? Are fanbases measuredly solely by attendance? Does engagement matter? Some fanbases are regarded as "smarter" than others, does it make them better than the others? Is it fair to ding Angelenos for going to the beach instead of a game when, say, Bucks fans (sorry) have nothing better to do in February? Raptors fans are known to bombard writers of pieces they find overly critical; is this the behavior of a good fanbase or a bad one?
Talking about fanbases is usually just a circle-jerk of people claiming worthless superiority, most prominently (in my experience) in English football. A Manchester United fan gets caught shouting racist abuse and everybody says United fans are the worst. United fans then point to the Chelsea Headhunters "fan" group, heavily-linked to white supremacist organizations. Chelsea fans then point to Liverpool fans toppling retaining walls at Heysel Stadium and killing a number of people. Someone then comes in and say all of those fans are just "bad apples" that don't represent a fanbase, and nothing is learned.
But this doesn't mean that all fanbases are equal, or not worth studying. A sociology student should do their thesis on the reasons why the Atlanta Hawks have struggled to connect with Atlantans. Fans of the pretty bad Utah Jazz are still mostly sticking around, is this because there are no other big four sports in Salt Lake City, or something else? Black and white fans support the hometown team in different percentages, surely impacting certain fanbases. There is a wealth of interesting data and observations to make—things that can help us better understand regions and society in general—that usually gets flattened to support a "good fan" or "bad fan" argument.
Call me a bandwagoner or liberated fan, but there should be no shame in not showing up to watch a terrible team. Your money is hard earned, and you shouldn't feel obligated to spend it on what is ultimately an unsatisfying entertainment experience. If your favorite team is owned by an asshole like Donald Sterling, you don't deserve abuse for not supporting him. If you prefer to enjoy games by quietly sitting and observing instead of screaming, you should do you.
At some point, Thunder fans are going to stop showing up. Pretty much all fanbases do. And when they stop, they'll probably have a pretty good reason for doing so. It won't be because they're a good fanbase or a bad fanbase, but because a lot of individual people made similar decisions not to go to a basketball game, and that's ok.