I turn 30 on Tuesday. Ty Lawson turns 28 on Tuesday. Coincidence? I think so, probably.
Monday: San Antonio Spurs at New York Knicks (7:30 PM EST/4:30 PM PST on League Pass)
Monday marks my maiden voyage on the USS Knickerbockers, and I am excited for our first date on the balmy seas of casual fanhood. I've got nothing against the Knicks; like most honest, hard-working NBA fans, I think the NBA is a better place when the Knicks aren't straight trash. Now, like the rest of us, I've seen my fair share of exciting Knicks starts over the last few seasons — or, at the very least, Knicks starts that don't immediately smell like an improperly refrigerated cadaver. At the moment, the Knicks sit daintily at 2-1, and look like a precociously competent outfit. Melo is still playing his divisive brand of bully ball, but it looks functional next to his counterparts; an entertaining mix of stout, experienced veterans and spry, chipper young guns. In particular, guard Langston Galloway (13, 5, and 3 per contest) and forward Lance Thomas (11 and 3 off the bench) stand out, looking like bona fide contributors on any NBA team. I'll be rooting hard for the 'Bockers in this game: I've grown tired of Spurs hero-worship, and I'll take any loss the East can deal to a top team west of the Rockies.  

Tuesday: Orlando Magic at New Orleans Pelicans (8:00 PM EST/5:00 PM PST on League Pass)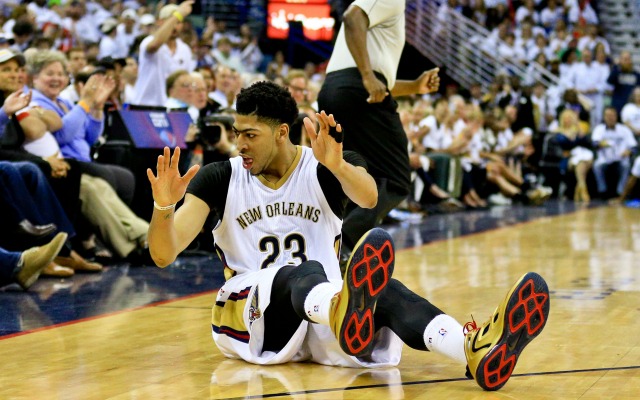 With both teams at 0-3, this game is more like the Orlando Tragic versus the New Orleans Pelican'ts. What a bunch of losers. Not a single win between the two of them. That's what losers are; entities that don't win, and these aren't winning entities. That's too bad, since both of these teams were thirst traps for NBA aficionados wanting to pick an unorthodox team to play the role of spoiler. For both teams, it's pretty easy to figure out what's going wrong. The Pelicans are dealing with all sorts of injuries right now, and seem to be struggling a bit with new coach Alvin Gentry's new systems. The Magic are right there; they've lost all three of their games by an average of 3 points (including a 139-136 double overtime classic to the Thunder late last week). They probably will figure it out; it's early as shit. Both teams have players I like (the Magic bench, especially, looks pretty fun), and the NBA season is too long to not have some sort of turnaround. And one of them will win on Tuesday. But right now they are LOSERS, unforgivable LOSERS. Win a game, you bottom-feeding cretins.
Wednesday: Los Angeles Clippers at Golden State Warriors (10:30 PM EST/7:30 PM PST on ESPN)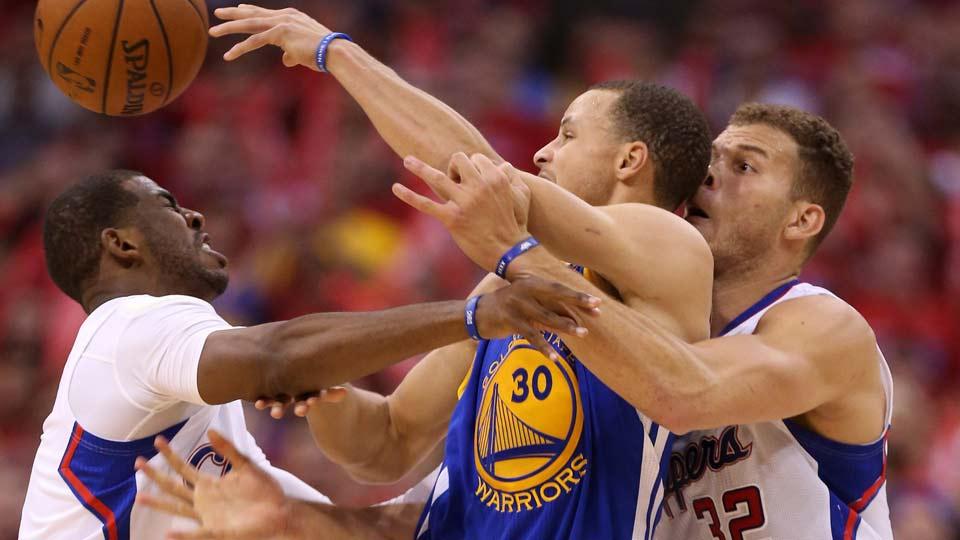 The Homer Game of the Week features my beloved DEFENDING 2015 NBA CHAMPION GOLDEN STATE WARRIORS versus the not-champion Los Angeles Clippers, our ornery, loquacious rivals to the south. I expect this to be NBA Shakespeare, replete with all the regular motifs that carry this drama-filled contest. The players will clutch their breasts, aggrieved and irate; they will stomp and preen in a manner that we've grown to recognize and appreciate. The crowd will rise and fall with the action, screaming their praise to their chosen heroes, and throwing epithets at the arbitrary villains. Perhaps this is what has made the Warriors/Clippers rivalry stand out above the rest: while there is certainly a lack of historical substance, there is a preponderance of public disdain, a group of very sensitive men. God bless them all. I will be there, wearing my replica ring, shrieking maniacally with the rest of them.    

Thursday: Miami Heat at Minnesota Timberwolves (8:00 PM PST/5:00 PM EST on League Pass)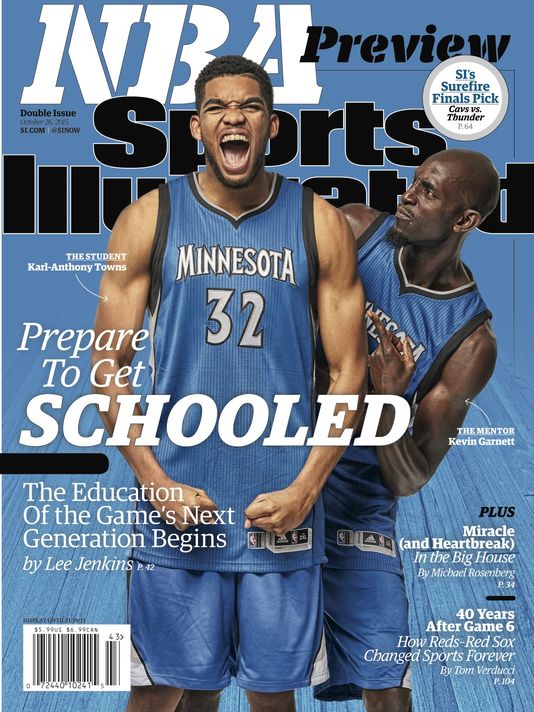 Behold the Minnesota Timberwolves, a team laden with heavy hearts yet traveling lightly: zero losses, two wins after one week of play. It's been dynamic rookie center Karl Anthony-Towns and swashbuckling point guard Ricky Rubio in the lead, flanked ably by a varied cast of supporting contributors. It doesn't matter what team you prefer to root for: watching Kevin Garnett jump up on the bench, flexing his muscles and howling to the rafters, after Karl Anthony-Towns completes a strong move to the basket, is pure basketball butter melting on perfectly browned toast. I can't quite recall a team with quite the backdrop as compelling as these Wolves: tasked with nothing more than being slightly better than they were last year, yet now buffeted by a desire to be even better for a coach who would've been there with him, were he not, well, dead. It's those thoughts that just help guide you back to what's happening on the court; it's hard to know what is going on in the heads of mourning men.
Friday: Detroit Pistons at Phoenix Suns (9:30 PM PST/6:30 PM EST on League Pass)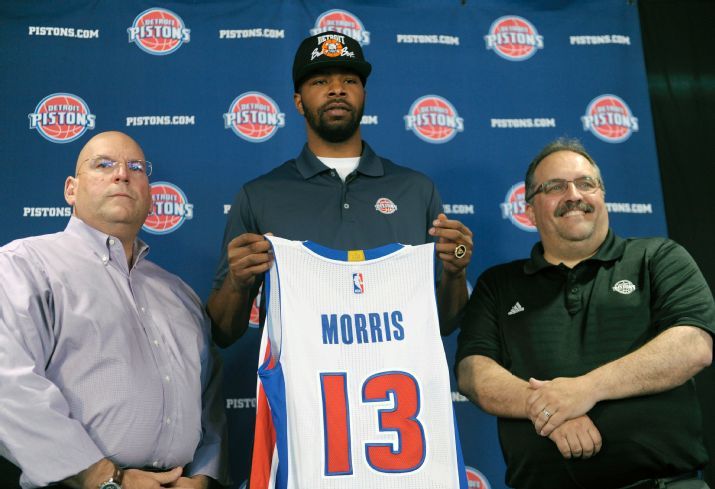 There was a lot of bluster this summer directed at Markieff and Marcus Morris — the twin brothers bloggers called "the Morrii" whenever they wanted to hurl moralistic takes on their erratic on and off-court behaviors — and as such, I am interested to watch their reunion this Friday when the Pistons take on the Suns. In the immediate sense, their separation seems to have been good for them: both are producing for their respective teams, and both seem to have realized they can live without the other one. Which is good. At age 26, separation can be hard. I knew they'd be okay.
Saturday: Golden State Warriors at Sacramento Kings (10 PM EST/7 PM PST on League Pass)
Psst. Hey. Can I tell you a secret? Cool. Here it is: the Kings/Warriors rivalry is waaaaaaaay better than the Clippers rivalry. Shut up, you always talk over me. My opinion is correct. Here's why: the teams are closer together; separated only by about 2 hours of frustrating highway. Warriors versus Kings games have always been chippy; even during the lean years from 2006-2012, unlike the mud-sucking Clippers, who always played nondescript games against the Warriors until very recently. The Kings always play up for the Warriors, and the Warriors typically play down to the Kings (though maybe not anymore, since they are the DEFENDING 2015 NBA CHAMPIONS), so I'm always having a minor temper tantrum while the game goes on. And at the moment, it doesn't matter which 10 players are on the court: it's going to be weird, hateful basketball, like it's always been, forever and always. Now shut up, I'm watching Boogie lose his shit.
Sunday: Los Angeles Lakers at New York Knicks (3:30 PM EST/12:30 PM PST on League Pass)
Alright, yeah. I get it. "Lakers versus Knicks on a Sunday? Who are you, ABC?" Sure. It's a simpleton's choice, I know. Low hanging fruit. Lowest common denominator basketball. But goddammit, I'm 30 now. I can still believe that Kobe Bryant will engineer a 50-point classic on the Garden floor. I can still dream that the greatest individual performer since Jordan can get me out of my seat. But fuck, neither me, nor him are getting any younger. And truth be told, most of the other games suck that day.