In the past week Louisville's Kevin Ware brutally broke his leg live on national TV and his team rushed to profit from it, Rutgers coach Mike Rice was fired after a video was released of him hurling basketballs and homophobic slurs at his players and there are now reports that Auburn's football team paid players and changed grades for them. Banner week for the moral bastion that is the NCAA. Let's all hope that Ed O'Bannon's lawsuit burns the entire damn institution to the ground.
In the meantime though, we have a tournament bracket! In case you missed the introduction to the bracket, we've created 16 basketball teams made up of the alumni from the same college and are pitting them against each other. Go check out each team's roster and make your pick. Have you filled your bracket out yet?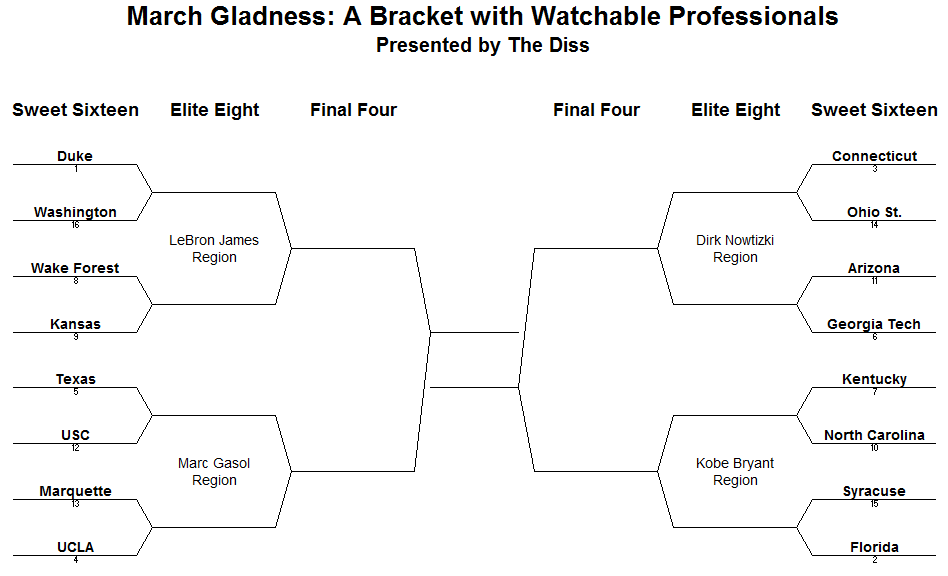 Sweet Sixteen
LeBron James Region
Duke (1) v Washington (16)
A 16 seed has never upset a 1 seed in the Men's NCAA Tournament, and that won't change on this day. Washington is bettered at every position by Duke, and never really stood a chance.
Wake Forest (8) v Kansas (9)
Kansas has more firepower across their entire lineup and has the better coach. Their sixth man isn't essentially useless, and they have a couple of players who have been to an NCAA championship game. Unfortunately for the Jayhawks they don't have the best player on the court, and make no mistake, Chris Paul is by far the best player on the court. While it will be close, CP3 won't let his team lose.
Marc Gasol Region
Texas (5) v USC (12)
USC has enough streaky athletic wings to cause most teams problems on defense, but then again most teams don't have possibly the best lockdown perimeter defender this side of Tony Allen. On the flip side, USC does have a great defensive 4 in Taj Gibson, but they only have one Taj Gibson. Tim Floyd truly has a Sophie's Choice: does Gibson guard Kevin Durant or LaMarcus Aldridge? Either way, USC is going down.
UCLA (4) v Marquette (13)
Dwyane Wade may be the best player on the court, but just barely. UCLA's second best player is Kevin Love: Marquette's is Jimmy Butler. Advantage: UCLA.
Dirk Nowitzki Region
UConn (3) v Ohio St (14)
Mike Conley has the defensive ability to cause Kemba Walker problems. Michael Redd on Ray Allen? Not so much. Ohio State actually has a chance if Evan Turner plays up to his potential like he never has before, but I wouldn't count on it.
Georgia Tech (6) v Arizona (11)
An incredibly fun matchup that will inevitably come down to size. At shooting guard the Wildcats' Andre Iguodala is going to absolutely destroy Anthony Morrow at both ends of the court. But Derrick Williams is a tweener 4, and Jordan Hill absolutely isn't a center. With perhaps the tournament's most talented frontcourt in Young, Favors and Bosh, that just won't cut it.
Kobe Bryant Region
Kentucky (7) v UNC (10)
What to make of this Kentucky team? On potential alone they're a top three team, but on NBA accomplishments they're a bottom three team. We decided to split the difference. John Wall will have as much trouble staying with Ty Lawson as Lawson will with Wall, and Felton has enough of that old fat man "know how" to neutralize Bledsoe. With a veteran front court North Carolina might be favored to frustrate Cousins and out muscle Davis, but Zeller and Ed Davis are even greener. Kentucky survives.
Florida (2) v Syracuse (15)
Yeah right, Melo. Horford and Noah take turns expending full energy on the defensive end harassing Anthony, while on offense the Syracuse loses every single individual matchup. Even the 2–3 zone can't slow down these Gators.
Elite Eight
Duke (1) v Wake Forest (8)
There is no doubt that Chris Paul will get his, but this round he's battling against Kyrie Irving, a magnitude better of a player than Mario Chalmers. With the point guard matchup reduced to only a slight Wake Forest advantage, Duke crushes.
UCLA (4) v Texas (5)
UCLA was REALLY rooting for Pac-12 brethren USC to knock the Longhorns off last round, as this matchup is brutal for them. Avery Bradley has the ability to somewhat take Russell Westbrook out of his game, gumming up the Bruin attack. Their second offensive option is Kevin Love, but LaMarcus Aldridge is a quick enough stretch 4 that doesn't mind guarding Love out on the perimeter. Mbah a Moute has as good of a shot of stopping Durant as anybody, which really isn't that good of a shot, and Aldridge is much too quick for Love to effectively guard on the defensive end. Look for Texas to run some 4-5 pick and rolls with Durant as the ball handler to devastating effect.
UConn (3) v Georgia Tech (6)
Honestly, Georgia Tech runs away with this one, and it isn't even particularly close. Looks like the seeding committee had them too low. Ray Allen may be better than Tech's Ray Allen-lite, but Thaddeus Young is so much freaking better than Rudy Gay it isn't even funny, and Emeka Okafor has little chance at stopping Chris Bosh. Or will Caron Butler try to guard Bosh and leave Favors to Okafor? lol
Florida (2) v Kentucky (7)
Ahh, here are the experienced bigs that Kentucky was able to escape last round. The Gators Noah, Horford and Lee are the big kids on the playground compared to Davis and Cousins, and are about to steal their lunch money. Wall and Bledsoe may run Beal and Parsons to death, but Beal and Parsons will hit more than enough threes to make up for it. This one will come down to the big bullies pushing around the 20 year olds masquerading as NBA bigs.
Final Four
Duke (1) v Texas (5)
The most exciting game of the tournament right here. Eventually it will come down to two great offensive players, and their perfect defensive counters. Does Bradley crack against Irving, or Battier against Durant? Battier is good, but it is doubtful that he can stay with Durant for the full 40 minutes that Rick Barnes is likely to play him. This game could really go either way, but Durant gives Texas the edge they need.
Florida (2) v Georgia Tech (6)
So which of these teams with three starting power forwards do you like better? All tournament long the Gators big men have run rampant, but while they may be a bit of a size advantage against the opposing Georgia Tech bigs, they don't have a skill advantage. With none of six consistently able to create their own shot, the team with the true point guard will get the best looks. Beal and Parsons are better than Jack and Morrow, but neither of them have the skill set that this matchup requires.
Championship Game
Texas (5) v Georgia Tech (6)
First Durant went up against 2012 NBA Finals nemesis Shane Battier, and now he gets to try and extract revenge against Chris Bosh. Across the board these two teams are evenly matched. Bradley pressures Jack into difficult scenarios, while Bradley isn't a true point guard and struggles. Morrow can't play D, but Tucker can't play O. Durant, Thompson, Young and Favors are sooo long it boggles the mind, and Aldridge and Bosh are perhaps the two most offensively proficient bigs in the game today. But nobody can check Durant.