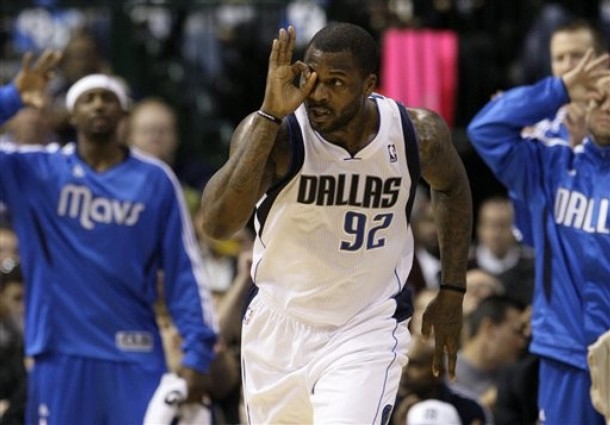 As a recreational basketball player, the 2011 Dallas Mavericks hold a special place in my heart because they seemed like the most "human" team to win an NBA championship in my time as a conscious fan of the sport.  Indeed, there was no shortage of vaunted resumes on that team; Dirk Nowitzki is one of the greatest offensive talents to ever play the game, and nearly every professional who donned the Mavericks uniform that season had had at least one All Star game under their belts, or some piece of hardware celebrating a personal accolade.  But against that imperfect version of the modern Miami Heat — rockstars in terms of promotion, but not quite living up to the billing on-court yet — that Mavericks team filled a cinematic role played by teams like the Mighty Ducks and the Bad News Bears.  There were many people to love on that team, from an unconscious Dirk, to a brash Jason Terry, to a menacing Tyson Chandler, to a calculating, sharshooting Jason Kidd.  But me?  I tried to be like DeShawn Stevenson, because he gifted me with my pickup basketball pro-sona.
I don't think it matters whether you're a weekend warrior who gets together once a month with friends at the local elementary school, or a dedicated baller who is a regular stud at a high-level closed gym.  In your mind's eye, when you put on your shoes, and step onto the court you are a professional player; crowd roaring, cameras flashing, sneakers squeaking. This is a natural inclination in ballers across the world; a desire to transmogrify into the unfathomably quality players in the iconic jerseys, shaking and baking, stepping back on threes and rising up on mid-range jumpers, swatting shots into imaginary stands and trash-talking to haters worldwide. However, this wanton desire to be a professional athlete doesn't remain static throughout the typical amateur baller's life.  As kids, we gravitate towards the most impressive, marketable, visible players. It can't last forever, though. At some point we realize we aren't going to be the next Jordan, no matter how many times we practice stopping, (pushing off), and draining the jumper to win the Finals. Similarly, we realize we won't be the next Kobe or LeBron; equally transcendent players whose games are unique unto themselves, and poorly imitated by everyone else (especially you).  The dream of being Shaq is equally far-fetched, given the way mass and muscle informed his success.  For the players who boast marketing profiles as impressive as their skillsets, they really only can be taken in from afar; admired but never truly emulated.
Instead, for those of us who continue to lace up their sneakers, this childhood desire evolves into something I like to call a pickup basketball pro-sona.  Like most aspects of our personal developments, this pro-sona begins to develop at a young age, and changes and matures throughout our lifetimes.  An innocent desire to become the Greatest of All Time is tempered by both internal and external factors, like changing bodies, time commitments, and varied levels of health and motivation.  In addition, it is muted by an obvious reality: none of us are going to be Michael Jordan.  So, for those of us who watch the game with some regularity, we pick a more appropriate player who, in our minds, matches our own skillsets, and who we can emulate while we bust out time-tested moves from our respective bags of tricks, and practice long after the run has ended.
The 2011 Mavericks were the first team that made me want to get out and play basketball since I was a kid.  At that point I hadn't really played ball in two or three years, and hadn't really gotten into the Seattle pick-up scene with any sort of earnestness.  But watching Dirk lead his mosaic of re-treads and also-ran's all over a then-hated LeBron and a timid cast of post-Decision bandwagon jumpers (I felt that watching Mike Bibby "run" the point for the Heat was an experience similar to watching Mommy get to third base with Santa Claus) ignited a motivation not felt in me since I was living on a random cul de sac in the North Bay, watching the superstars of the 1990s try to summit Mount Jordan, only to fall flat in dramatic fashion time and time again. It was a feeling of seeing everymen do their labor, and being rewarded on the largest stage that got my eyes twinkling, and inspired me to check out kicks on Eastbay for the first time in ages.  At the time I was living in a house full of other basketball fans.  So once the Mavs and Heat wrapped up their series, and the owners and player's union took center stage, I recruited a group of homies who loved the game, and said they could play, and we headed out to Pratt Park, deep in the heart of the Central District, where a neighborhood gem lay in wait: a covered court with with 1 full sized court and two mini-courts, with flickering lights that kept homeless dudes warm, high school kids drunk and high, and some transplanted twenty-somethings ballin' long into the night.  It also had a fading Sonics insignia on it; perfect motivation for newly motivated weekday (and occasional weekend) warriors.
It was during that summer that I finally figured out my pickup basketball pro-sona.  The Mavericks were still fresh in my mind, so I saw mostly saw Mavs among all my friends, though there was some variance.  Tall, lanky, mop-haired Jason Arends took on the role of Dirk, sizing up jumpers and backing people down by the hoop.  Dulce Gutierrez became a mixture of Jason Terry and JJ Barea, fearlessly driving to the hoop, taking ill-advised jumpers, and sharing the ball (when she felt like it).  The pickup pivot Jim "Big Jim" Hansen, who took to the court with non-athletic spectacles, a fu man chu, and the same adidas Superstars he'd been wearing for years and years, became legendary in the mostly-black neighborhood for sassy ball fakes, drop passes and up-and-unders that resembled Pau Gasol.  Though not a Maverick, Jason Angeles showed his deep abiding love for Kevin Durant by gunning with recklessness from the corner, and driving to the hole to kill you with a surprisingly-effective lefty or righty floater. And me?  Well, I was almost certainly DeShawn Stevenson, for better or worse.
Don't get me wrong: while he was on the Mavericks, I loved DeShawn.  I would gleefully exclaim, "He has no real basketball skill!" whenever he would do anything on the court, regardless of whether that "anything" was positive or negative.  He was fairly good-sized for a shooting guard (6'4") but not overwhelmingly imposing.  He didn't really have a handle; when he'd attempt to create with the ball in his hand, he'd quickly be felled by a trap, and would immediately look for a bail-out option.  He took shots when he was open, but really didn't hit them with any consistent  frequency (though he did go 13-23 from three in the Finals).  And though his hustle and long arms seemed to imply rugged, lock-down perimeter defense, most of the numbers indicated that Stevenson was, at best, a slightly above average defender, and not one who can lock down another team's primary scoiring option on his own.  As the Mavericks starting shooting guard, he seemingly had one job: don't fuck it up for everyone else.  And while he was playing for Big D (he had arrived the previous season in the Caron Butler deal), he mostly did a good job doing this. He was filling a role, despite his shortcomings; doing just enough so that the Mavs weren't playing four-on-five (even though the Heat were basically playing one-on-five, given the struggles of everyone not named Chris Bosh).  He was a valued member of a championship squad.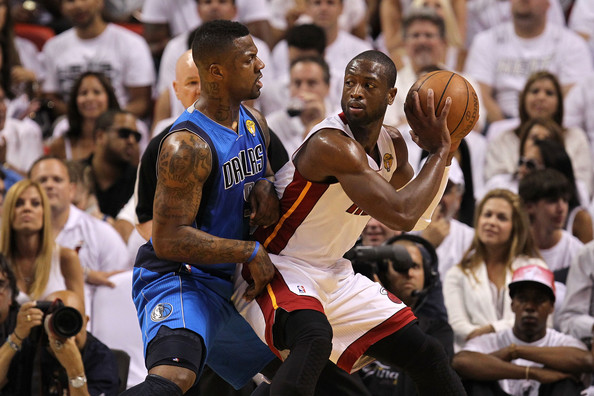 For me, this was empowering.  I had finally discovered my pickup basketball pro-sona; the guy who I could emulate and find worth on the basketball court.  I grew my beard out long that summer, just like DeShawn did while he was in Washington, and while the Mavs were making their championship run.  On defense I would lower my body to the ground just like DeShawn, my arms hanging loosely from my shoulders, fingertips almost touching the ground.  I'd body up my person, reaching all up in his personal bubble, swiping at the ball and likely fouling at a 60% clip.  When I was open, I'd calmly size up the shot and fire away; never forcing the issue, and never shooting from a place where I know I had a poor chance of making it.  Like DeShawn, I knew what I was supposed to be doing, and realizing that, in many cases, I just couldn't really do it.  And in those all-too-frequently-occurring-moments, I'd fervently triy to find a different way to, if not outwardly help, just not hurt the team as they tried to win a game.  And most of the time, I was successful, and due at least partly to my efforts (I felt, I hoped), my team won the game.
But sadly, DeShawn and my problems are similar: unless we are on a really good team, and there really is a dearth of talent, it's easy to be phased out and pick someone else — anyone else — to do the job.  Like DeShawn, I missed far more shots than I took, and was such a reluctant shooter in general that I placed an unfair expectation on my teammates to make up for my offensive deficiencies.  On defense, I could do a decent job slowing someone down, but never completely stopping them.  Taller, stronger and faster offenders still blew by me while I guarded them outside the three point line, and I'd turn around helplessly, hoping either Big Jim or Dirk made the necessary rotation to help me with my flat-footed mark.  If a ref had been out there, I'm sure my foul-per-minute rate would've been pretty unsettling, and I would've put my team into foul trouble rather quickly.  And of course, when crunchtime arrived, and it was time for the real players to make the real plays, I was taking myself out of the play; watching a more skilled offensive player live up to the moment, while I waited patiently on the wings, wanting no part of the bid to either succeed or fail.  Someone else could be The Guy in that moment.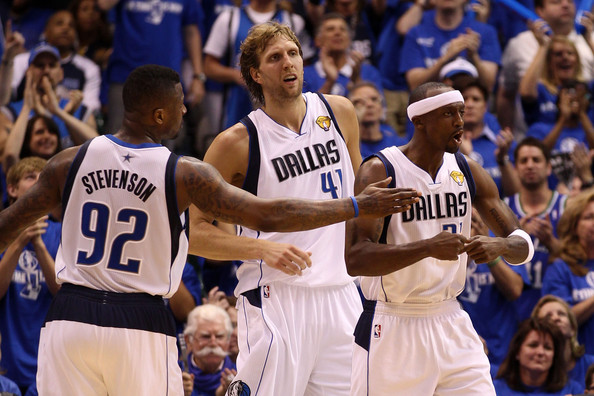 It's not surprising that DeShawn is seeking the company of better players in an attempt to continue his career.  Of course, he wasn't resigned to the Mavs after winning it all in 2011, and ended up spending a forgettable year in New Jersey (bad players never look that great on bad teams), and a slightly less forgettable year in Atlanta (his playing time was cut drastically by the end of last year).  He was waived by the Hawks a week ago to sign newer, better players to contracts, and now DeShawn is on social media, looking for his next run.  He made some headlines last week when he asked his former nemesis LeBron James (in his mind only; it seems that LeBron really never paid him much attention) to put in a good word to Pat Riley, or whomever's making the roster decisions in Miami.  LeBron, unsurprisingly, has yet to respond.  His team is already pretty good.  They don't need another guy to play a role; especially when that role is mostly to ride the pine and be ready to play spot minutes in March when the Big 3 need to catch their breaths before the playoffs.  Those spots are already taken.  DeShawn will sadly have to look elsewhere.
And therein lies the problem with having a pickup basketball pro-sona like DeShawn's.  When you can't do a whole lot except not screw up, your opportunities to shine will dry up rather quickly.  No one needs to play 4-on-5 if they can avoid it, and in most basketball situations — be in the best league on Earth, or a pickup basketball game in the heart of Seattle — there are more appealing options.  A guard who can't dribble or shoot doesn't have much utility on any court, regardless of how many people are watching.  There will be someone better, cheaper, more available, no matter how much you want to just be seen as valued.
Everyone has a pickup basketball pro-sona.  I just wish mine was more useful.  And I suspect DeShawn, in his heart of hearts, feels the exact same way.