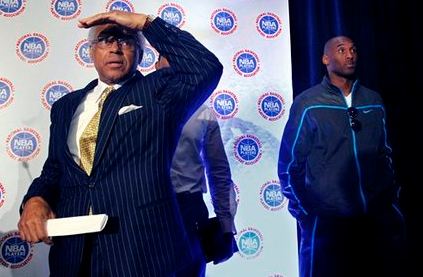 This past Monday, FOX Sports' Jason Whitlock wrote a piece that hypothesized about the leadership and organizational future of the National Basketball Players Association (NBPA), the official negotiating body and labor union for NBA players.  The union has been without an executive director for about six months, after firing former director Billy Hunter due to concerns of graft, embezzlement and nepotism, and Whitlock postulates on individuals who would serve as good replacements, including former NBA executive Stu Jackson, disgraced former player/coach/executive Isiah Thomas, Madison Square Garden executive Steve Mills and Charlotte Bobcats president Fred Whitfield.  Whitlock argues that the new executive director has two main jobs: raise the game's profile internationally, and become an organizing political body for young "black" players who are frequently exploited for the financial gains of others.  "Football and basketball, sports reliant on the talent of young black men, are driving the collegiate power structure — the commissioners of the five power conferences — to reshape the way the NCAA conducts business," writes Whitlock. "Decisions are being made about young football and basketball players and there will be no significant black voices influencing those decisions."  According to Whitlock, the NBPA could be that "significant black voice" moving forward.
Whitlock raises a number of interesting questions worthy of our analysis in his piece.  Some of them is mostly for show — there is little chance that Isiah Thomas would be hired as the public face of the NBA player's union — and we can mostly ignore those parts.  Instead, it seems more prudent to focus on the larger questions Whitlock raises in his analysis, relating to the structure, organization and action of the NBPA, and sports unions in general.  What exactly is a sports union?  What should it look like, and how should it behave?  Who should be the executive director of such a union?  And finally, what role should race play in dictating the policy and procedure of a labor union?  In answering these questions, we learn that Whitlock's wish to create a union that supports the league as much as its membership reflects his feelings on where professional player associations should be heading in general.  Whitlock's union is focused on expanding influence, increasing revenue, and organizing political action.  But is this possible?  And what type of person is best suited to lead this type of union?  The goal of this analysis is to answer some of these questions, and prompt further discussions on the NBPA, as well as player's unions in general.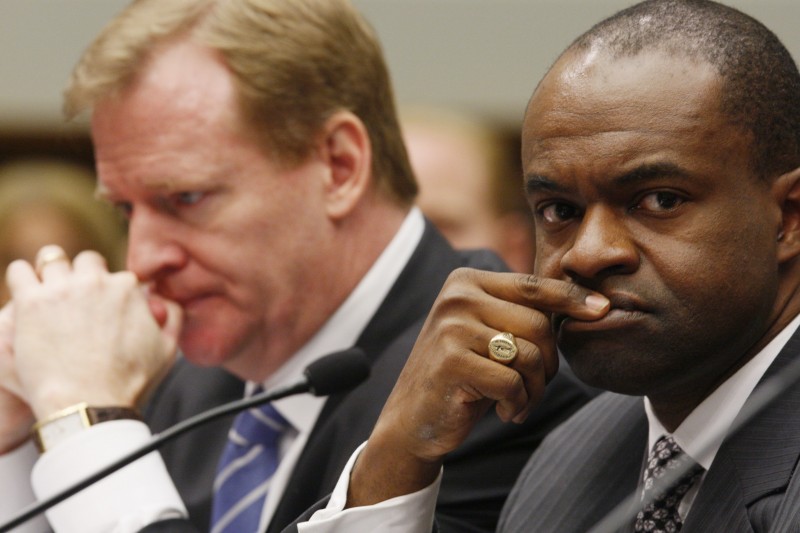 According to Whitlock, the NBPA has two separate roles.  The first is to raise the sport's popularity so it can compete with other professional leagues, like the National Football League (NFL).  According to Whitlock, "the NBA and the NBPA want to usher in a spirit of cooperation and shared goals that were missing during the Stern-Hunter era." Whitlock feels that the days of public feuds between union leaders and league commissioners -a common occurrence between David Stern and Billy Hunter — is outmoded.  Whitlock instead views the players union as a collaborative partner with the league.  He points to the example of the "Gene Upshaw-Paul Tagliabue-NFL model" as a blueprint for the new NBPA. "Upshaw, a Hall of Fame player, was ridiculed by misguided members of the media because he worked with Tagliabue and Pete Rozelle on growing the league rather than focusing solely on the players' percentage of revenue," writes Whitlock, as a way to provide an example for the NBPA to follow. He adds that "a smaller percentage of a bigger pie can be significantly more profitable than a bigger percentage of a smaller pie," and this is correct.  Whitlock argues that through this unification between representation and management, the NBPA, and its leadership, would have "a chance to influence the direction of basketball in a way [Billy] Hunter was not."
The second role the NBPA must fulfill is to serve as a rallying body and labor advocate for talented amateur and, importantly, black players.  Indeed, Whitlock's excitement around potential changes in the NBPA center around its potential for politicizing players, and providing preliminary representation for young black players in the United States.  Whitlock argues that "football and basketball" are "reliant on the talent of young black men" at both the amateur and professional levels, and as such, "are driving the collegiate power structure — the commissioners of the five power conferences — to reshape the way the NCAA conducts business".  With the global brands of both professional and intercollegiate athletics growing, it is increasingly apparent to Whitlock that "decisions are being made about young football and basketball players" with "no significant black voices influencing those decisions."  This, Whitlock argues, is an opportunity for the player's union to step up in political and professional support of its future membership. "The NBPA, with its black leadership and primarily black membership, can inspire a new movement," explains Whitlock. "As black people, we don't do enough to control our own destiny. For a multitude of reasons, including mass incarceration, we don't do a good enough job taking responsibility for molding and leading our young people along the right path."  The NBPA, according to Whitlock, could provide a positive role in ending these forms of institutionalized racism. "By dangling the possibility of returning 19-, 20- and 21-year-olds to college basketball, the NBPA could dictate the terms of NCAA reform, and those reforms could very well include compensation for those athletes and year-round academies for teenage prospects," he writes.  In this way, the NBPA could do what "LeBron James, Kobe Bryant, Ray Lewis, Charles Woodson, Kevin Durant, Adrian Peterson, Ndamukong Suh and all the other professional black athletes who don't think it's their responsibility to play an active role in how their games are governed" and be a political force for those who cannot represent themselves without suffering severe longterm penalties, both to their reputations and their potential earnings.
To me, Whitlock presents an image of an NBPA that seems practical on paper, but problematic in actuality, due mostly to a relationship between the league and the union that's cozy almost to the point of being collusion. Whitlock opines that the NBPA has failed to craft a healthy enough relationship with the league, and for those reasons, the NBA cannot compete with the popularity of the NFL.  Additionally, Whitlock has clearly grown weary of the public feuds between league leaders and union leaders, in particular, the departed Billy Hunter, and the soon-to-depart David Stern.  As such, the two must work together to collaboratively mold and shape the future of the league, and the roles the players will play in that newly expanded system.  Were the NBPA and NBA to completely join forces, the NBPA would look less like a labor union, and more like a trade association, working alongside the corporate product to win over the hearts and minds of current (and potential) consumers.  In that form, the NBPA is less a player's union, and more a player's lobby; working closely with league brass to see how the two can collectively expand their holdings, and expand their revenue domestically and internationally.  Such a healthy business relationship would likely ameliorate tensions between the league owners and the player's association, and would likely reduce the likelihood of lockouts and other labor stoppages in the near future.
However, were the NBPA to take a distinctly NFLPA turn, and essentially join forces with the league for the betterment of their coffers and television deals, it would compromise the potential organizing power that a newly emboldened player's association (and by extension, newly appointed executive director) could exert in defense of its current — and future -membership base.  Indeed, the NBPA is not a political union; something that can be mobilized for a variety of political means to support a variety of under-served and embattled labor groups.  The NBPA doesn't stand in solidarity with other unions facing testy contract negotiations, or fighting for better pay and working conditions for other workers in different labor sectors.  It's focus is solely on it's membership: the active and retired players who seek fair salaries, working conditions, benefits and security during and after their NBA careers.  And really, if it was to look like what Whitlock envisions, it would be putting itself in a problematic place with the league.  They cannot walk hand-in-hand with the league if they intend on biting that same hand when the collective bargaining agreement expires.  And given the general distaste for labor stoppages among sports fans (even if the stoppage is caused from an owner's lokcout) being an outspoken, left-leaning political union will not win many new casual fans.  It's a problem.
So could Whitlock is actually very much correct in his assessment on the future of the NBPA as a cheerleader for the league, and a group whose sole focus will be increasing revenues for individual players by any means necessary? The short answer seems to be: perhaps.  Whitlock argues that the NBA should "set its sights on catching the NFL in terms of relevancy and popularity", and join professional football as the two most popular American-based sports in the world.  If that is the case, and the NBPA becomes a trade association that works to support their trade — that is, professional basketball, played at the highest level, for the highest cost possible — we must fundamentally reconceptualize the organizational structure and intentions of player's unions, and by extension, the players themselves.  Indeed, because of their massive salaries, it is increasingly difficult to view professional athletes as "workers" in a traditional sense.  Given their financial resources to hire the best legal representation money can buy, as well as the overarching influence of sports agents like Arn Tellem and Creative Artist Agencies, it is sometimes hard to believe that NBA players requires a negotiating body like a union to represent itself in contract negotiations. Unless you're really convinced an individual who earns upwards of $10 million dollars can ever be considered "underpaid" (imagine what one year of salary from a max player would do for our library systems, or our roadways, or for our schools), seeing player's unions as a necessity oftentimes is an exercise in suspending reality; seeing an oppressed shop floor where one does not really exist.
Additionally, we must address Whitlock's points about race, and the role of the NBPA in representing young black men with futures as professional basketball players.  While the majority of the NBPA is black, it is not exclusively black.  There are 37 countries represented in the NBPA, with players from multiple races and ethnicities paying dues. The NBPA, like the NBA, is a multi-racial organization; hardly transcending race, but also not homogenous by any stretch of the imaginaion.  So while I am appreciative of Whitlock's opinion on the systemic criminalization of male blackness, the critique seems misplaced in a larger discussion the potential power of professional player's unions.  Whitlock writes that, "as black people, we don't do enough to control our own destiny. For a multitude of reasons, including mass incarceration, we don't do a good enough job taking responsibility for molding and leading our young people along the right path."  Using the previous success of athletes like Jackie Robinson, Whitlock is convinced the player's union can serve a role to embolden young black men and and give them the tools necessary to represent themselves fairly and positively.  "The NBPA, with its black leadership and primarily black membership, can inspire a new movement," writes Whitlock, presumably with great conviction.  However, this seems more wishful thinking than reality. Although unions have often served as loci for political action and mobilization, this has not traditionally been the role of the NBPA.  And while unions have occasionally made identity politics an explicit part of their platform, this seems out of the realm of possibility for the NBPA, given the multi-racial makeup of their membership.  And with the NBPA seemingly entering a new era of quasi-collusion with the league, these tensions need to be negotiated, and solutions need to be devised.
For the reasons above, as well as the transgressions of the previous man to hold the job, and the brutal spat between the president and ousted executive director that reportedly destabilized their executive committee and created rifts within the rank and file, making smart choices in future leadership seems especially prudent.  The player's union took considerable damage throughout the lockout, due in part to the empty rhetoric and action of Billy Hunter. Whitlock accurately recounts that, "Billy Hunter's lack of vision always frustrated".  By his estimation, Hunter "never recognized the power of his position or he never had the energy to galvanize the necessary support to wield the power that was within his reach." In my opinion, this is partly correct; Hunter recognized the power he wielded, but claims of "negotiating in bad faith", and fiery tirades against "greedy owners" mean far less when the executive director making such claims is busy awarding large salaries to family members and charging personal expenses to the union payroll. In retrospect, this makes sense.  Hunter was not concerned with the desires of his membership, or guiding the player's union to a more politicized form.  He was not concerned with providing a voice for unrepresented amateur black players in inner cities.  He was not concerned with forcing David Stern to change his stance with the age limit, or stem the flow of one-and-done's from the NCAA to the NBA.  He was concerned with stealing money.  That really was his only concern; his sole focus as the executive director of the NBPA.
Right now the union is looking for new leadership, and Whitlock feels the NBPA needs a new type of leader.  The opportunities will be there; Derek Fisher's run as union president will be ending soon (if it's not over already), and the NBPA executive committee has been searching for a new executive director for months.  And while there are many candidates for both jobs, there seems to be a certain type that would fit in Whitlock's version of the NBCA.  In his ideal union, that leadership would be resourceful, charismatic, agreeable, popular, honest and political.  That leader would also need to be able to work closely with Adam Silver, with the understanding that the two needed each other to reach their maximum marketing potentials.  And, likely, it would help if that union president was black.  Seeing as how there hasn't been a white president since 1965, it looks like there'd be a pretty good chance of that happening. But is there an individual so removed from their own wealth and corporate commitments that they can be the quasi civil rights leader Whitlock seeks?  What type of person could be shrewd enough to portray professional athletes as mistreated menial employees, while at the same time, win actual labor disputes and make meaningful gains?
Who knows if LeBron James read Whitlock's piece, but recent reports indicate that he is mulling over a bid for union president.  According to Whitlock, it was "LeBron's responsibility to do what he can to make it easier for other kids — particularly athletes — born into a similar situation to find the path to a better life".  LeBron would be a compelling option, due to his celebrity, increasing politicization, and ability to discuss a variety of issues, including questions around how much revenue the league is actually making and how much a player is really worth.  And as long as we're hypothesizing, can you imagine if a player like Kobe Bryant became the executive director?  Besides the fact that Bryant has as much (if not more) global appeal than LeBron, he also shares LeBron's desire for fair compensation, and has a history of being a resource during labor stoppages.  Neither player seems suited to be a coach, general manager or even an owner following their retirements. Why can't they be union men?  What would be stopping them?
Regardless of whether you agree or disagree with Whitlock's argument, it's clear the NBPA has reached an interesting point in its life, and the choice of president and executive director will inform policy and procedure for years to come.  Be it trade association or political union, the NBPA will also transition the rough waters out of the Stern years and into the Silver years.  Aid should they provide support and services to individuals who do not pay membership, but face some of the same challenges as their older counterparts, then the NBPA will truly be something special.  Can you imagine if a sports union was able to affect normal individuals in a similar fashion to the league?
Without a doubt, that would be revolutionary.