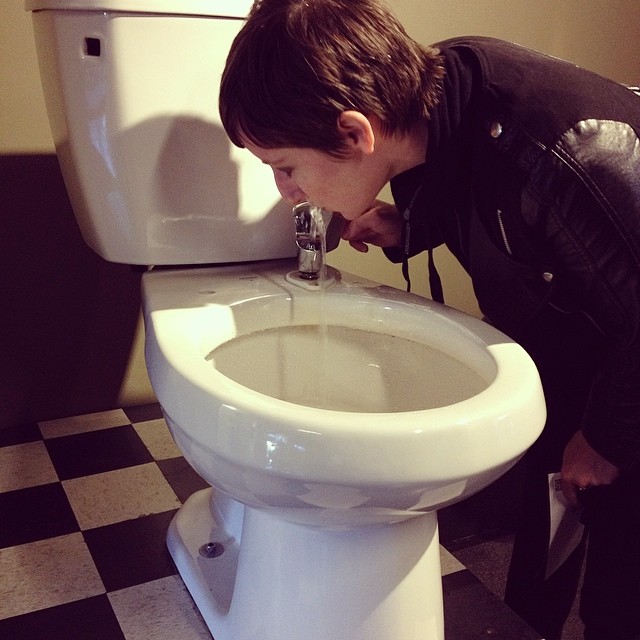 Rain is in the forecast for Northern California this week. May the rain and these excellent pieces help end this terrible drought afflicting the American west.
The Changing Math Behind the Increased Taking of NBA 3-Pointers
Ian Levy
SI.com
I thought I'd enjoy an NBA where everyone played like the Warriors; screaming "heave, ho!" as they hoist a three with 19 seconds left in the shot clock. Instead, it hasn't been so nice, both on the eyes, and on the watchability (I feel like I'm turning off more NBA games than last year). Luckily I've got Ian Levy to give me some numbers to back up my emotions: a copycat Warriors league is shooting — and missing — more threes than ever before. Levy provides all of the relevant data (it is Ian Levy, after all) to illustrate that a trigger-happy league isn't necessarily an accurate league. Also, because it is Ian Levy, the piece features lots of really interesting tidbits about the types of threes being shot more, and the consequences of all of the extra brick-laying. I can say, on my part, it has meant that I'm only really watching the team that's good at trigger happiness: the 2015 DEFENDING NBA CHAMPION GOLDEN STATE WARRIORS. It's a lifestyle, you know?

The Grandiosity of Steph Curry in Autumn
Kris Fenrich
Dancing With Noah
Yes, Kris is a friend, and yes, Dancing With Noah is The Diss' informal sister site (even if Kris/Dancing With Noah doesn't realize it), so this is not the most partial pick. But goddammit, Kris is a damn good writer, who watches the NBA in an instructional way. I definitely don't mind that he's talking about my guy Steph Curry, who is playing out of his mind at the moment. Kris does what he does best: provide an entertaining and educational look at a player who is doing something that is worth mentioning, chiefly because historical stats and discourse demand that someone look at it. The introduction of Fenrich's discussion of Steph is worth quoting at length:
In 2014-15, his first season under the guidance of Steve Kerr, Curry was a joy to behold, roughly achieving the same averages he had in 2013-14 (pts, rebounds, asts, 3s, stls, etc) while appearing in four less minutes per game. Comparing his 2014-15 to 2012-13 is even starker: he played six more minutes per game that year, but his per-game averages were lower as were his shooting percentages. His per-36 numbers from 2014-15 outshone what had already been all-star caliber numbers. Improvement is expected, but as we'll see, the type of improvement is mostly unprecedented.

I'm going to paraphrase here and most likely screw this up, but there's a four-quadrant concept that occurs in learning and task mastery:

You don't know what you don't know – you're unconscious
You become aware of the things you don't know – your consciousness develops so you can at least identify what you want to improve upon
You consciously begin to tackle those things of which you recently became aware
You unconsciously do the things you recently did in a conscious state

If last year's MVP/NBA champion season was step #4 for Steph where execution became second nature like breathing and sneezing and laughing, then the four games we've seen of him in 15-16 are closer to that scene in The Matrix when Neo is all "What are you trying to tell me, I can dodge bullets?" and Morpheus responds, "No, Neo. I'm trying to tell you that when you're ready, you won't have to."
In the words of Neo: "Whoa."
Where Are All the Black NBA Coaches?
Howard Beck
Bleacher Report
NBA analysts have attempted to figure out whether race plays a role in hiring practices in the league, specifically for head coaching jobs. Several attempts have been made to parse out the effects racial profiling has for black coaches in the league (including two works from Diss editor emeritus Kevin Draper and myself in 2014), but this effort from Howard Beck stands out as the most statistically complete and well-argued article among them all. Beck's work comes at a moment where black coaches are at their most under-represented level in 16 years, down 50% from three years ago. Beck closely examines 20 years of hiring data (1995-2015) for head coaches across 30 teams, and provides in-depth discussion about both hires and terminations in the league. The article runs through many different hypotheses about why black coaches are under-represented, both at the current moment, and over time. Beck accesses many former coaches, as well as current and former league and team executives, in order to gain understanding about the the tangible effects racial profiling has on the league's black and white head coaches. Beck's discussion and research on the topic are going to be a lasting, useful tool for those wishing to better understand how and why race matters and affects hiring (and firing) practices, even among wealthy men in the world's most lucrative basketball league.
Black Coaches in NBA Have Shorter Tenures
David Leonhardt & Ford Fessenden
The New York Times
I wanted to include Leonhardt and Fessenden's 2005 piece in The New York Times about race and hiring among NBA head coaches, as it serves as (I think) the earliest attempt to parse out the racial inequities of the position through a mixture of anecdotal and statistical data. For Leonhardt and Fessenden, the data of primary interest was the amount of time white coaches were allowed to hold their jobs, as opposed to their black counterparts. Unsurprisingly, they would that black coaches were given measurably less time on the job than white coaches. Similar to Beck, they noted that the NBA was doing far better in diversity than other leagues; an important qualification. However, like Beck, they highlighted the areas in the data where racial imbalance (to put white supremacy lightly) were apparent. It is an important work; one of the must-reads for any NBA fan who wants to better understand the motivations around understanding the role race plays in hiring in the NBA.