Mario Chalmers, it's time to say "no" to superstar abuse.
We've had enough. We're not taking it anymore, and he shouldn't either. We're sick of it; the all-too-common sight of a superstar yelling at Mario, undressing him with their words, breaking him down with their glares. It's not fair. It's not right. It's time for it to stop.
So hear this LeBron, take heed D-Wade, and shut your trap CB. You guys leave Mario Chalmers alone. He's an outspoken winner. And whether you like it or not, he probably taught you guys a thing or two about being champions.
*****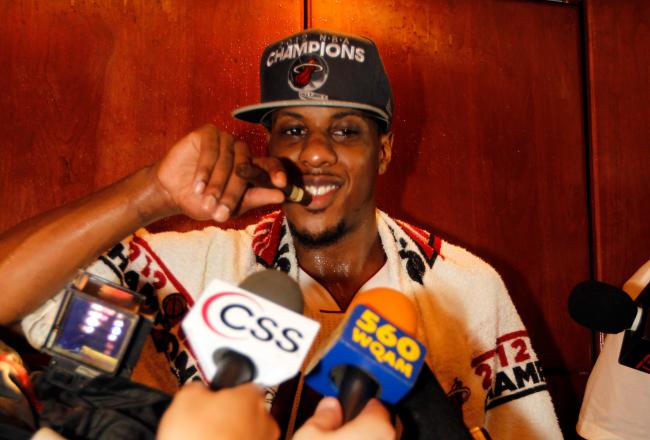 Unlike other guys that are Diss players, Mario Chalmers is not a loser. He never has been. He's won in nearly every spot he's been in, from high school to the pros. He won two Alaska state championships in 2002 and 2003. He won the NCAA championship in 2008, and of course, an NBA title in 2012. Reportedly, he's one of seven players in history who have won championships at every level (except the Olympics and FIBA tournaments). Mario knows winning. Knows it well.
And at this point, we know Mario well. We've seen a lot of him since 2005. Almario Venard "Mario" Chalmers was fairly well known to the average television-watching basketball fan when he came out of the NBA draft in the 2008. He had been the most recognizable face of Bill Self's University of Kansas team, which never missed the NCAA tournament in the three years he played. He had the most memorable play of the 2008 championship game, a contested three over the outstretched hands of University of Memphis point guard Derrick Rose (perhaps you've heard of him) that sent the game to overtime. Kansas, of course, would win the game, and Mario, unsurprisingly, was named the tournament's Most Outstanding Player.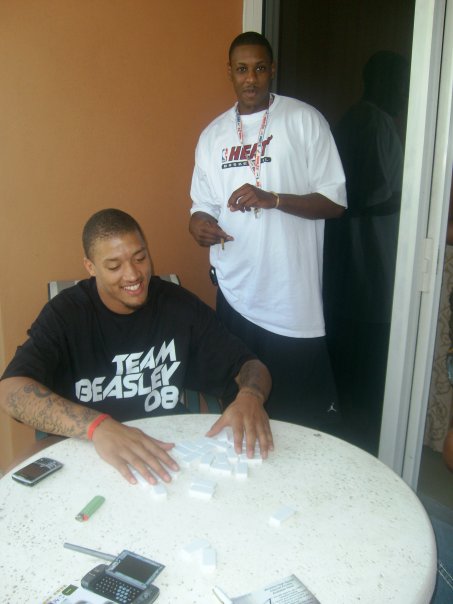 That stuff didn't trickle down to me (I was on an airplane during that title game in 2008, flying back from a grad school visit in Seattle). My lack of love for the college game is well-chronicled, and needless to say, I was not breathlessly waiting to hear how Sasha Kaun was faring against Joey Dorsey. I started to get into Mario (or as Jason called him once, Super Nintendo Chalmers; a nickname that easily stuck) when he was a rookie. He had just been drafted in the second round, 34th overall; a surprising drop for a guy considered by most pundits to be the second best point guard prospect behind Rose (D.J. Augustin and Jerryd Bayless, current backups, were both drafted ahead of him in the first round). He (alongside another decorated Diss player, Michael Beasley) caught my eye when they were busted for smoking weed during their rookie symposium in August. I was impressed that these three guys would violate a bevy of rules during the orientation to their careers just to get a little high (how much can you bring on an airplane?) in-between sessions, especially with so much at stake. Was it foolish? Yes. Was it brave? Absolutely. Mario piqued my attention at that moment, and hasn't lost it since.
His rookie team — the 2008-2009 Miami Heat — was one of my favorite teams from that year. Little was expected of them. Their superstar was coming back from career-threatening shoulder surgery, they had a little-known rookie head coach named Erik Spoelstra, and were taking the court with a hodge-podge roster filled with unproven rookies and uncelebrated vets with expiring and/or short-term contracts as they geared up for the 2010 offseason of LeBron. Moreover, the Heat had gone 15-67 the season before, and had flirted with being the worst NBA team ever. This was a team that wasn't expected to win 30 games.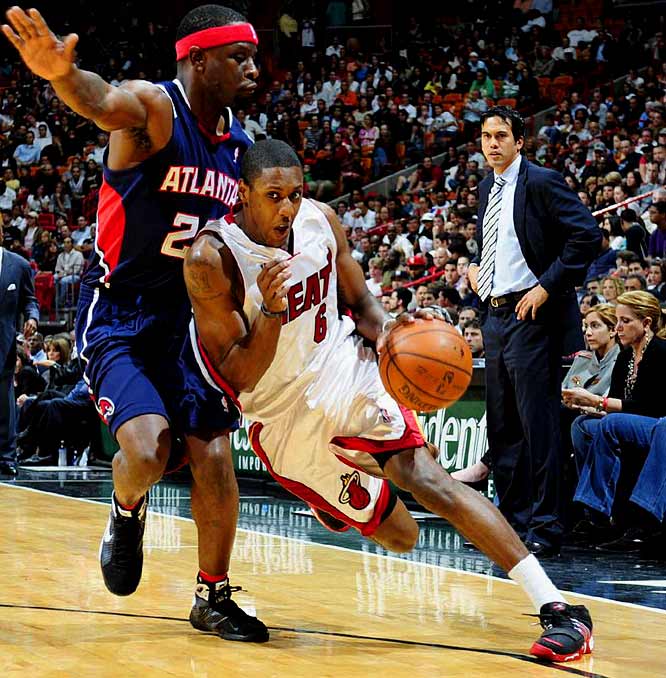 Instead, as they overachieved, and became a scrappy playoff team. The team won 43 games under Spoelstra and a D-Wade who came back far healthier and dominant than anyone expected (he averaged over 30 a game, and had one of the most stellar statistical seasons of all time). During the regular season, the Heat weren't barnburners, but they did many things very well. They allowed only 98 points per game, good for 12th in the league. Their offense wasn't spectacular — they scored 98.3 points per game, mostly on the superhuman efforts of D-Wade, who was first overall in usage rate, second in wins produced, and third overall in player efficiency rating — but enough to win the games they were supposed to, and steal a few that they weren't. All of this lead to a fifth seed in the playoffs, where they lost in a forgettable seven game series to the Atlanta Hawks.
In the middle of all of this unexpected success, surprisingly, was Mario Chalmers, the team's outspoken winner. Mario played and started every single game; something his hyped rookie-mate Michael Beasley did not do. His per game averages were solid for a starting point guard, but excellent for a rookie. 10 points, 5 assists and 3 rebounds a game, to go along with 40% shooting on field goals, and 37% from deep. His 160 total steals were good for third in the league. His 107 defensive rating (which has improved each season he's been in the league) certainly wouldn't qualify him for the all-defensive team, showed that he could play competent team defense on a team that relied on creating turnovers to succeed. By any metric, Mario had a fantastic rookie season for a playoff team.
The next year, the team won 47 games, but the Heat, much like the Knicks and the Nets, had the look of a team treading water before LeBron, Bosh, D-Wade, Joe Johnson, Amar'e, and the rest of the lot hit the market. I lost track of the team during this surprisingly successful punt of a season, but sort of kept my eye on Super Nintendo Chalmers. Things were not nearly as rosy for him. He dealt with knee issues and lost his starting job to both Rafer Alson and Carlos Arroyo. His numbers went down, as did his playing time. And the naysayers, who had been waiting for their moment to pounce on Mario, lined up behind the ramparts, guns raised, looking for a clear shot. Though the team was more successful (or was the East just weaker? KG missed the second half of the season and the playoffs with a knee injury) Mario was not a part of that movement. His role, certainly, had been diminished, and with his contract expiring, his future on the team was uncertain.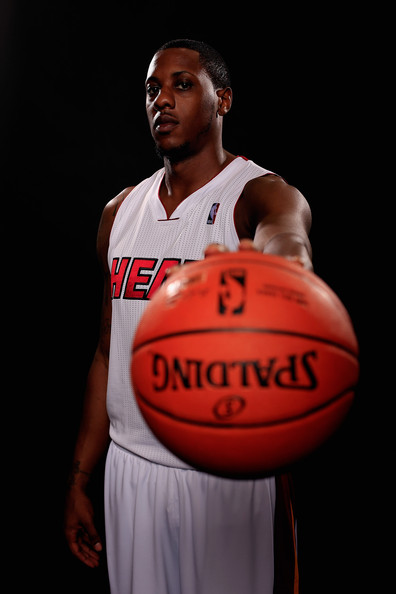 When LeBron and Bosh made their decisions to join the Heat, the team underwent a massive transformation. The team had been a walking expiring contract, with team options that had been declined to create space for three near-max level contracts. Only two players from the previous team were retained under contract: Joel Anthony, the defensive pivot, and Mario Chalmers, the oft-maligned point guard.
In the next two seasons, the team would go to the finals twice, and win once. Mario Chalmers started four games in 2011, and in all six in 2012. And though the Heat have been nothing but successful since coming together in 2011, Mario Chalmers is not always considered to be a reason for that success. And already, some of his teammates are questioning his readiness to change for this season.
Maybe they're the ones that need to change. Not him.
*****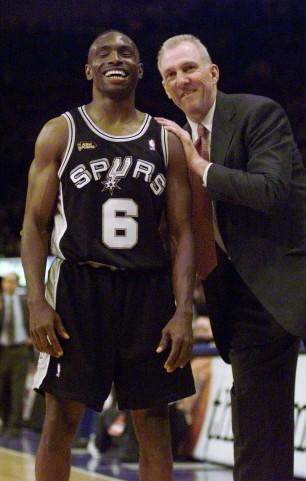 Now hear this, my friends: a team doesn't need a top shelf point guard to win a championship. This has been the case for quite some time now.
In the grand scheme of things, this shift away from the All Star-caliber point guard is a rather recent development, given Magic, Isiah and DJ's importance throughout the 1980s and early 1990s. But the importance the point guard diminished over the course of the 1990s with the success of Phil Jackson's triangle from 1991-1993 and 1996-1998, and Rudy T's system, which organized talented shooters around Dream, and won championships in 1994 and 1995.
Take a look at the starting point guards for title winners since Jordan retired in 1998, as well as their overall rankings in win shares and wins produced.
In this analysis (and thanks Franklin for putting the chart together), I'm using win share and wins produced rankings as a way to determine who constitutes an elite player in the NBA. Of this list, only two point guards could be considered "elite" for their position during the regular season: Chauncey Billuips and Jason Kidd. Billups was 8th overall in the league in win shares in 2004, and Jason Kidd was 12th overall in wins produced in 2011 (which surprised me). But other than that, the list is filled with solid, but hardly spectacular point guards, most of whom were in the top-100 in the league in both WS and WP (except Derek Fisher in 2001, whose surprisingly bad numbers can be attributed to split time with Ron Harper). Super Nintendo Chalmers looks very much the part of this vaunted club. His WS ranking of 78 puts him at right around the average for a championship point guard, and his 95 ranking in WP, though a bit low, is still respectable — only 10 off the average ranking.
However, look at Rajon Rondo in 2008. Now, we are all familiar with the 2012 version of Rajon Rondo (simply known as "Rondo", not unlike an international soccer star like Messi or Ronaldo), who is considered, at worst, to be a top four NBA point guard alongside Chris Paul, Deron Williams and Russell Westbrook. 2008 Rajon Rondo is more similar to 2012 Mario Chalmers than he is to 2012 Rajon Rondo, an all star and MVP candidate.
Similar to Mario in 2010, Rondo, a mid-first round pick survived a great culling in 2007, carried forth by Danny Ainge to make room for two new superstars: Kevin Garnett and Ray Allen. When those guys arrived, critics openly wondered whether there'd be enough ball for all of the superstars sharing the court, and whether Rondo, a talented second year player who had played well enough on a 17 win team the previous season, would be able to perform well enough to be a starting point guard on a sudden championship contender.
Rondo silenced his critics almost immediately. He wasn't spectacular (though we saw brief glimpses of what was to come), but he didn't have to be; he had Paul Pierce, Kevin Garnett and Ray Allen to do most of the offensive heavy lifting. Instead, he honed the skills that later set him apart from his peers: his passing and his defense. He lead his team in assists and steals, and ranked in the top ten in the league for steals, top thirty for assists. This was more than enough with the Big Three around.
When they beat the Lakers in the Finals, Rondo wasn't the most celebrated member of the team. But he had helped them win, and that's all that mattered. Without his defense and his passing, three future hall of famers would never have won rings. Without his six steals in the deciding game 6, there wouldn't have been a parade in Boston. Without Rondo, their legacies would've been incomplete.
*****
In many ways, Super Nintendo Chalmers has a far easier task surviving longterm in Miami than Rondo did in Boston. And unlike many other Diss players, he doesn't have to do much to change his fortune.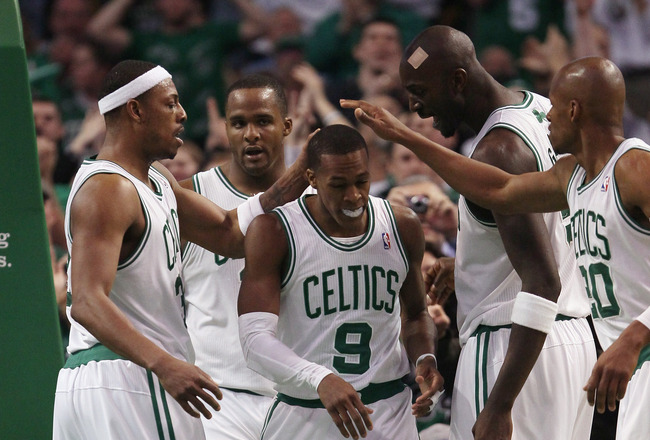 Rondo had to become a star, and he had to do it quickly. Kevin Garnett and Ray Allen were acquired in their early thirties to join Paul Pierce, another superstar in his thirties. None of those guys were young, and Rondo was going to have to fill some big shoes before too long. Whether Danny Ainge knew Rondo was going to become a transcendent superstar himself doesn't really matter; he didn't have a choice. If he was going to remain in Boston for the longterm, he had to be great. Otherwise, he was going to be flipped for other young players in order to carry the Big Three to a title. There was no other possibility for his development in Boston. If he wasn't going to be a star in Boston, he wasn't going to be in Boston.
Simply put: Mario Chalmers is not expected to develop into Rajon Rondo. Whether he has the skills, ability and motivation to do so is another matter. But he is not being charged with the task of becoming a transcendent player that the Heat have to build around. LeBron and Bosh are in their primes, and even the biggest skeptic would allow D-Wade, at a minimum, two more seasons of playing at a world-class level. Instead, he's tasked with remaining what he already is: a point guard who knows how to stay on the court for a championship winning team. Indeed, Chalmers has a few clear strengths. He is a good shooter. He is a valuable perimeter defender. And he is an outspoken winner.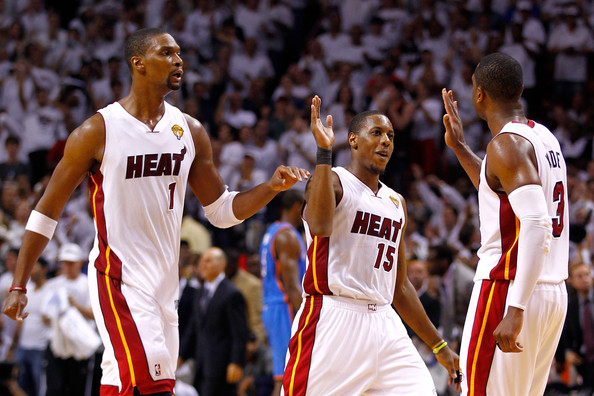 With LeBron on your team, ball movement is simple, and one doesn't have to concentrate on running the offense as much. With D-Wade around, penetration isn't an issue, as D-Wade makes a living scoring and distributing around the hoop. Bosh is an easy and steady post presence to feed the ball, and he, as a skilled post passer, can do wonders keeping the ball moving. These are bona fide superstars; guys do the heavy lifting, and who have been domesticated (and paid) to shoulder such burdens.
Instead, Chalmers can rely on his other clear strengths: shooting, defense and ball movement, and solidify his place in the lineup. And that's what he does. He is another foot soldier in Miami's vaunted positional revolution, which plays LeBron at the four, and surrounds him with shooters (including Chris Bosh) who can provide space and allow him to create. Chalmers now stands alongside Ray Allen, Rashard Lewis, Shane Battier and Mike Miller, who all can all roam around the floor, hit shots, and make a nice defensive play. And he's already shown he can do the little things that end up being big deals, like guard Russell Westbrook on the perimeter, and work with D-Wade in Miami's effective zone defense. He fits well on this team. He has for nearly five seasons now.
So when LeBron shouts at him, or accuses him of not being mature enough, he can just look at him, in a way that screams "outspoken winner" and tell the MVP to deal. That's right, LeBron: deal. Because you know what? There's a good chance you wouldn't have won that ring without Mario.
*****
The defending champions didn't have to keep Mario Chalmers as their starting point guard. Believe you me, they had options. Steve Nash could've been had. Ramon Sessions was available. Jason Kidd would have fit in. Even guys like Ray Felton or Kirk Hinrich would've gotten the job done. But they stuck with Chalmers, their Super Bowl winning quarterback. Mostly because he's under contract. But also, perhaps, because they truly believe in him.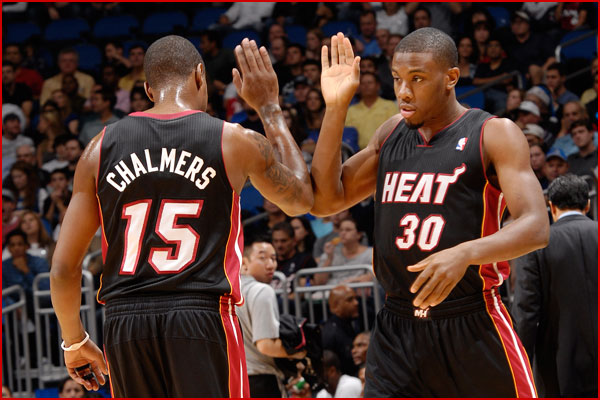 For the first time in awhile, Super Nintendo Chalmers has a quarterback controversy on his hands. Second year guard Norris Cole is coming on like a boss, and could provide a more traditional point guard look for a slightly older, wildly unconventional unit like the Heat. He also is younger and more athletic; a superficially more intriguing prospect than the still-young Super Nintendo.
But if Mario Chalmers keeps doing what he's doing — let the superstars do most of the hard work, keep them relatively happy, and do work, everyday — it will be hard to go anywhere else but Mario. An elite point guard isn't necessary to win a championship, you just need one who can provide winning plays when they matter. And the Heat already have that in Super Nintendo Chalmers.
So say no to superstar abuse, Mario. It's time to get started.