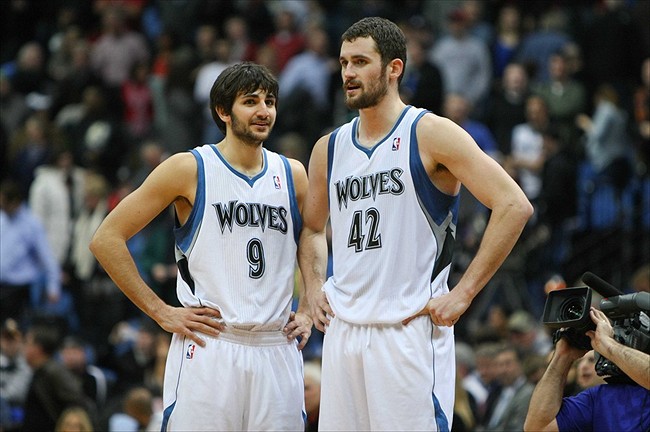 Editor's Note: Offseason doldrums has brought The Diss' listserv back to life. Today's discussion focused on the seemingly-improving Minnesota Timberwolves. 
***
Jacob: The 2013-2014 Wolves: 49-33. What say you?
Alex: 43-39.
Jacob: Not bad.  Probably more realistic. Kevin?
Kevin: 39-43.
Jacob: So low? I like their moves. All of 'em.
Kevin:  I don't. They replaced Andrei Kirilenko with Kevin Martin and Corey Brewer, which is cool for depth and all but combined they still aren't as good as Kirilenko.
Jacob: I don't know about that.  Losing Kirilenko would suck, but Martin and Brewer give you more offense, and Brewer is a really good perimeter defender.
Kevin:  In rough order, the teams that are clearly better than the Wolves are:
Oklahoma City

Houston

San Antonio

Los Angeles Clippers

Memphis

Golden State

Denver
Jacob: Denver's clearly better than the Wolves? Disagree. They might be fighting with others for 8th. I like Minny's roster with Kevin Martin and Corey Brewer way more than Denver's right now, provided they hold on to Pekovic.
Kevin: Well, I think Portland and New Orleans are probably better than them too.  And Dallas is a team that could nip at their heels if everything goes right.  So, I guess I would reframe it as: they aren't a playoff team in the West. May well be closer to 43-39 because the East blows, but (pending what happens the rest of the offseason) I don't think they're making the playoffs.
Jacob: That could be. I'm really not sold on Denver though. I think their demise has been greatly overstated, but they're certainly not as good as they were last year.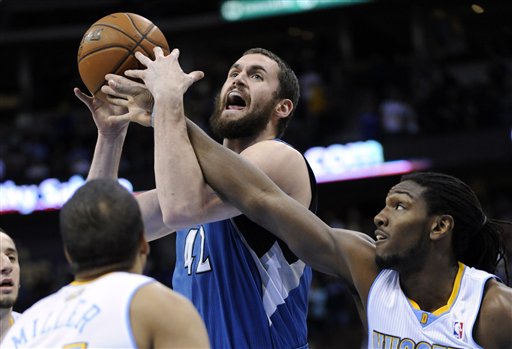 Kevin: Denver won 57 games last year. For Minnesota to catch them, Denver is going to have to drop a bunch of wins. Losing Iguodala hurts no doubt, but they still retain Kenneth Faried, Ty Lawson and Danilo Gallinari, not to mention JaVale McGee, Wilson Chandler, and so on. Yeah they've gotten a little bit worse, but I don't think Minnesota actually got any better (except for health, probably). Is health plus the loss of Andre Iguodala enough for the Wolves to make up a TWENTY SIX game difference on the Nuggets this year? I doubt it.
Jacob: I mean, I do think getting Martin and Brewer makes them better.  And yeah, Minnesota was so injured last year. Losing Iggy won't make the Nuggets 27 games worse obviously, but their general transition-ality right now, plus the fact Minny will be healthier (I hope) might put them on equal-ish footing (43-49 wins). I think it'll be a dogfight.  Or a wolf fight.  That sounds cooler.
Hans: 42-40. I am far more pessimistic than Jacob. I think Kevin Martin is nice, and I'm glad they re-signed Budinger. But I hate the Corey Brewer deal.
Jacob: Whoa, everyone pull over for the funeral procession.
Hans: Brewer can defend, which is by far their biggest need after the Martin signing, but he is a terrible shooter who loves to shoot. They signed him to a three year deal, which puts him on the books when they are going to need to be re-signing Rubio, and I think they could have resigned Kirilenko for only marginally more. Kirilenko is going to miss time on a 3 year deal, and he's old. But he was probably the Wolves' second best player last year, and as a borderline playoff team, I think you need to roll the dice.
Jacob: But if they're healthy, they're going to be really good. When the Nuggets were totally healthy, Brewer was one of their most valuable guys off the bench because he could do so many different things.
Hans: Yeah. If (and I realize it is a huge if) you can get them all on the floor healthy, Rubio-Martin-Kirilenko-Love-Pekovic gives you a chance to be not just decent, but even gives you break-through potential where you could be this year's Warriors. Brewer is more likely to get on the floor and cement them to a .500ish record, but that's just about the worst place to be in the NBA. I'd much rather roll the dice on finishing either 5th or 13th in the league than guarantee you finish 8th or 9th.
Jacob: Hey, Snyder's here. And it looks like he's got an Obama gif!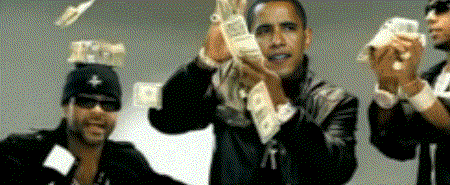 Snyder: 50-32. I'm thinking these wolves are gonna MAKE IT RAIN. Top 5 offense f'sho.
Jacob: That'd be fun. 50 wins is a lot.  But in the same way Steph Curry got sick of not making the playoffs, I think Kevin Love's right there, too. There's also something galvanizing about missing most of a season due to nagging injuries that seems to motivate younger stars. D-Wade had a phenomenal 2009 after missing most of 2008 with shoulder and leg stuff. Steph came back firing this year after missing the majority of last season with his ankle.  I think a motivated, healthy Love, plus a team with as much firepower as anyone in the league, will really take people by surprise next year. And that's cool, cause Minnesota is dope.