With most teams about a fifth of the way through the season, we're getting to the point where things can't be dismissed as a result of a small sample size, and may just be the way things are. In this weeks edition of Wild Speculation and Outlandish Guesses, we ask the discussants: Tip Of The Iceberg, or As Bad As It Gets?
The Washington Wizards are 1 2-13.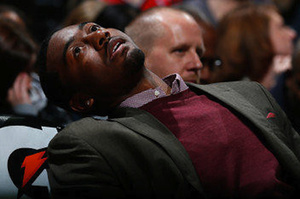 Editor's Note: We asked this question BEFORE the Wizards beat the Miami Heat last night. Poor timing, but they're still the Wizards…
Jacob Greenberg: As bad as it gets. Wiz are projected to finish 7-75. Assumedly they'll fire Wittman, unless they're as cheap as they're rumored to be. John Wall will be back someday, but no one can blame him for not wanting to hurry back to this 2-week-old litter box. But the Wiz are in a place past irrelevance, somewhere between laughingstock and too comical to even take seriously. They're almost best served as our new Clippers; an eternal joke that teams and their fans can point to and say, "well, at least we're not them."
John Reyes Nguyen: Tip of the Iceberg. The Wizards are bad, really bad. So bad when I tried clicking on their page on NBA.com to review some stats, it didn't even load. Even the NBA doesn't want them to exist. Washington DC should thank RG3 and Strasburg for saving them from the John Wall era.
Alex Maki: As bad as it gets. I have to imagine a John Wall + Nene get more than 6 wins (about the current pace) this season. I don't think they get a whole lot more (maybe about 12). But I don't think this can continue.
Andrew Snyder: John Wall was a fantasy god his rookie year when he was able to stay healthy. Since fantasy and real NBA Basketball obviously correlate, my answer has to be… As bad as it gets. Good thing they didn't make "The Association: Washington Wizards" though…
Long Bui: You can get lower bowl tickets to the Heat tonight, ROW Q to be exact, QTY: 1-15, for $9 per. That's really all I have to say… well that and who wants to go to more Wiz games with me?
The Los Angeles Lakers are 8-10.
Jacob Greenberg: I actually think it'll get worse. Dwight let out his first "I'm going where I have the best chance to win a championship" to the media the other day. Underachieving team + Dwightmare Pt. II (III?) = Kobe Killin' a Bitch.
John Reyes Nguyen: It's more of a disappointing 8-10. This will be as bad as it gets. D'Antoni has only been coaching for about two weeks, this inconsistency is more growing pains than anything else. And you can't judge this team until Nash comes back. If the Lakers are a .500 team a couple weeks after Nash comes back, might be time to hit the panic button, again.
Alex Maki: Tip of a bad season iceberg. Now, they might sneak into the playoffs, but I don't think they have much of a shot at a home playoff series. Even when Nash comes back, and nobody knows when that will happen, there is only so much he can do to shore up a horrible bench and Pau being on the outside looking in.
Andrew Snyder: This Celtics fan would love to see it be "the tip of the iceberg," but I don't think we'll be able to accurately assess this Laker's team until D'Antoni's had at least a month with Nash on the court to revive SSOL and run P&R with Dwight all day, or whatever he's planning on doing. It could get worse, but it's not going to get much worse… This is almost as bad as it gets.
Long Bui: A number of things annoy me about LA including how much (often) unfounded optimism there is, but in the case of the Lakers the people have spoken and they're probably right, this is as bad as it gets. You're getting back White Jesus, a healthier by the day Dwight, and more time for a team with a new coach to gel. Yea I get it, you have 350 days of sun and stars and the beach but you also have crippling gridlock, Santa Monica fwy is a complete misnomer, it's the Pacific Ocean, and sharks. Also you don't have a bench.
Klay Thompson is shooting 37.5% from the field, and an awful 32.3% from the three point line.
Jacob Greenberg: Shooters gonna shoot. One hopes he gets it up, but the Warriors have been sort of finding ways to win without him (except for last night against the surprisingly entertaining Orlando Magic). Warriors fan here: I don't want him shooting less.
John Reyes Nguyen: I was the one who picked Klay Thompson for MIP. Boy was I wrong. However, this is as bad as it gets, because it can't get any worse. He's getting his opportunities shots just aren't falling. But it's pretty sad if you are considered a shooter and have a lower 3pt percentage than Metta World Peace.
Alex Maki: As bad as it gets. I think Thompson was a very justifiable MIP pick, and his shooting has been a bit off so far but the sample size from last season is much larger, and thus, in my opinion, a better predictor. Regression to the mean will occur pretty soon here.
Andrew Snyder: Klay Thompson is no Adrian Peterson or Peyton Manning. He wouldn't be in the conversation for MIP (oops wrong league, sorry guys) even if he was ballin' out the gym. You Warriors homers need to settle down and stop worrying about a cold streak, and I'll stop worrying about Paul Pierce's ankles. Deal?
Long Bui: Klay… Klay… um… pass. I'm mean shoot, keep shooting, I just watched your youtube highlight reel and you can ball. Also I remember you raining threes at Hoops 206, do more of that.
Pau Gasol has been heavily linked to a trade with Ryan Anderson.
Jacob Greenberg: If you're going with D'Antoni (and you are, for better or worse), than Ryan Anderson makes a lot more sense. Pau Gasol can hit that 16 foot jumper, but it's not his strength. Anderson thrived off of Dwight last year, and would put up numbers in that system. Whether that would translate to wins or not is a different matter. If Pau ended up in New Orleans, then that's sorta sad. The Hornets have a decent thing going (when they finally get healthy) but they are nowhere near the playoffs for at least two more seasons, and several players away from ever being in a conversation for a championship.
John Reyes Nguyen: Pau's trade value is crap right now. He's got two bad knees, playing out of position, and with a coach who doesn't use post players. From the Lakers perspective, there's more value in keeping him than what you can get in return. I say sit him for a couple weeks so he can rest, bring him back when Nash returns so his stats inflate, then his trade value will improve. Another option is to play him at center late in the 4th, so teams can't play Hack-a-Dwight.
Alex Maki: As bad as it gets. Pau is struggling this season, and really has been struggling a fair amount the last couple of years. I think he probably gets shipped. But I think Ryan Anderson is the floor trade value, and it won't get any lower.
Andrew Snyder: TIP OF THE ICEBERG. Apparently Kobe told Pau to put on his man pants? Trade Pau to the Celtics please for Fab Melo and a first rounder? K, deal… Oh we'll throw in Uncle Jeff Green - he's got crazy length! Pau to New Orleans would be kind of sad, but then could Daryl Morey three way in on that!?
Long Bui: I doubt Pau is moved, this team just needs more time to put it together and when they do (kill me), it's going to suck for the rest of the league. All that will be left is holding out for a GP, KM, Shaq, Kobe type implosion in the playoffs.
Last week David Stern fined the San Antonio Spurs $250,000 for deciding to rest some players.
Jacob Greenberg: I'll save my opinions for the article I've gotta finish (tonight? Probably tomorrow). But long story short, no. He's going to force the Maloofs to sell their team to someone who can actually afford it (most likely Chris Hansen, the presumptive new owner of the reborn Sonics). Can't get much more authoritarian than that, but public opinion will probably side with Stern on that one. As for the fine, I've made my peace with it. Don't mess with TV deals, you know that.
Alex Maki: As bad as it gets. Even Stern must know that a lot of people think this last wave of fines was pretty flipping ridiculous.
Andrew Snyder: Just the tip! David Stern might now be in Bill Simmons' infamous Tyson Zone, although I might also be there for unnecessarily referencing Simmons in this answer. Stern's reign of terror will eventually bring us back to the Silver Age, and according to inside sources, he even likes messing with league office employees in the elevator. To make a completely inappropriate Simmons' pop culture reference, I feel like this Pop incident could be the beginning of Speed… is Stern Keanu Reeves trying to stop a league bus speeding out of control, or is he Dennis Hopper trying to bomb the bus? Hard to say…
Long Bui: If David Stern is just the tip… what to make of Adam Silver's head?