Today is December 18th, which means almost nine months ago I was sitting in Oracle Arena, giggling at my Chris Mullin bobblehead. Less than a year ago, on the eve of his jersey retirement ceremony, that I was explaining to my girlfriend why I regretted never having gotten the Chris Mullin flat top for a free pair of tickets. 273 days ago I was listening as the usual cast of Warriors legends, the small cast of Warriors legends, spoke about the last great player to put on the blue and yellow.
I remember feeling proud that the Oracle faithful gave him a standing ovation every time he was shown on the Jumbotron. I remember feeling sad that for all the good players that came after Mully, none came close to having their jersey retired one day. Feeling sad for Webber and Sprewell, Baron and Monta. But most of all, above all else, I remember feeling complete and utter shock as the boos rained down on Joe Lacob's head.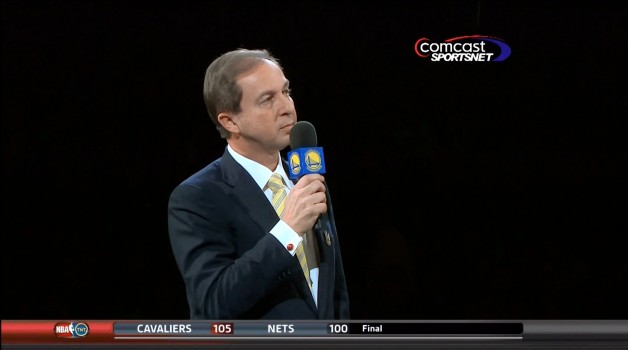 Things could not be more different for the Warriors, with a recently completed 6-1 road trip leading to the kind of positive national attention we haven't seen since We Believe. Whether it is Stephen Curry cracking NBA.com's MVP Ladder or John Hollinger's algorithm giving them a better than 90% chance of making the playoffs, you can't swing a dead cat in Oakland without hitting boundless optimism. Hell, even the dunk of the season belongs to the Dubs.
But since that night nine months ago, the night that served as the culmination of 35 years of frustration, how much has changed? The team has had a few blips of success since the 1970's, but ineffectual front offices have assured that success hasn't been sustained. In the last nine months, Warriors leadership has been involved in the following situations: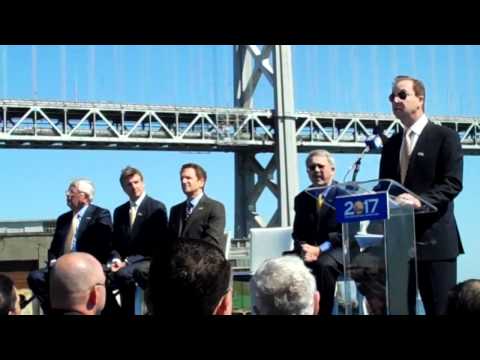 On a road trip to Memphis, a man came up to Coach Mark Jackson and threatened to expose an affair he'd had six years earlier unless he paid up. Coach Jackson eventually notified the FBI, but not before attempting to pay the man off himself.
On a windy San Francisco day, Joe Jacob and co. bumbled through a part-press conference, part-masturbatory exercise to announce that the Warriors would move to San Francisco in 2017. Never mind the premature nature of announcing a move to an arena that doesn't yet exist in a city known for its residents' Nimbi's: the entire affair was out-of-touch and smacked of disrespect to the loyal fans who come to games in Oakland, year after losing year.
The Warriors traded away fan favorite Monta Ellis for Andrew Bogut, who would have surgery on his injured ankle. The team assured the media and fans that Bogut would be back by the start of training camp, but he was barely even ready for the start of the season. After playing in four games during which it was clear he wasn't healthy, the team shut Bogut down, estimating he would be back on the court in 7 to 10 days. 40+ days later, Bogut has yet to hit the practice floor.
Oh, and it was revealed that Bogut actually had the dreaded microfracture surgery, which the team declined to disclose to the media until Bogut did so himself. GM Bob Myers tired to wriggle out of the situation, lamely claiming: "On any injury, I don't think there's any attempt at deception or omission. We convey it how we think it's appropriate. As long as we're on the same page with the athlete per the rules, our focus is on the recovery time. … I'd like to think we are transparent and always will be."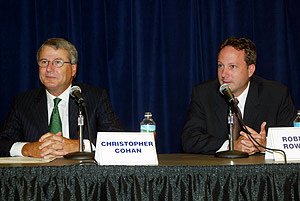 For now, everything is great. I am as optimistic about this season as anyone, and think the Warriors have a legitimate shot at winning the Pacific division and snaring a top-four playoff seed. I also believe the front office has done a great job identifying talent lately, drafting Barnes, Ezeli and Green, and acquiring Landry and Jack. The team is certainly better than I had any reason to hope for before the season.
But at times, I can hardly believe tell that Chris Cohan isn't still the owner. The Warriors are still lying to reporters, congratulating themselves on deeds not yet accomplished, and displaying head smackingly poor decision making. Until things like accountability, transparency and commitment are more than just platitudes to the front office, I will continue to be skeptical of the Warriors' long-term prospects.