The regular season is over, but out interest in watchability is not. The playoffs change a lot of things, including making some teams that weren't very watchable, watchable, and others are one small injury or coaching decision away from being skipped for dinner.
1. Golden State Warriors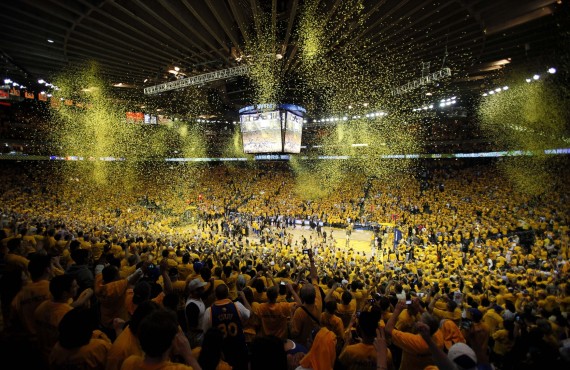 The runaway most exciting team to watch these playoffs for this (biased) committee of two. Stephen Curry's ascendance to superstardom is the obvious story to watch, but whether it is Bogut's improving health, Harrison Barnes playing better than he has all season or Draymond Green rediscovering a stroke that deserted him for 82 games, the key to the Warriors' watchability is that every player is individually mesmerizing, combining for an awesome explosion of three-pointers, dunks, fast breaks and surprisingly stifling defense. Oh yeah, and playing in the loudest arena in the NBA doesn't hurt.
2. Memphis Grizzlies
The style of play that prompted me to say "okay, okay, just have the fourth seed" back in February has become emblematic of how these playoffs have sort of run themselves. The Grizzlies are playing the second best defense in the playoffs (behind the Indiana Pacers) and almost every single rotation player has begun to sharply hone their offensive contribution to the overall effort. Of course, Z-Bo and Marc Gasol's two-way post dominance has been impressive to witness. Tony Allen's never-say-die defense on both Chris Paul and Kevin Durant has been a joy to watch as well. But don't sleep on the way Mike Conley runs his team, and don't miss out on the spirited efforts of role players Jerryd "Baby Boozer" Bayless, Quincy Pondexter and Darrell Arthur. For all the folks who feel good about picking the Grizzlies as a sleeper to come out of the West (hint: almost everyone, so don't get too excited), congratulations.
3. San Antonio Spurs
If you expected poetic waxing about ball movement and team play, you probably haven't been watching these playoffs too closely. That may have been the story against an undermanned and exhausted Lakers squad, but against the Warriors the Spurs haven't exactly stuck to the script. They won one game because of the most sublime four minutes of basketball you'll see, another because Tony Parker became an efficient high-volume shooter, and a third because of a brand of clutching and grasping defense that was honestly beautiful to watch. These aren't your father's Spurs, and that's a good thing.
4. Denver Nuggets
Don't let the first round collapse fool you: this was an entertaining as all hell team to watch. Most entertaining perhaps was the Nuggets frenetic trapping, which either led to a steal and fast break or a series of pretty Warriors passes for an open shot. The schadenfreude of watching George Karl be outcoached when you knew he was about to win the Coach of the Year award was also fun.
5. Chicago Bulls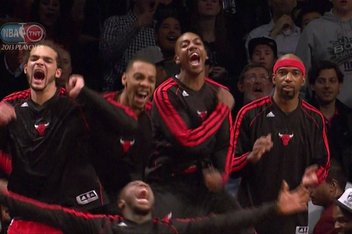 The Bulls may be the first team in history where adjectives like "heart", "hustle" and "grit" are a. entirely accurate, and b. not subtlety pejorative. Even when they're losing by fifteen, every game has a slight "Game 7″ aura because of the manic energy emanating from the Bulls.
6. Miami Heat
Low key Depressing: the utilitarian streamlining of LeBron's playoff game. No glitz. No glamour. No threes. No huge dunks. Just patient post play, smart jumpers, and endless facilitation. This first-world basketball problem, plus D-Wade's knee injury, and the fact that the Heat rotation looks about as competent as they always have leads to this slightly lower ranking.
7. Indiana Pacers
Call me crazy, but this team reminds me a lot of the mid-2000s Spurs. Defense is their calling card, and while the offense isn't the most efficient, they move the ball well and have a power forward that stretches the defense with outside shots. They are extremely well-coached, and seem to never miss a defensive rotation. Like the mid-2000s Spurs their beauty isn't immediately apparent, but it is in there somewhere.
8. Houston Rockets
Here's how unentertaining these playoffs have been: Jeremy Lin got injured and James Harden got strep throat, leading to Patrick Beverly playing many minutes and frequently running the offense, and the Rockets were still one of the more entertaining teams.
9. Los Angeles Clippers
As much as the Clippers tried to paste over it during the regular season, Vinny Del Negro just isn't a very good coach. No two ways around it. What was unexpected was the apparent tension that has developed between Chris Paul and everybody else on the team. A fun story for the dog days of April, but it sure didn't lead to pretty playoff ball.
10. Brooklyn Nets
The Brooklyn Nets were the second-most enjoyable team to watch in the most un-celebrated seven-game series since the 2007 NBA Finals that no one watched. In the end, the main complaint wasn't the players, style of play, arena, or anything else. It was the energy. The Nets looked disappointed to be in the playoffs; like it was interrupting their favorite part of summer break. Don't blame em': the first month of Summer Break is the best. Sleeping in until 1 pm. Leaving the lights off in your room all day. Great times. The Nets should hire someone who can get these guys to play with a little oomph and at least pretend that they enjoy playing basketball.
11. Oklahoma City Thunder
Minus Russell Westbrook, you're really just watching to see if Kevin Durant can rip off a 50/15 game at this point. The worst thing about the Westbrook injury is that it has given Scott Brooks more fake-justification to subject Derek Fisher upon us, a loss for all true basketball fans.
12. New York Knicks
What the hell happened to the regular season? I know the team has had some injuries, but they had it figured out. Shoot a ton of three-pointers, keep Melo at the four and have him play semi-efficiently, and play generally competent basketball. All of a sudden Carmelo has regressed and is chucking up shots, the shots that J.R. Smith always chucks up aren't falling, and Mike Woodson has gone away from Carmelo as a stretch 4 and is using baffling rotations. I'd prefer to spend my time watching the Knicks, not scratching my head trying to figure out what is going on.
13. Boston Celtics
They looked old last season until an inspired playoffs run, they looked really old this season, and surprise surprise, they looked really old in the playoffs. With Paul Pierce now stating that he expects to be traded or released, hopefully you were able to get your Celtics fill.
14. Los Angeles Lakers
I can't believe that, in the end, after everything, the Lakers got essentially a free pass due to the injuries that curtailed their projected 73-9 season, and undefeated march to the championship. A Dwight temper tantrum, Pau Gasol's best Andris Biedrins impression ("I swear I used to be good, promise!"), and Darius Morris as your starting point guard were all we got out of the Lakers this postseason. And with the resolution of Dwightmare II still six weeks away, this team will continue to be more fun to watch off-the-court than on it.
15. Atlanta Hawks
That's what terrible guard play looks like. People slag the Grizzlies guard lineup, but the Hawks would be positively joyous if they they had Mike Conley, Tony Allen and Jerryd Bayless. From a pure aesthetic perspective, if you are only going to have good bigs or good smalls, you want the good smalls. Jeff Teague is why Josh Smith dribbles the ball too much. Kyle Korver is why Josh Smith shoots too many midrange jumpers. Who thought Louis Williams' absence would be felt so heavily?
16. Milwaukee Bucks
Thank god this dog was put down. For the love of all that is holy, I hope that not-very-competent GM John Hammond lets either Monta Ellis, Brandon Jennings or both of them walk away this offseason. If both end up on the Bucks next year, I promise that they will earn a permanent number 30 position in all future league pass power rankings.