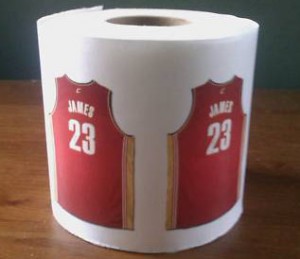 It's NBA finals time in Cleveland, Ohio.
The Titles He Won, the Things They Lost
Howard Beck
New York Times
Tim Duncan has been variously described as "boring", "aloof", "unassuming" and "quiet".  But if you take him for granted, homie's gonna cut you and leave you to bleed in the alley.  Well, okay, maybe not that extreme.  But as Howard Beck points out, Tim Duncan has made a career out of breaking hearts and dashing dreams.  As Beck writes, "Duncan has taken championships from LeBron James and Jason Kidd. He has derailed title runs by
Kobe Bryant, Shaquille O'Neal, Dirk Nowitzki and Steve Nash. He wrecked Mike D'Antoni's "seven-seconds-or-less" Phoenix Suns. He may have prevented a dynasty in Orlando. He is now threatening a dynasty in Miami."  Beck is absolutely correct: this guy has no regard for professional legacies, whatsoever.  Great stuff from Howard Beck.
- JG
The NBA's "Model Minority": The Exceptional Spurs
Dr. David J. Leonard
Dr. David J. Leonard
In one powerful opening sentence, Dr. David J. Leonard unleashes an assertion that makes me stop in my tracks, and rethink everything about the way we project American cultural mores on a professional team.  He writes, "While not explicit there seems to be this subtle tone that the Spurs success reflects the number of international players."  And he's right!  All of the talk about perfection, execution, citizenship; these are all the stereotypical markers associated with the Model Minority myth, which is pervasive in academic discourse, and serves as a rallying point for analysis around assimilation and post-colonial mimickry.  But just like that, the post ends, without much more analysis.  God dammit.  My hope is that Dr. Leonard expounds on this theory at a later date, because he's definitely on to something, here.
- JG
CourtVision: It Was the Best of Shots, It Was the Worst of Shots
Kirk Goldsberry
Grantland
Two shots diverged in a yellow wood, and sorry I could not analyze both…alright, that's enough of that.  Robert Frost probably wasn't a basketball fan.  But if he was, he'd see that this short-hitter from Kirk Goldsberry is poetic.  Goldsberry looks at, arguably, the two shots that determined the fate of Game 1 of the NBA Finals: Tony Parker's unbelievable circus shot from the end of the 4th quarter, and Chris Bosh's ill-advised elbow three from a few minutes earlier.  In his Goldsberrian way (that is, with shot charts that resemble boot-leg Monet, with Marvel  Comics font on top), Goldsberry shows us how, despite the chaotic nature of Parker's shot, and the collected persona of Bosh's three attempt, Parker's attempt was sound, while Bosh's was not.  This is a really nice little piece to show how Parker took the shot less relied upon, and it made all the difference.
- JG
American Exceptionalism and a culture of flopping
Dr. David J Leonard
Dr. David J Leonard
We've somehow arrived at a point where the uproar over flopping is louder and more destructive to the game of basketball than flopping itself. But how did we get here? Dr. Leonard argues that the policing of flopping is related to the NBA's "tendency to imagine its (black) players as criminals in the post-Palace Brawl landscape". Furthermore, he points to examples of "flopping" in all wakes of American life to make the point that "flopping" is as American as apple pie.
- KD
Has America Progressed?
Kiese Laymon
ESPN
When Jason Collins came out, aside from a few statements, the reaction from the basketball world was overwhelmingly, and somewhat surprisingly, positive. In the rush to make Jason Collins a symbol—the first to be openly gay while playing in one of the big four professional sports—is it possible that we are avoiding having a conversation around "much more meaningful personal questions"? Kiese Laymon reaches back into his own experiences playing ball with a gay player, and laments how he was so self-congratulatory at being "okay" with it, that he failed to actually get to know his teammate. A great story, and a fate that hopefully will not befall Jason Collins.
- KD