Diss Guy: Bob Myers
I've been sort of dialed out of basketball for the last two weeks, so I'm pretty out of the loop with whatever your team is doing right now.  But I know about my team, and right now, our general manager Bob Myers is on some sort of winning streak. I feel pretty safe awarding him Diss Guy of the week.  Congrats, Bobby.  You the man.
I mean, dang, has any general manager had a run quite like Myers has over the past month or so?  He convinced Joe Lacob to buy into the NBA draft, securing the 30th overall pick (and a pretty nifty looking combo guard named Nmanja Nedovic).  He then pulled off one of the steals of the offseason, turning the unsavory contracts of Andris Biedrins, Richard Jefferson and Brandon Rush into Andre Iguodala.  He signed an impressive array of free agents to reasonable contracts, including backup forward-centers Marreese Speights and Jermaine O'Neal and scrappy Curry stopper Toney Douglas.  And what's more?  The summer league team he helped put together is currently undefeated, getting ready to play in their second straight final, and Kent Bazemore looks great! Granted, he's likely not working alone.  But as the face of the operation, damn.
GMs can fall as quickly as they rise, and if things go wrong Myers could be gone by next year (though it'd take a pretty big choke job at this point).  It seems like a cutthroat business, with pretty nasty turnover.  But as long as he keeps up with the Jones's of the West (and not overpay role players whose values artificially skyrocket after a few weeks making plays on national television, but nothing to love for Jarrett "4 years $25 million" Jack and Carl "4 years $26 million" Landry), he's going to have to try pretty hard to fall out of Warriors fans' (and ownership's) graces.
This fun won't last forever, and it's not even guaranteed to work in the regular season.  But this sure is exciting.  Thanks, Bob.
Miss Guy: Joseph McCarthy & McCarthyism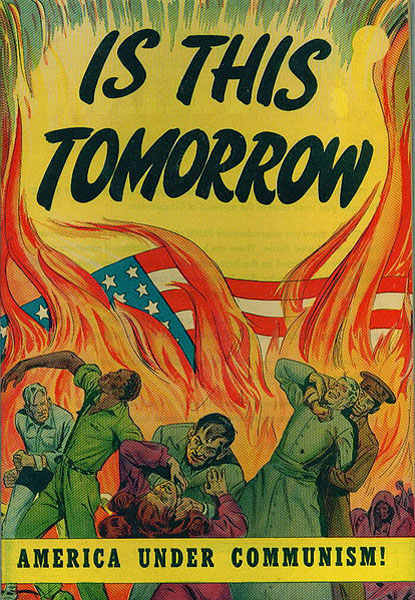 Here's a brief History lesson, for all of those who forgot their high school US history.  Joseph McCarthy was a senator from Wisconsin, who really, really hated communists.  He hated them to virulently that he conducted something of a witch-hunt from 1950 to 1955, a period called the Second Red Scare.  During this time, McCarthy used his position as an elected official to compromise the civil liberties and rights of thousands of American citizens, who were falsely accused of being communists and Soviet subversives.  These practices were later labeled as "McCarthyism", and the term has been expanded to include most campaigns against individuals or ideas, backed by flimsy or non-existent evidence.  For his part, Joseph McCarthy is responsible for some of the more deplorable episodes of the Cold War domestically, especially the formation of the House Un-Americans Committee, and the Hollywood Blacklist.  Hundreds were imprisoned, and thousands lost their jobs, all based on flimsy evidence informed by the hysteria of the age.
Why am I bringing this up on a basketball blog in 2013?  Well, the legacy of Joseph McCarthy and McCarthyism  are seemingly apparent in some rumblings around recent free agent dealings with the Brooklyn Nets.  The Nets recently signed Andrei Kirilenko to a two year contract worth roughly $6 million.  This was a bit puzzling, seeing as how Kirilenko was due to earn about $10 million from the Timberwolves next year.  Almost immediately, reports starting coming out that NBA GMs suspected some rule breaking had taken place between Kirilenko and Mikhail Prokhorov, the Russian billionaire and oligarch who also owns the Nets.  Prokorhov rightfully asserted that these misgivings were based largely on outmoded stereotypes about Russians that date back to the Cold War.  "I think old stereotypes, they are very hard to beat and to break," said Prokhorov in a press conference late last week to introduce a bevy of new Nets (Kirilenko was not in attendance.  He added, "I want to thank our fans and members of the press, because they have been very quick to support us. And I respect all the NBA rules, and we play by the NBA rules. But I want just to stress once again, like with the luxury tax, I will do whatever I can in order to win championship, but under the NBA rules, please make no mistake about this."
I am reluctant to label the grumblings of NBA GMs as McCarthyism reincarnated, but it's hard not to agree with the Nets owner in this situation.  Ken Berger does an excellent job laying out the flimsiness of the "backroom dealings" argument here, and indeed, it does seem like the crux of their argument is that Prokhorov is rich and both guys are Russians.  There are strange ties to historical distrust of Russians in this strange tiff, and it is as compelling as it is disturbing.  It is interesting the ways history repeats itself in unlikely spots.