Hope springs eternal in the human breast;
Man never Is, but always To be blest:
The soul, uneasy and confin'd from home,
Rests and expatiates in a life to come.
– Alexander Pope, An Essay on Man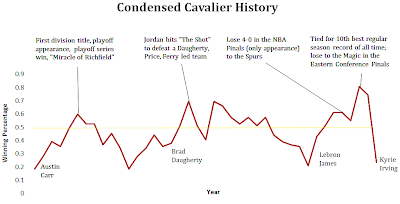 The ebb and flow of basketball greatness is nothing if not cyclical. Even the best-run teams miss the playoffs sometimes, and even the worst-run occasionally strike gold. All it takes is a new coach, a new owner, a blockbuster trade or a great draft pick for a team's fortunes to turn the corner.
No team demonstrates the cyclical nature of the draft lottery better than the Cleveland Cavaliers, for their fortune has always been tied directly to the bounty of a number one pick.
Austin Carr Selected in 1971, Carr was a star at nearby Notre Dame. He was often injured, but his steady play and leadership at shooting guard led to the Cavs to a series of firsts: first division title, first playoff appearance, first playoff series win.
Brad Daugherty After ten years of below .500 basketball, the Cavaliers were rewarded with number one pick Brad Daugherty in 1986 (they also got Ron Harper AND Mark Price in the same draft). Unfortunately, Daugherty's peak came during the days of a STACKED Eastern Conference, and the Cavs lost four playoff series' in six years to Michael Jordan's Bulls. Daugherty's career was also cut short, at 28, by back problems.
LeBron James If I need to explain this guy you probably shouldn't be reading this blog.
Which brings us to 2010-11. With the second worst record in the NBA, the Cavaliers assured themselves a high draft pick, and a shot at the number one pick. In fact it was the LA Clippers who won the draft lottery, but because they had traded their pick to the Cleveland earlier in the season, the Cavaliers ended up with both the first and the fourth picks.
Kyrie Irving A bit of a risk with the first pick, as he had only played 11 total games in his college career, Irving looks to be the right choice. He is either the first or second best player in the 2012 rookie class (Ricky Rubio might be better, but he's also two years older), and will be the Cavaliers point guard for years to come. With the fourth pick Tristan Thompson, and second round pick Milan Mačvan tearing up Europe, this draft class might even surpass the Cavs 1986 haul.
And thus Cavalier history begins a new. Whether through injury or "The Decision", all past number one picks have been gone from the Cavs by 28, leaving the team barren. But hope springs eternal, after-all not every team gets four number one picks, and connects on all four of them. It is the Carr Daugherty James Irving era in Cleveland, and if history is any indicator, the Cavaliers will soon be soaring to new heights.