As Franklin hinted earlier this week, we're busy working on a big, secret project.  We can't tell you about it until tomorrow.  So The Week That Was will be shorter than normal, though the week itself was still seven days long.
So anyways, on tap for this week: lamenting the ongoing Dwightmare, mapping out the Sixers implosion, and 113.  Let's get to it.
1. TMZ Loves Us.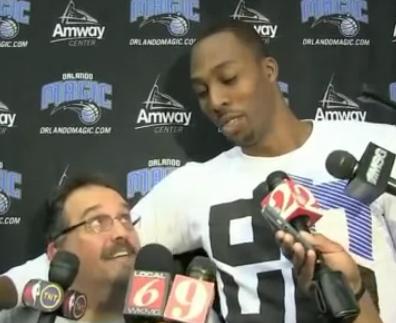 Yep, once again, the biggest news of the week had nothing to do with anything that happened on the court, but rather, what's going on off of it.  And yep, once again, it had to do with Dwight Howard, Stan Van Gundy, Otis Smith, and the rest of the gang at Orlando Magic Clown College.  Basically, Stan revealed to the media that he knew Dwight wanted him fired, and that his information had come "straight from the top." Then, the most awkward interaction between player, coach and media members ensues.  Watch the video.  Read the commentary.  It's ridiculous on a lot of levels.  Too many levels.
Sigh.  I don't have a lot to say.  Like most fans, I have tired of this NBA soap opera, this "Tales of the Wanton Superstar."  The cutely named Dwightmare joins other afternoon dramas like The Decision, Melodrama, "WoW": the CP3 story as sad distractions that reflect poorly on the NBA and the media. When a star wants out, it cannot happen quietly.  The media focuses exclusively on the player and their inevitable departure, and everything else falls by the wayside.  Admit it: you have no idea who is on the Orlando Magic this year.  But it's not your fault.  There's been nothing else to talk about, besides Dwight and Stan, their relationship, their future, blah blah blah.  It's a travesty that you're more likely to know the name Otis Smith, the boneheaded GM, or Alex DeVos, some billionaire who owns an NBA team, than Ryan Anderson, the Magic's surprisingly talented second scorer, or Hedo Turkoglu, who succeeds in the NBA on a diet of cigarettes and pizza.  When a star wants out, nothing else matters.
I'm pretty certain that the NBA is the only league that TMZ regularly covers, and even breaks stories.  Drama is a part of professional sports for sure, but this is rifuckulous.  So on behalf of America: Hurry up and figure your shit out, Dwight, so we all don't have to deal with your crap anymore.
2. No Winners, Only Losers.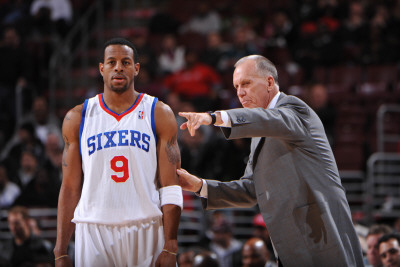 I am sad that the Sixers are imploding.  The Sixers are 14-16 since February, and are currently mired in a three game losing streak.  They fell from third to seventh in the East, and are in danger of falling out of the playoffs altogether if the Knicks and Bucks continue to play well.  As ESPN's Kate Fagan reports (on her wonderful blog "Writing and Hoops"; hat tip to Symbol Lai for the reference), the Philadelphia 76ers are who we sort of thought they were: a team with very good role players who benefitted from a really easy schedule to begin the season, but now suffering from a lack of a go-to fourth quarter scorer, as well as a lack of chemistry in the locker room due in part to Doug Collins' overbearing coaching style.  Fagan contends that players are beginning to tune out Collins, which tends to happen with his teams over time.  She also asserts that players have had difficulty ascertaining what their roles are on the team, and that a number of players — namely, Andre Iguodala, Elton Brand and Lou Williams — have not lived up to their hefty contracts.  John Mitchell of the Philadelphia Inquirer echos many of Fagan's points, and adds that should a player mutiny occur, ownership is likely to side with the coach.  "[Owner] Harris is a self-made billionaire, and he didn't reach that status without a grinding work ethic, which Collins posesses," writes Mitchell, adding that "the last thing he probably wants to hear is some prima donna anonymously bashing the guy whom he sees as the long-term answer at coach."
That's a dangerous game.  As a self-loathing and self-pitying Warriors fan — a charming combination — I really hope the Sixers aren't planning on siding with a coach who shows a history of alienating players who don't go along with his system.  In 1993, former Warriors owner Jim Fitzgerald was forced to decide between Chris Webber, the talented rookie of the year, and Don Nelson, the head coach, in their long standing conflict over Webber's on-court role.  The owner chose Nelson, and sent Webber to Washington for Tom Gugliotta and three first round picks.  How'd that work out?  Well, Nellie started the next season 14-31, and was fired. The team didn't return to the playoffs for another thirteen seasons.    Bill Simmons does a commendable job spelling out the entire saga here.  But in any case, the Sixers could face a similar situation if they choose Collins over the players.  Believe me, that's no fun for anyone.
But still, coach versus player doesn't really get to the bottom of what's ailing the Sixers.  Fagan's right — the Sixers are stuck between turning the team over to younger, slightly underachieving players like Jrue Holiday and Evan Turner, while still paying lots of money to older, slightly underachieving veterans like the aforementioned Iggy, Brand and Lou.  Much work needs to be done to this mediocre team, and the changes, likely, will have to be wholesale.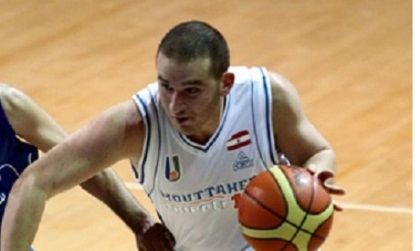 The most remarkable thing that happened in the basketball world this week didn't happen in the league where, purportedly, amazing happens.  Amazing off-court drama, maybe.  Nope, the most impressive thing happened way out in Lebanon.  Guard Mohamed Al-Akkari, who was averaging 7.6 points per game for Moutahed, scored 113 points in an Division A Final 8 game in the FIBA Asia tournament.  He hit 32 out of 59 three point attempts, and only scored one point from the free throw line.  Amazing.
Alright.  Back to work on top secret shit.  Talk to y'all tomorrow.