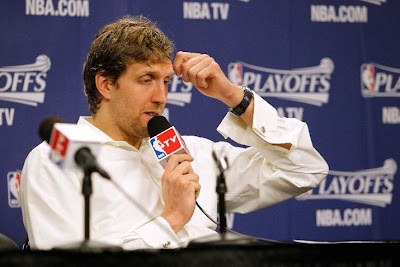 So let's talk about mercy.
After heaping praise on a Mavericks team that had slept through most of the regular season, but had impressed me after two highly spirited playoff performances,  the boys in blue let me down tonight.  A  95-79 defeat essentially ended the Mavericks' season.  Dirk Nowitzki delivered a stinker of a performance — 17 points and nine rebounds on only 40% shooting, as well as three missed free throws — and the rest of the team looked uninspired and largely defeated.  As fans started streaming towards the exits with about eight minutes left in the fourth, the air left the building and the Mavericks' title defense ended.
But that's the thing.  It's not over!  There's still one more game left to play.  The Mavericks will have one more chance to keep their season alive.  Then, after that, they'll have to win another game.  And another.  And another.  In other words, they'll have to beat the Thunder four times in a row. Or, if you prefer, the Thunder will have to go on a four game losing streak — something they haven't done in over two seasons — in order to face the winner of the Lakers-Nuggets series in the second round.  Simply put, it's not gonna happen.
In this week's roundtable, we discussed whether we preferred a five-game series or a seven-game series in the first round.  Most of us voted for the bygone five-game series, as it offered (presumably) a better chance for an upset, and wrapped up lopsided matchups rather quickly.  On the other hand, the seven-game series has been a saving grace for a number of teams.  The 2002-03 Detroit Pistons saved themselves after falling behind 3-1 in a first round series against the Orlando Magic, and won the series 4-3.  The 2009-10 Atlanta Hawks, who had lost three straight to the Bucks after going up 2-0 in their first round series, won two straight to advance.  Obviously, there are situations where seven games can be useful.  But 3-0 is not one of those situations.  No team in NBA history has ever come back from a 3-0 deficit.  Alternatively, no NBA team has ever blown a 3-0 lead in a series.  It just doesn't happen in this sport.
So what to do?  I don't want to watch a Game 4 in this series that just prolongs the inevitable.  Further, I would guess that neither team really wants to play in a Game 4.  The Mavericks would just as soon get their offseason started.  The Thunder would appreciate the extra rest as they get ready for the Lakers (sorry Nuggets fans).  Neither team wants to incur any injuries in an essentially meaningless game.  There has to be a solution.
So how about something like a mercy rule?  Jason Angeles, who watched Game 3 with me, suggested that once a team goes up 3-0 — or, if you like half-empty glasses, that a team falls behind 0-3 — you call it.  That's it.  If you've got a 3 game lead, you're obviously the better team.  If you've got to win four straight games to get back into the series…well, that's just not going to happen.  But, if you win a game between games one and four, you'd still have the luxury of seven-game series.   This would allow for a series like the Thunder-Mavericks to wrap up in a timely fashion, but gives teams that show some fight in the first four games a chance to stay in the tournament.
In any case, that's my random playoff thought for tonight.
One more thing: excited Grizzlies kid.