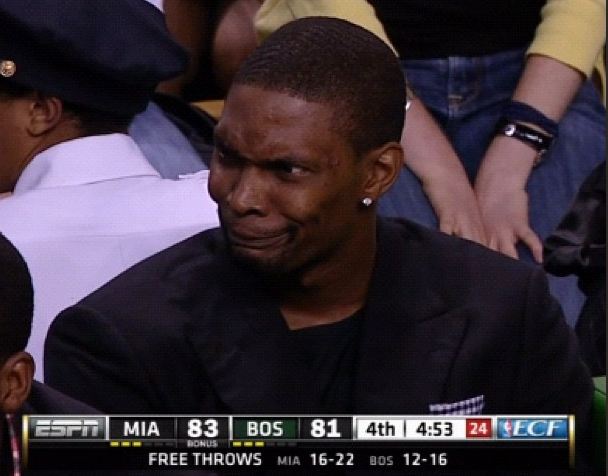 Even though he hasn't played a minute of meaningful playoff basketball in three weeks, is it possible that these playoffs will be epitomized by Chris Bosh?
I argue that playoff experience is epitomized by the performance of one (or, at most, two) players.  In 2001, it was Allen Iverson's sisyphean effort with the Eastern-conference champion Philadelphia 76ers.  In 2004, it was Rasheed Wallace's emergence as a defensive renaissance man and offensive adhesive for a Detroit Pistons team that maximized talent on a "starless" team.   In 2006, it was Dwayne Wade's unapologetic leadership as he grabbed a Miami Heat team by the horns, and rode them bucking and bouncing out of a two game hole, and all the way to the NBA finals.  And most recently, in 2011, it was Dirk Nowitzki's refusal to give up, and let the prevailing narrative — that the Superteam era had begun, and that he and his Mavs were doomed to a life of bridesmaid-dom — defeat him or his team.  These are the performances that become legendary, and help us match individual memories with larger, holistic experiences.
A singular playoff hero, whose feats will become emblematic of the 2012 playoffs, has yet to be identified.  Indeed, there are a number of candidates — Rondo's playing out of his mind, as is Durant — but it's hard to point to one player in particular.  Instead, most of the focus has been on the particular systems each team utilizes to achieve success, and how these systems compare and contrast to one another.  The unbelievably compelling Thunder-Spurs series (which I still think will go a full seven, despite the fact San Antonio is now on a three game losing streak, and entering an elimination game in Loud City) has been portrayed as a battle of systems, rather than individual players.  Neither Tim Duncan nor Kevin Durant are bigger than the systems that fortify them and their colleagues, which is portrayed (accurately) as testament to "team basketball" and "good coaching".  The same goes for the equally engrossing Heat-Celtics series, which has been framed (like most things involving Lebron and the Miami Heat) as a battle between good and evil, with the Celtics assuming the role as lovable underdog, and the Heat assuming the role of, well, the Heat.  No one player is singled out for praise, and as a result, we are focused more on the dynamics of the team, rather than a particular player.  However, if Chris Bosh plays tonight, all of that could change.  Bosh, who has been out since the first game of the Heat-Pacers series with an abdominal strain, is listed as day-to-day, and seems likely to be available for Eric Spoelstra and the Heat. And if so, his moment of truth, his day of reckoning, has arrived.
In many ways, there is no better person to assume the role of 2012 Playoff Hero than Chris Bosh, as Bosh already plays the role of outcast, on his own team, and in this occasionally low-brow league.  He is a peculiar player; a star with none of the fanfare, who has struggled to fit in both on the court and off the court.  As a player, Bosh is often labeled as soft, due to his preference to play in the mid-post, and his reluctance to mix it up down low.  He is thought of as a "fake tough guy", or "Ru Paul", and has been directly and indirectly effeminatized by players and pundits alike.  As a person, Chris Bosh rarely seems to fit in.  He is a member of the Big 3 in name only, as James and Wade clearly have a closer relationship between themselves, and without Bosh involved.  While James and Wade hold their postgame press conferences together as a grand finale, Bosh comes right before them, and sits alone, forced to face his critics without the reigning MVP or his high-powered sidekick to back him and his reputation up.  Bosh prefers quiet nights at home, jazz music, and reading books, rather than bass-heavy nights in South Beach. Famously, his bachelor party included paintball, magic shows, and largely unknown role players.  It was a far cry from the bash Lebron James was throwing at the same time, and who declined Bosh's invite to attend.  In many ways, Bosh has never fit the mold on the court or off the court, and over time, it has come to define him, whether that definition was deserved or not.
Yet, it goes without saying that the Heat could use Bosh, and quick.  Kevin Garnett and Brandon Bass have dominated the Heat down low, offensively and defensively.  Garnett in particular has caused the Heat fits, averaging 20 points, 11 rebounds and 3 blocks a game.  Boston had the edge on points in the paint, 58-46, and neither Lebron, Wade, or even Mario Chalmers and Udonis Haslem had much luck scoring consistently in the block.  Bosh's "fake tough guy" game would force Garnett out of the post and would open the lanes for his high-scoring teammates.  Furthermore, in their history of playing, Bosh and Garnett have largely canceled each other out on the court, allowing their teammates to seize the day.  Bosh would dutifully do the work required, and allow James and Wade to experience the lionshare of the glory.  It's something he's likely used to.
While I'm not rooting for the Heat, in many ways, I am rooting for Chris Bosh.  The only reason Bosh is ridiculed, both for his play, and for his personality, is because he doesn't quite fit the mold.  People and players judge him because he is soft-spoken and intelligent, and refuses to portray himself in the mold of James, Kobe, or any hyper-marketed superstar.  They question his motivation, his masculinity, and even his sexuality, simply because he is different than the vast majority of his peers.  As many of us have experienced in our own lives, this is a degrading and demeaning experience; to be a book whose cover is consistently and unfairly judged.  This practice has emblematized Bosh's career thus far.  But now there is a chance that that could change, for good.
No, I'm not rooting for the Heat.  I've got more class than that.  But I am supporting Chris Bosh.  And if the Heat ran all the way to the title, and Chris Bosh was the reason it happened?  It would be a feat for outcasts everywhere, and Chris Bosh would be their — and maybe even our — hero.
So let's see what happens tonight.