The 2012 NBA Championship Finals is the most compelling Finals matchup since __________.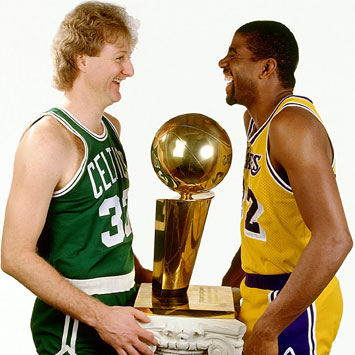 Omar Bagnied: Hakeem Olajuwon-Patrick Ewing in 1993-1994. Jordan had just retired to play baseball and all the sudden the championship was there for the taking. Olajuwon was the MVP that year, Ewing was New York's franchise player in his ninth year still trying to prove his worth as their number one pick. It ended up going seven games, one of only five finals series to do so in the last 30 years. It also defined the legacies of Olajuwon and Ewing, one as a champion, the other ringless.
Jairo Martinez: Jordan v. Malone. The year Malone won the MVP, the debate whether or not he deserved it raged on for the entire year. Jordan upstaged Malone in the Finals and took home the top prize. Deja Vu anyone??
Jacob Greenberg: Since, I dunno, last year? I think every finals is compelling. So many things have to go right for a team to win four seven-game series in a row, and that journey interests me to no end. I do think it's interesting that the Thunder are the first team not named the Mavs, Spurs or Lakers to represent the West since Utah in 1998. Parity what?
Franklin Mieuli: Lakers v. Detroit in 2004. I know we all look back on that starless Detroit team as being boring, but what a finals matchup! Malone and Payton joined the Lakers to make a run at a ring, and Detroit had fun players like Rasheed and Ben Wallace. The Lakers were also supposed to steamroll the Pistons, but ended up getting flattened themselves.
BESIDES LeBron James, this Finals is most important for _______'s legacy.
Omar Bagnied: Chris Bosh. People forget that he's from the same draft class as LeBron and Wade, picked 4th before Wade. He's a seven time All-Star, but his legacy has not yet been defined. His toughness has been questioned, as Jacob mentioned in this piece last week. Though I don't think Miami's big three will be broken up if they lose, if they are broken up this could be Bosh's last chance.
Jairo Martinez: Dwayne Wade. He is undoubtedly the leader of the Heat, yet last year all the blame fell on Lebron's inability to close. If the Heat fall, Wade needs to share the blame. He may not get another chance at a title with his body betraying him.
Jacob Greenberg: Already talked a bit about Chris Bosh, so how about Mario Chalmers? Dude won the starting job during the finals last year from the shambling corpse of Mike Bibby, and since then, has been up-and-down as their lead point man. With a slew of worthy candidates to take his job awaiting in free agency, Chalmers will need to have a great series to convince Pat Riley and company that he's the right man for job. Otherwise, he could be backing up Steve Nash next season.
Franklin Mieuli: Derek Fisher. Dude has won five championships, hitting clutch shot after clutch shot, but while we debate whether Robert Horry should be in the Hall of Fame or not, there is no question that Fisher should not. But what if he wins a sixth championship with Oklahoma City, the same season in which he was dropped from the Lakers because Ramon Sessions was supposed to lead them to the promised land? Fisher could join Horry on equal footing as "Best Ever Role Player" with another championship.
BESIDES LeBron James and Kevin Durant, the most important player in this series is _________.
Omar Bagnied: Serge I-BLOCK-a. LeBron and Wade will be driving all series, the percentage of those drives ending in blocks can determine the series. Plus, Serge will be guarding Bosh, so his defense on the big three will be critical. If he can provide the same kind of offense he did against San Antonio, 71% FG percentage in the last four games including that perfect 11-11 in Game 4, he'll be the x-factor.
Jairo Martinez: James Harden. He took huge shots in critical stages to help setup Durant and Westbrook in Western Conference Finals. He is key in keeping Miami honest defensively and OKC in the game should KD be neutralized.
Jacob Greenberg: Russell Westbrook. He had a great game yesterday. It's always a question of whether Westbrook can control his emotions and the game's tempo, and last night he did a wonderful job on both counts. I'm not always a big fan of his game or on-court demeanor, but he's a spectacular basketball player.
Franklin Mieuli: Chris Bosh. On offense, he will need to get his outside game going to pull Serge Ibaka out of the paint. On defense, with either no help or LeBron masquerading as a center, Bosh will need to be a tough inside presence on Durant and Westbrook's drives.
If Miami loses in the Finals, this offseason they are going to _______.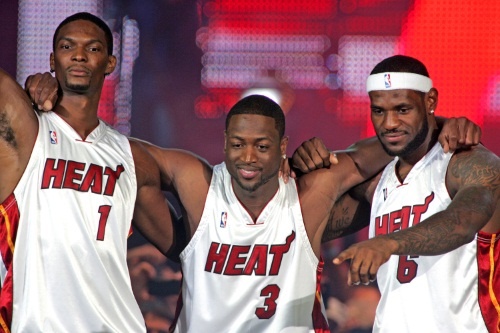 Omar Bagnied: As I mentioned earlier, I don't think they'll break up the big three, especially if this series goes six or seven games. I know many people say they will, but are you kidding me? Is Miami going to improve by breaking them up? They were within a couple games of a title last year and at worst the same will happen this year. I just think they'll work on signing better complementary players and drafting well. They'll start by cutting Juwan Howard, which will spell the end of his career and mean that none of the 'Fab Five' will ever have won a championship, college or pros.
Jairo Martinez: If (when) Miami loses, the whole thing needs to be blown up and started over from scratch. Bosh's absence magnified the lack of bench depth. The PG position has been unnerving at times with Norris Cole looking good at times and miserable others. There is plenty of dead weight (Eddy Curry + Juwan Howard) and guys who just cannot sustain the daily grind to compete (Mike Miller). I say look for a surprise trade of either Wade or Bosh to help restock the team.
Jacob Greenberg: Get better, but not by breaking up the big three. Clearly this is a team that can win it all, but they're still searching for the right combination of players. But anyone who thinks Riley's going to dismantle his coup de gras after two successful seasons doesn't know anything about basketball.
Franklin Mieuli: Do the same thing they did last offseason. Try to entice veterans to come play for them for very little money (Steve Nash), and see if there is someway they can trick anybody into taking Juwan Howard's corpse.