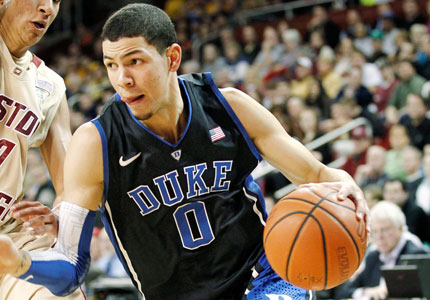 The Basics:
Austin Rivers
8/1/92
Shooting Guard, Duke University (1 year)
Official Measurements from NBA Combine in Chicago
Height (with shoes): 6'5″
Weight: 203 lbs.
Wingspan: 6'7.25″
So who should go number 2 overall? If you ask Austin Rivers or Skip Bayless, both would tell you that he should. 


The 19 year old, one and done guard from Duke, oozes confidence and at times what could be perceived as selfishness on the court. Coach K, with his ultra traditional approach to basketball, would even tell you - shut up and just watch the kid play (though his outspoken critics may beg to differ by pointing out his lackluster showing during the NCAA tournament).
Austin Rivers. The name sounds vaguely familiar, right? The chip off the old block is following in his father's footsteps by playing the guard position and if tonight is any indication it will assuredly be somewhere in the NBA. His quick feet, killer crossover, and deep range could allow him to light it up at the next level.
Though the biggest worry for Rivers tonight is who is willing to take a chance on him? While he shows promise - his selfish play on the court (exemplified by his horrid shot selection  and very few to no assists) may scare teams away that are seriously considered with chemistry issues and limiting superstar squabbles. Rivers will need to address this in camp and help improve his game. His ability to drive to the paint is excellent, though finishing leaves something to be desired. His lack of a left hand and strong leaping ability may make him susceptible to defenses crashing on him. 


This is still a "what can you do for me now?" so look for the Hornets to pair him up with Anthony Davis at number 17. The Hawks, Suns, Blazers and Mavs may take a real good look at him for the future.