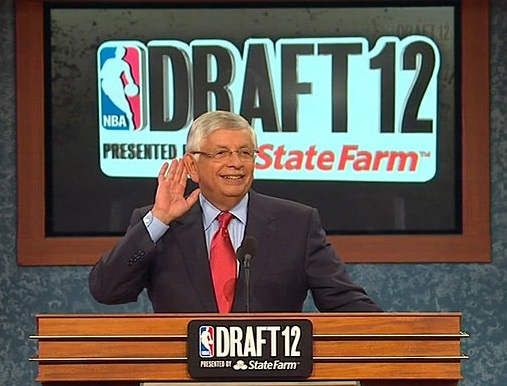 D-Day Plus 1 is a frustrating day if you're an NBA fan.  This is the day that all sites dedicated to the NBA determine who "won" the draft, who "lost" the draft, who was the big "steal" and of course, who will become a total, unforgivable "bust".  We wanted the dust to settle a bit before we offered our thoughts about D-Day.  This is a blog for the discerning NBA fan, after all not some cluckster from Sheboygan.  Nawmsayin'?  And my apologies to all our fans in Sheboygan.
1. Given that the draft is, at best, an educated guess, can we really assess "winners" and "losers" the day after?  Why or why not?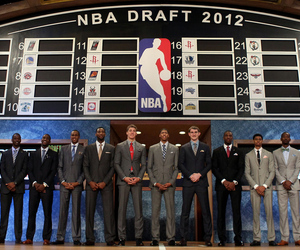 Hans Peterson: Not meaningfully.  I guess you can argue the Cavs should have traded back for more "value" since they could potentially get Waiters later.  But what if no one was willing to trade and Waiters becomes Dwayne Wade?  Then they did the right thing.  That said, I'm wholeheartedly in favor of predictions.  It is what makes these things fun — it's gambling your basketball-mind reputation.  So I still think it's fun, we should probably just call it what it is.  Instead of "grade" the draft, it's "predict" the winners and losers.  So even though no one knows, I think it is fun to guess whether Andre Drummond is going to be a disaster (he will: Greg Oden's college body + Darko's brain + Ben Wallace's ball skills).
Jordan Durlester: We can assess "winners" and "losers" the day after the draft by doing essentially what we've been doing at The Diss for the past two weeks: evaluating where a team is lacking and seeing if they made a solid effort to identify the best prospects to fill their voids. Because successful player evaluation is anything but guaranteed, those teams who had a clear drafting strategy and executed it well were the winners.
Frank Mieuli: We can assess "winners" and "losers" if it comes with the caveat that we are missing the most important information.  It is absolutely fair to say things like "the Oklahoma City Thunder won the draft because they got Perry Jones III with the 28th pick" because, for that pick, they got tremendous value.  Now, it may turn out that Perry Jones III busts out of the league and some undrafted guy becomes an All-Star, but from our current vantage point, they did great.
Jairo Martinez: Initially you want to rate based on players drafted and potential impact they may have on rosters.  Its strictly hypothetical but fun putting it together.  I say a fair assessment should come after 3 (healthy) years.
Omar Bagnied: No of course there's no way to make an accurate assessment yet.  But we can use certain metrics in the interim.  Before the draft even begins you can look at quantity and quality (order) of pics, then account for trades to acquire players, gain picks and move up.  As for assessing the actual talent of players, you can gauge stats, competition and physique.  Right there are six objective metrics to take into account.  Other factors are more subjective in nature, like perceived personality traits (resilience, work ethic, focus, drive [read: Thomas Robinson]).  That being said, if we look at yesterday's draft it's unlikely there will be a team that improves more, based strictly on draft activity, than New Orleans.  A franchise-changing defensive big man with guard chops, the cold-blooded scoring son of Doc Rivers, and a small forward who player four years under John Calipari at Kentucky to supplant Ariza.
Jacob Greenberg: I think it's difficult to assess a winner or loser because no two teams are alike.  The draft provides a sort of clearing-house day to do some major clean up, and no team enters that day with the same agenda.  Some teams need massive rehauls (Hornets), and some need cosmetic fixes (Thunder). I think the only losers are those who made stupid moves that prevented them from taking part in the affair. The Nets, for example, are a loser because they sacrificed their pick to Portland for Gerald Wallace, who opted out of his deal a few days ago.  Everyone else is off the hook, as we have no idea what's going to happen, tomorrow, or ten seasons down the road.
2. Do you think it's harder to draft for talent (assessing the best player available) or to draft for need (assessing which player will excel at a specific skill)?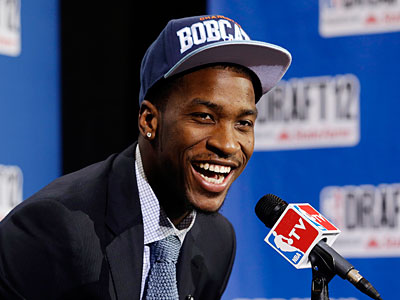 Hans Peterson: Talent.  Because then you have to factor in potential.  If your job was to pick the best player that day, it would be easier (this was closer to the case when the Blazers missed Jordan because everyone had 3-4 years of college under the belts).  Now it doesn't really mean pick the best player available, it is pick the guy who will BECOME the best player available.  If you desperately need a shooter, you can pick John Jenkins and know he will be able to do that.  If you desperately need someone who could turn into a top 10 player, do you take Kidd-Gilchrist or Beal?  The problem is, until you are a contender, you pretty much have to take the latter, more difficult approach.
Jordan Durlester: Drafting for pure talent, regardless of need, is a much more complicated process that doesn't pan out more often than not.  Your job as a general manager is identify the pieces that will enable your vision of a winning basketball team to come to fruition on the court.  As is the case for any executive, playying is an absolute keystone, and it is your duty to ensure you're drafting not only the most raw talent but the most specialized talent that will aid you going forward.
Frank Mieuli: Talent.  For a lot of these guys, you know what you are going to get.  Anthony Davis, for example, will always be better on defense than he is on offense.  If you need a defensive-minded center, I can guarantee that he will develop into one.  The question is, will he develop into Dwight Howard or Theo Ratliff?  That's the question that scouts find tough to answer.
Jairo Martinez: I think it goes hand in hand.  That's why being a "talent evaluator" is such a tricky job. Skill is great to have but you risk your chemistry and leadership.  It's all a balance and you have to get the right formula.
Omar Bagnied: It's more risky to draft for talent because you don't know how it'll translate to the NBA, the highest level of competition.  Drafting for need is smarter for two reasons.  First, you're picking a guy that can start immediately, develop, gain experience and make an impact.  If you draft for talent (read: Chicago picking Marquis Teague) you're delaying all of the above because you're likely to stick the guy on the bench.  Furthermore, if the guy you picked was a star in his previous league and picked high you're inviting resentment amongst teammates and financial strains.  Second, filling a need by drafting oftentimes means you're getting a guy you need at a lower price than an established player would demand.
Jacob Greenberg: Hans got it right here. If you're in the draft, you're probably in need of better players, period (unless you're Detroit in 2003 and you blow it on DARKO MILICIC, and miss out on Wade, Bosh, Melo, or even Chris Kaman.  Why Joe Dumars still has a job is beyond me).  As such, you're always drafting for talent.  I think the players themselves know that, and in many cases, unrealistic expectations lead to sad self-fulfilling prophecies.  I'm happy undrafted sharpshooters like Anthony Morrow have found ways to get paid, but I'd also love it if guys like Michael Beasley had their moments in the sun too.  
3. Given everything that goes into being an NBA draftee — that is, your body of work as a player, combined with media and scouting reports (written by others) that assesses your skill-set and character — did Jared Sullinger "win" or "lose" yesterday?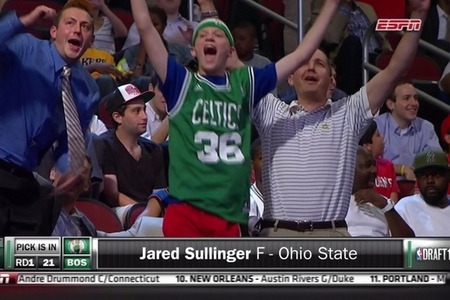 Hans Peterson: I mean, I guess he did fine yesterday given where he was at 8:00 am (out of the lottery) and then 10:00 pm (the 21st pick to the Celtics — not a bad place to be).  But he lost overall.  He went from a top-five pick last year to a final four appearance, back troubles, and out of the lottery.  I respect his decision, but he gambled and lost.
Jordan Durlester: Well, both.  Closer to winning than losing.  He probably could have gone much earlier, earning him more money on his rookie contract, but by falling later into the first round he ended up in a position where he has much less pressure and fewer expectations.  By missing out on a top ten pick he gains the opportunity to be introduced to the NBA game within an already established, winning organization.  Seeing as he's not exactly the model for an NBA starting 5, this could allow him the opportunity to learn the game while being counted on as nothing more than a second unit guy, a role that could prove longterm.
Frank Mieuli: It depends.  If he's a sensitive guy, then his slide absolutely could kill his confidence and make his mountain much harder to climb.  But if he is one of those, "fuck the world, I'm going to act like a dick and destroy everybody" (take a bow, Russell Westbrook) then it could serve as a beneficial motivating factor.
Jairo Martinez: Jared Sullinger did both.  He lost being a potential top 10 pick and testing the new CBA (monetarily speaking).  However he won in striving to win a college championship, which very few NBA players can attest to.  Also despite the reports that he had an injury, he landed in an excellent scenario to play in Boston.  He will learn from a future HOF guy in KG.
Omar Bagnied: He lost money in the short-term, but I say he'll win in the long-term.  If Sullinger's back injury isn't serous, he's landed in an ideal situation.  He's on a great team with revered history, has KG and Doc as teachers, Rondo as his point guard, Fab Melo to develop alongside and will likely get significant playoff experience in his first year.  I really can't think of a better situation.
Jacob Greenberg: I think he wins.  People honestly don't remember what you did in college (Kurt Thomas, the NCAA's leading scorer and rebounder, anyone?), and you are defined in the pros. Take Glen Davis, aka "Big Baby", a former Celtics draftee who now plays for the Magic.  The Celtics, honestly, have missed Big Baby. Both guys sort of share a similar narrative. Both were former college stars whose physical limitations lead to a "disappointing" draft days.  Big Baby played really like he had nothing to lose, and was huge for them for three seasons.  If Doc and the C's veteran core (which looks likely to be reunited once again — I think Ray Allen loves the Celtics more than he lusts for the Heatles) can do some good work with Sully, I think he will successfully reinvent himself.
4. If I could change one thing about the draft (or the way the draft is covered in the media), I'd change ____________ .
Hans Peterson: There are a lot of things I could say here.  I guess I would want the air of certainty/confidence/objectivity to be discared.  I think they should embrace the Draft as a fun and entertaining event.  Dreams are coming true, and we get to play a fun guessing game.  But stop pretetending that Dick Vitale knows any better than me whether Harrison Barnes is going to blossom in the NBA.  Everyone should get to guess the worst case scenario and best case scenario for each player, and they should spend the pre-draft part smack-talking clips of everyone's terrible predictions from the previous year.  And Charles Barkley should say at least 33% of the words that take place throughout the telecast.
Jordan Durlester: Move it out of the tri-state area.  The obnoxious and constant stream of boos every time Stern steps to the mic is a tired bit that wouldn't draw out nearly as long in a city filled with classier fans.  They boo everybody.  Move it to Chicago or San Francisco.
Frank Mieuli: The way trades are consummated.  It's ridiculous that a draftee has to wear a hat of some team that they aren't going to be on in 24 hours while we listen to the talking heads talk about how he will fit on a team that he won't actually be on, while everybody at home (and following on Twitter) knows there's been a trade.
Jairo Martinez:  No more spoilers via Twitter.  It ruins suspense and commentary.  Also Jay Bilas must have a board behind him where words are crossed off (and cannot be repeated) once he uses them to describe a player's attributes and skill set.
Omar Bagnied: Buzz Killington (read: NBA insiders) telling us who's going to get picked before it's announced.  None too amused by this…none too amused.
Jacob Greenberg: Move the Draft from ESPN to TNT.  ESPN's lineup of Jay Bilas, Jeff Van Gundy, Chris Broussard and Reese Davis did not click.  Neither Van Gundy nor Broussard (who rarely work together, and have little chemistry) seemed to like Bilas or Davis, both of whom cover the college game.  Van Gundy, in particular, seemed dour, and reluctant to participate in the cheerleader, American Dream pep-rally narrative that Davis put out there.  I think the TNT crew — former NBA draftees who have experienced a myriad of successes and disappointments relative to their respective draft position — would provide better insight into the event's history and importance.  I'm way more interested in what Chuck, Kenny, C-Webb, Steve Kerr, and yes, even Shaq, have to say about this event than Tom Penn, Jay Bilas, or Andy Katz.