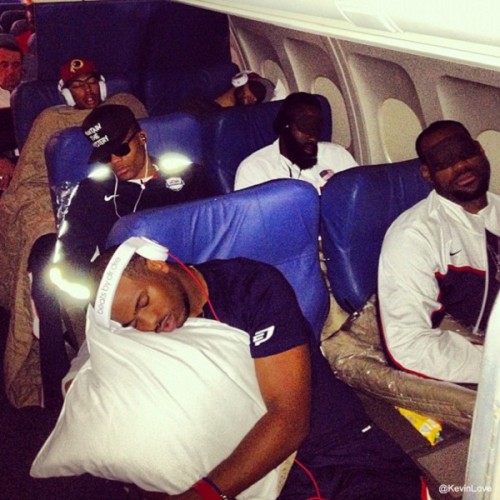 Team USA finished up its pre-Olympic exhibition schedule on Tuesday by defeating Spain in a less than stellar performance. The main storylines thus far with regards to Team USA have been mostly playful and lighthearted anecdotes featuring some phenomenal photo ops of sleeping NBA super stars. All fun and games aside, David Stern has recently expressed his feelings that perhaps we need to reexamine the structure of Olympic basketball in the United States. Speaking largely on behalf of team owners, Stern has floated the idea of making Team USA only open to players 23 years of age and younger. Building further on this notion – he loosely expressed his vision of a World Cup of Basketball in which every four years (as is the case with soccer/futbol) the best of the best compete on behalf of their countries for the World Championship.
All right, Stern. I'll bite. Let's just say we accept this idea and try and come up with our starting five had this rule been on the books before the start of the London games. In my opinion, here's what our lineup would look like:
Not too shabby, eh? Now, just for the hell of it – let's say we can magically cure all the previously injured players. Substitute Rose in for Kyrie, shift Love to the 5, and let Blake play the 4. The case couldbe made that that starting line up would be slightly better equipped for the Olympics due to their youthfulness.
The glaring weakness with Team USA in 2012 is the serious lack of quality big men. The depth chart for Centers looks something like this:
C - Tyson Chandler, Anthony Davis, Carmelo Anthony, Chris Paul, Jerry Colangelo
With that given, let's go ahead and assume Team USA wins the gold medal (A heady assumption I know, but just go with it). If our biggest issue to overcome is defending the post, and we manage to scrape by with that sort of depth chart, does removing one player (Chandler, a talented but not necessarily elite defender) decrease our chances THAT much? I don't think so. In my opinion, what makes Stern's timing of this idea so compelling, is that THIS year of all years would be the one in which our U23 line up could probably compete just as much as our unrestricted team.
And think about this: If we had to fill out an Under-23 roster we'd probably have to tap some current college athletes. Nerleans Noel (18) is currently prepping for his freshman year at The University of Kentucky. He's ESPN's number one ranked high-school player in the nation, stands 6'10", and rocks a killer throwback hi-top fade. Encouraging, and really needing, the assistance of amateur athletes to fill out our Olympic roster would be fantastic; A nostalgic and commemorative tip of the cap to everything the Olympics (used to) represent.
But before we get ahead of ourselves here it's important to remember something: Despite whatever nonsense David Stern spews out, the real reason behind this whole idea is NBA team owners are trying to "protect their investments." If it were up to Mark Cuban every Dallas Maverick would sit quietly in detention-hall all summer until it was time for the NBA season to begin. It's utter bullshit. Being granted the privilege of representing your country in the Olympic Games, and becoming an athletic ambassador for your nation, is perhaps the highest accolade anyone could ever imagine. I can understand an owner not wanting their super star joy-riding drunk on a scooter (sup, Monta?), but to deny them their ability to compete for a gold medal for your own selfish reasons is beyond ridiculous.
And in regards to Stern's vision for a World Cup of Basketball, here's why I don't like it or think it would work:
- The only difference between a World Cup and The Olympic Games is that Stern and the owners don't make any money off the Olympics. If their concern truly is that they want to avoid injuries – how does training for a World Cup differ from the Olympics?
- While basketball has marketed itself fantastically it still doesn't have the kind of international support that soccer does. There is also significantly less parity across the world, and without enough broad competiveness this type of event would not be able to be sustained.