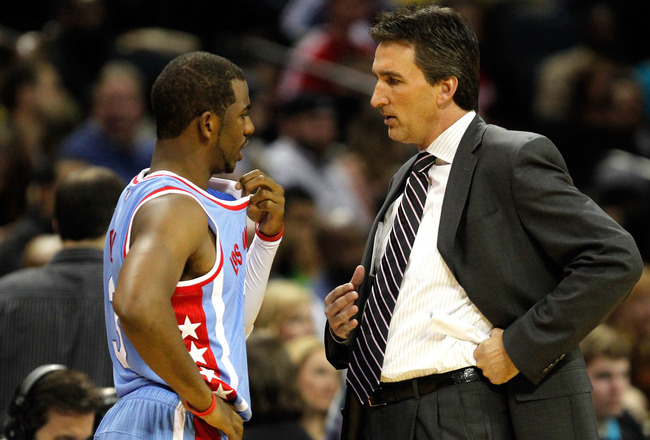 1. Los Angeles Clippers (Last Week: 5)
You have to understand my skepticism about Vinny's promise to run more this season. Every coach pledges improve their transition game in the summer months. Christ, Del Negro made that pledge in Chicago to no avail. But the Clippers look great in the open court, which is keyed in part by Blake's new mandate to grab the rebond and go. And with Bledsoe coming off the bench, the second unit's playing as fast, if not faster, than the first. Compelling stuff.
2. Miami Heat (Last Week: 6)
They just hit you with waves and waves of wings that know where to go and what to do. Blowout wins mean you're getting less Wade and LeBron than you're used to, but also more spry legs out of both when they're on the court. Their trouncing of Brooklyn was my favorite athletic display of the young season. And I'm guessing it'll remain so 'til the next time they get all runny and lobby.
3. Denver Nuggets (Last Week: 2)
Until Cousins, in whom I still have faith, decides to do the work Jah put him on this earth to do (commit on D, stop taking bad jumpers), Faried is and will remain the second most entertaining big in the league behind Blake. He runs the floor, plays with passion, and has the perfect point guard in Andre Miller to open up his game. It's hard for me to hold the Nuggets slow start against them since the seeds of promise, like Manimal's energy, have been evident in every loss.
4. Houston Rockets (Last Week: 21)
From an entertainment standpoint, I'm not the least bit concerned with Lin's sloppy play or Harden's shooting slump over the last two games. They're a work in progress; an unorthodox backcourt still learning each other's cues. Their games have the raw quality of scrimmages, which I can appreciate on novelty alone.
5. Oklahoma City Thunder (Last Week: 10)
Forget about the trade for a second. As I type, Ibaka's taking over the fourth quarter of a tight game against the Bulls. That's three good offensive outtings in a row from a guy who typically doesn't like to put up numbers until January. If there's a sea change with this Thunder team, it'll involve the frontcourt proving that it can be relied on to score. And the early returns out of the PF spot ain't half bad.
6. Cleveland Cavaliers (Last Week: 11)
Irving being a must-watch was a given. Elite performances out of Varejao and Waiters makes this another thing altogether. They need just one more guy to step up to put together a legit playoff run and I'll be keeping a close eye to see who that is.
7. Portland Trail Blazers (Last Week: 13)
The hype on Lillard is real. Like, really real. Ditto for Nic Batum and, surprisingly, Myers Leonard, whom I considered too raw to contribute now. That said, they don't seem playoff ready to me, so catch as many games as you can in the first half of the season, while these contests still matter. This isn't the news you wanted, but it's the news you needed.
8. Atlanta Hawks (Last Week: 19)
Mm hmm, everything checks out here. Stout frontcourt. Athletic but unselfish guard. A 3 point shooter in Korver to spread the floor. There's no reason whatsoever for this Hawks team to roll over for anybody. Tune in on any given night with the assurance that you'll see a fight well fought.
9. Boston Celtics (Last Week: 4)
They're way less than a sum of their parts right now. Terry hasn't figured out his role yet, Lee's bringing defense and not a whole lot else, and Jeff Green has picked up where he left off in 2011: Scared. Uncomfortable. In need of a warm, cozy cardigan. But they'll eventually be fine. This is stock to buy and forget about until January, when I have every confidence they'll be clicking.
10. Los Angeles Lakers (Last Week: 1)
In Nash's absence, L.A.'s running the offense through Howard, which is smart, I suppose. But without shooters or slashers to play off him, there's no cohesion to what they do on this end of the floor. It's just Kobe dribbling around looking for seams, which is pretty boring stuff if you ask me. Until they look like contenders - if they ever look like contenders - this is a party bag of players I've been watching for a kazillion years whose skill-sets have little to do with one another. Pains me to say it, but pass for now.
11. Brooklyn Nets (Last Week: 3)
There's one thing I overlooked in my first assessment of this roster: none of these guys can physically dominate a game. Which means the Nets are vulnerable to the ebbs and flows of their own finesse, and they have no reliable way to squash a hot night from an opponent, as we saw in the L vs. Minnesota. But that's kind of fun to watch, right? Dudes cruising along and then suddenly getting the shit kicked out of them by faster, stronger dudes? I dunno, I dig it.
12. Golden State Warriors (Last Week: 8)
Watch now because the Curry/Thompson backcourt is killing it, and because, given Stephen Curry's ankles, it may not be long for this world. Barnes is also chipping in with modest contributions until he figures out what he's doing, which is prudent. I'm prepared to buy more stock here if/when Bogut hits the floor. Until then they're a fun if inconsequential watch.
13. San Antonio Spurs (Last Week: 17)
Loath as I am to throw a bone to the basketball literati, San Antonio's one of two teams playing crisp basketball right now. If nothing else, I watch because they're a great lithmus test for Western Conference up-and-comers like Portland and Utah, who are still learning how to trade blows with disciplined, veteran teams.
14. Utah Jazz (Last Week: 14)
The games are consistently fun, but I find myself frustrated with Big Al's presence on the roster. He's a fine player and all, but this team SCREAMS for more Kanter and Favors. Jefferson's healthy and in his prime, so just flip him for first rounders and cap relief and get this party started, please.
15. New Orleans Hornets (Last Week: 12)
They've been more or less what I expected. Compete every night, catch a good team slipping every so often. I won't watch again until Anthony Davis comes back, but I doff my cap to them all the same.
16. Memphis Grizzlies (Last Week: 16)
A serious team with serious ambitions that I'm seriously looking for reasons to get excited about. I'm only placing them this high so you take these rankings seriously.
17. Dallas Mavericks (Last Week: 24)
I've never considered myself a Mayo fan, but there's something exciting about watching him get his numbers in a disciplined offense; it's something we'd all thought impossible just 6 months ago. Collison and Wright are fun to watch, and I think Carlisle's going with just the right amount of Vince to steady the ship without sinking it. Good stuff all around.
18. Toronto Raptors (Last Week: 20)
They deserve better than this, and they'll receive better once Kyle Lowry returns from that high ankle sprain. In one of the least shocking developments of the young season, he's become the tone setter for this team on both ends of the floor. Without him, you get a bigger dose of a CalDerozan than anyone wants to see in 2012-13, and team mandate, seemingly, to hang around until the opponent decides to take the game from them. Get well soon, Kyle.
19. Philadeliphia 76ers (Last Week: 9)
I'm pretty much out until Bynum hits the floor. As cool as it is to watch a team with 16 athletic wings, wake me up when one of them decides to take over a game. Jrue? This falls squarely on you, buddy. Turner wants to be the guy but has neither the skill-set nor the mental make-up to bouy this team.
20. Indiana Pacers (Last Week: 18)
For national media types, Granger's impending three month absence created an opportunity for Paul George to take 'the leap.' Pacers fans knew better. Dude is happiest and most productive when he's hiding behind 2, preferably 3 more capable offensive players. He isn't a star, which means the Pacers don't have a star while Danny's out, which means I'll keep my eyes peeled for close fourth quarters against good opponents, but otherwise keep it moving.
21. Minnesota Timberwolves (Last Week: 27)
I expected these guys to stay afloat until Love and Rubio returned, and stay afloat they have. Congrats. Really. But can I leave it at that? I feel like I'm supposed to go ape shit over the team ball they're playing, over Kirilenko's resurgence and Shved's Color Me Badd haircut, but in the absence of a dynamic playmaker, all I got his a hearty handshake and a six spot promotion.
22. Chicago Bulls (Last Week: 29)
Joakim? I apologize, brotato. I'd somehow forgotten how ready you are to make a play your team every time it needs one. Throw in the fact that Nate Robinson looks like a legit point guard, especially on a Bulls team that needs him to jack a few up (for which he needs no encouragement), and the Rose-less Bulls can be stomached.
23. Sacramento Kings (Last Week: 7)
This team is like a box of chocolates…from Walgreen's. From night to night you don't know if you're getting a big (if inefficient) game from Cousins, 'Reke, or Thornton. There's a lot of junk candy here, and while I digs, for the most part, it'd be a lot more intereseting if they comitted to the Isaiah Thomas era or gave the rookie Thomas Robinson more burn.
24. Charlotte Bobcats (Last Week: 22)
MKG shouldn't play less than 30 minutes per game. Tyrus shouldn't play more than 15. That's the golden rule for making this team watchable. And I imagine it's just a matter of waiting for the latter to disqualify himself from the rotation (with an injury or slump) as he's wont to do, but Coach Dunlap could just as easily let MKG have this team today…and let the culture change begin.
25. New York Knicks (Last Week: 25)
I stick by my story: Hot start aside, there's enough here that's familiar and frankly tired that I have a hard time watching regularly. That said, home games against big opponents in MSG make for a great watch. But you can usually find those games on national tv. Which begs the question, should those contests earn them credit in this space? I've over-complicated this. Sorry.
26. Detroit Pistons (Last Week: 15)
As much as I enjoy Greg Monroe's craft, the backcourt is just so awful and there's been so little Drummond in the early goings that I just…can't. They may be the only team in the league that could up their watchability quotient by simply burying one guy on the bench. Stuckey's surely used all nine lives by now.
27. Milwaukee Bucks (Last Week: 23)
To mine eye, big games out of Brandon Jennings are just about as fun as anything in going on this league. He's got this highly flammable confidence that needs just a couple things to go right early, and when they do, bam, elite performances out of nowhere. But when he's not on, there isn't much on this Bucks team to like. The frontcourt is a snore, the pace is inconsistent, and this point, the book on Monta Ellis just feels written (and released in paperbak in 14 countries). There's no mystque with this guy any more.
28. Phoenix Suns (Last Week: 28)
It's not all bad. Dragic and Gortat picked up where they left off in their breakout 2011-12 campaigns. And, in the Phoenix tradition, this roster provides no resistence on the defensive end, which means you know where to find a high-scoring affair when you want one. The Suns faciliate great offensive performances on both ends of the floor. That's worth something.
29. Orlando Magic (Last Week: 30)
I mean, their record to-date is fool's gold, obviously. But after hearing Afflalo promote his playmaking abilities this last year, it's kind of fun to watch him back it up. And still, no. You can't do this to yourself.
30. Washington Wizards (Last Week: 26)
I'm not going to lie, I've watched 10 minutes of Wizard's ball since the season tipped. And I want them all back.