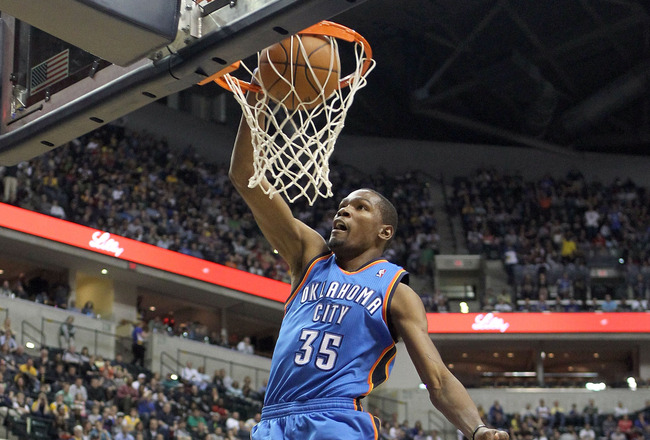 1. Oklahoma City Thunder (Last Week: 4)
Everyone has a theory as to why the Thunder have been rolling without Harden, so I'll add mine: Durant running the offense from the high post in crunch time is no longer an experiment. It's in its beta phase; a legitimate alternative to riding Westbrook until the wheels come off. And it's a more compelling 'second look' to Harden running the pick and roll. Between this, and Ibaka's offensive emergence, it's nice to see OKC become less reliant on points off the dribble.
2. Los Angeles Lakers (Last Week: 9)
Five years ago, who'd have thought that we'd root for the Lakers to fail despite our appreciation of Kobe and all that he does? 2012 has been so real.
3. Miami Heat (Last Week: 2)
We've all been very level-headed about the Heat dropping two straight to the Wizards and the Melo-less Heat least week. Very level-headed. But bruh: Am I the only one who thinks Miami's been going about their business with an undeserved non-nonchalance this year? Did I miss the part where they cruised through the 2012 playoffs? Because I remember them playing like balls for stretches, which is why I think they're taking too much for granted in this title defense.
4. Charlotte Bobcats (Last Week: 3)
Incredibly, it's only after combing the game logs that I realized the 'Cats have dropped seven straight. Know why? Because except for to-be-expected road blowouts at the Spurs and Thunder, Charlotte has been exciting. Close games, signature moments, loads of prospects. They may be the only record-immune team in these rankings.
5. New York Knicks (Last Week: 5)
Prior to this season, Mike Woodson was an iso-offense coach, Melo and JR were black holes, and Ray Felton was a disagreeable bag of giblets of gravy. There's been some major image repair going on this season, and I must admit that it's more fun to take in than I'd initially given the Knicks credit for.
6. Los Angeles Clippers (Last Week: 1)
The good news? We can breathe a sigh of relief now that Blake is looking more like Blake by the day. The bad news is that Crawford has cooled off, Billups is shelved again and they're several weeks removed from their last win of note (@ Spurs on 11/19). Still an entertaining watch, of course, but they need a jolt to regain their November relevance.
7. San Antonio Spurs (Last Week: 16)
They throw behind the back passes and shoot pretty 3′s and put the hurt on teams that had been feeling good about themselves. Only a monster would deny them a top 10 spot.
8. Memphis Grizzlies (Last Week: 10)
Please stay healthy, please stay healthy, please stay healthy, please stay healthy, please stay healthy.
9. Golden State Warriors (Last Week: 13)
Monta Ellis, you have been weighed, you have been measured, and you have been found wanting.
10. Milwaukee Bucks (Last Week: 12)
I'm going to stop making the case for Jennings. Either you've warmed to him or you haven't, and if you haven't, you probably never will. But whatever fan points the Bucks' mercurial point guard leaves on the table, Larry Sanders has been picking up. The kid is playing with sophomore Ibaka's reckless abandon — except with actual minutes.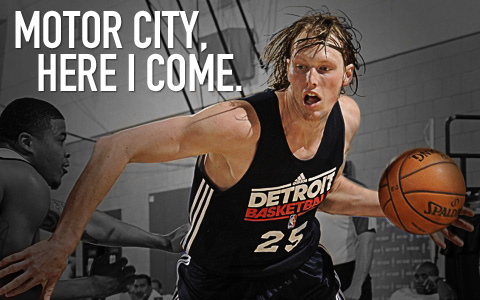 11. Detroit Pistons (Last Week: 28) Biggest Gain
Come for the Drummond, stay for the Singler sightings and Brandon Knight's improbable breakout season. This smacks of a team that will suck until the ASB and then play + .500 ball to close the season. I love teams like that.
12. Brooklyn Nets (Last Week: 14)
You have about 10 days left to watch your favorite point guard shit on Deron Williams before his "elite" card gets stripped and the feat means nothing. You've been warned. Get it while the getting's good.
13. Houston Rockets (Last Week: 7)
They need to let Harden be a point guard. Or a two guard. Because the fiction wherein he can be both has faded in my mind, and I'm tired of watching the Rockets try to make it real. Oddly, the front court is the attraction now, as Parsons, Patterson and Asik are the most consistent thing going in Houston.
14. Denver Nuggets (Last Week: 6)
In the Nuggs' defense, their schedule has been brutal, which is why I'm hanging in there despite the fact they don't like winning too much. But in the absence of a star, or even a stud - I haven't been impressed with Faried's play against quality 4′s and 5′s lately - they're due for a rankings fall if they don't soon establish themselves as a team that 'belongs.'
15. Atlanta Hawks (Last Week: 18)
They've quietly established themselves as the East's third best team as Horford has played like it's best center(ish). I don't believe in their postseason prospects for a second, which tempers my enthusiasm some. But for now it's fun watching them win big game after big game.
16. Dallas Mavericks (Last Week: 17)
Mayo hanging 40 on Harden, the NBA golden child of yestermonth, was a treat as well as an announcement that this Mavs team will be ready when Dirk is. I'm genuinely excited to see what's shaking here in February.
17. Philadelphia 76ers (Last Week: 11)
Feels to me like they're treading water here. Beat the teams they're supposed to beat (usually). Lose to the ones they're supposed to lose to. The surprises have been few and far between, lately. Case in point, Andrew Bynum's hair game is beginning to stall out.
18. Indiana Pacers (Last Week: 23)
Paul George's 34-point outing @ Bulls on December 4 was the best game I've seen him play as a pro, as well as the biggest indication to-date that he can eventually become a legitimate second option. He'll never be Pippen, but at this point I don't see why he can't become every bit the scorer.
19. Minnesota Timberwolves (Last Week: 15)
Regarding Rubio's return, the meal isn't served yet, but the aromas are sure as hell wafting out of the kitchen, which somehow makes the T-Wolves more exciting to watch in the interim.
20. Utah Jazz (Last Week: 22)
As you might recall, I was almost out on these guys, as they were starting to feel less like a playoff team than a pu pu platter of semi-developed prospects. But last night's win @ Lakers was a BIG reminder that they're just a consolidation trade away from true relevance; LA had no answer for Kanter, who's been beasting lately.
21. Boston Celtics (Last Week: 19)
I kind of want to stop thinking about this team. They were supposed to be good. They aren't. Rondo was supposed to have a breakout campaign that cemented him as the once-and-for-all leader of this team. He hasn't. I can tolerate unmet expectations from young team, but the C's are still 63% fogey. There's nothing interesting about their shortcomings at this stage of their narrative arc.
22. Chicago Bulls (Last Week: 24)
This is another "get it while you can" alert. Outside of a healthy Pau, Noah is currently the league's best playmaker from the center position. The bad news is that Thibs is running him into the ground with these Iverson minutes (40 per game) so I fully expect him to be shelved by early February.
23. New Orleans Hornets (Last Week: 20)
Davis is still out. Aminu's ebbing. Rivers is terrible. I'll be back, but I'm gone for now.
24. Sacramento Kings (Last Week: 25)
You can just feel Cousins channeling his Conscientious Big Man game. He wants to get better and has begun to openly crave the structure and support that this organization will never give him. When a player this talented is under-coached, I think they should be remanded to league custody until they're re-homed. Too big of a waste, otherwise.
25. Portland Trail Blazers (Last Week: 8) Biggest Drop
I dunno. They were a shaky follow to begin with. Now they've got that loss-to-the-Wizards stink on 'em. And Matthews and Batum are nursing injuries. Things could get ugly right on through here.
26. Washington Wizards (Last Week: 30)
I gotta say, I'm digging the Verizon Center crowd. They show up, oddly enough, which made for great atmosphere when the Wizards finally broke through against PDX and MIA. Provisional bump awarded.
27. Toronto Raptors (Last Week: 21)
You see this happen with teams: they botch enough 4th quarters that they eventually stop competing in the first three, too. Shame. I thought Lowry had accomplished something culture-wise.
28. Orlando Magic (Last Week: 29)
They have more wins than my Bobcats! OK, these rankings have two teams that are immune to record.
29. Cleveland Cavaliers (Last Week: 26)
I like Donald Sloan's game a little bit. There. A non-Varejao blurb.
30. Phoenix Suns (Last Week: 27)
I actually had this thought while watching the Suns run around an empty gym the other night: some of the Phoenix training staff's prime years are being wasted on players nobody cares to see healthy. The thought was bad, and yes, I feel bad.