With the All-Star Game fast approaching, most places are putting up some sort of first half awards post, or selecting their own All-Star teams. Here at the Diss, we do half-season awards a little bit differently.
What was the best suspension?
Jacob Greenberg: In a season full of Boogie Cousins "WTF?" moments, the O.J. Mayo nut punch (or flick?) is the most memorable.
Kevin Draper: Joel Pryzbilia getting tossed and suspended for "throwing" the ball at a ref.
Kenji Spielman:The Boogie "Love Tap" was tops.
Andrew Snyder: My favorite tango was the Garnett-Wallace-Rondo-Humphries tussle that knocked Rondo out for 2? games, which mercifully ended his double digit assist streak—a streak that needed to end because he was passing up open layups and shots to stat grab assists—not a good look for a championship point guard.
Who won your personal "Player I Hate Watching" award?
Jacob Greenberg: The Sacramento Kings. All of them. You shouldn't be paid that much money to just throw up off-balance threes with 19 seconds left on the shot clock. I can do that.
Kevin Draper: Dion Waiters. What has he done besides that one game where he hit every three in site? Every single time he pounds the rock or hoists an ill-advised shot, it is one more moment in my life in which I don't get to watch Kyrie Iriving do something awesome.
Kenji Spielman: Kobe in late game mode.  I love basketball as a team sport.  But when you know exactly what is going to happen, that Kobe is going to take on 3 to 4 dudes and launch a crappy shot, which he hits at 25% clip, that is terrible basketball and terrible on the eyes.
Andrew Snyder: I hate hate HATE watching Dwight Howard on the Lakers. It's painful to watch hack-a-Dwight, and he's so smiley all the time — Hey I guess it's better than pouting like Gasol. I'm still secretly worried the Lakers are going to snag the 8 spot and make a run in playoffs just to spite Celtics fans that thought we finally had them "beat" for the first time since 2008.
Which player was the most likable?
Jacob Greenberg:The Golden State Warriors. All of them. Their chemistry is the best in the league, by far. It's like they all go over to each others' houses and have slumber parties afterwards. Scary movies at night, sugary cereal in the morning.
Kevin Draper: JaVale McGee. I can't tell if he will ever harness his potential, knows what he is doing on the court or not or if he is even a smart guy. But I can tell that he loves basketball, tries hard, and is totally someone I would enjoy hanging out with.
Kenji Spielman: Steph Curry.  I love watching him play when he is healthy.  Pure joy.  So smooth, so effortless, so good.
Andrew Snyder: Alexey Shved! Shveddy or not, here he comes. He's gonna find you, and make you a fan of Mother Russia.
Which player had the best hair styling?
Jacob Greenberg: I like Jae Crowder's hair, but I feel he should be in some NFL secondary somewhere.
Kevin Draper: It's not new, but every single time I see Norris Cole's flat top I want to shout "Uvo, take me back to 1992″.
Kenji Spielman: Bynum.  The hair!  That mop thing, I don't even have words.
Andrew Snyder: Shved pre-haircut for hair. John Salmons still has an absurd goatee—his facial hair game is still keeping it 100, despite his lack of relevance as a no impact wing player on a no impact team.
What was the best moment?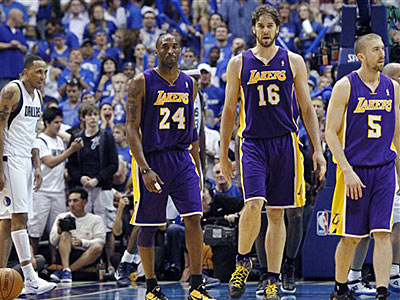 Jacob Greenberg: I went Warriors heavy, but it's my blog, so I don't care. The win against the Heat earlier this season, when Draymond Green laid up the ball with less than a second remaining, to bring us to 6-0 on a brutal East Coast road trip (we finished 6-1, with our only loss coming to the Magic) was the moment that convinced me that we were pretty good this season.
Kevin Draper: LeBron James bear tackling the fan who just hit a half court shot.
Kenji Spielman: The moment, all of us had it, that the Lakers were actually bad.  Not just working out kinks, not figuring it out, bad.  That made me very happy.  It still does!  Ahhh… I'm thinking about it now.
Andrew Snyder: The best moment of the first half was Rondo's ACL being intact.