Diss Guy: LeBron James
On this blog, and especially when selecting the Diss Guy and Miss Guy of the week, we usually run counter to common basketball narratives. When the rest of the blogosphere zigs, we tend to zag. We have no sources, don't break any stories, and abhor writing game recaps.
But this blog is about basketball, and when something so great is happening on the court, we can only ignore it for so long. In the Miami Heat's comfortable victory over the Oklahoma City Thunder last night, LeBron James went 14–24, including 4–8 from deep and 7–9 from the free throw line for 39 points, grabbed 12 rebounds and dished out 7 assists. And that was probably only his third or fourth best game of the last ten days. His heat checks, like all of those shots in the video above, aren't even really heat checks anymore, they're just shots.
LeBron is so goddamn good at basketball that it is unfair. The list of best players in the league looks like this:
1. LeBron James
.
.
.
.
2. Kevin Durant
.
.
.
.
.
.
.
.
.
.
3–450. Everybody else
Miss Guy: Michael Jordan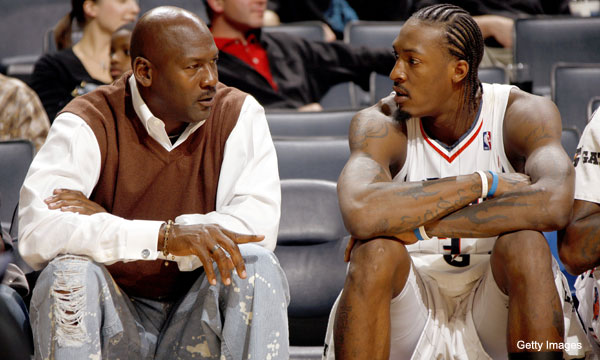 In an interview with NBA TV, the legendary Michael Jordan said that he thinks Kobe Bryant has been a better player than LeBron James, essentially employing a "COUNT THA RINGZZZZ" argument. Ignore for a moment the fact that Kobe has played seven more seasons than LeBron James, or that Michael Jordan himself didn't win his first title until he was 27. Ignore for a moment that, by any statistical measure other than points scored (especially ignoring that since LeBron entered the league he has taken 507 fewer shots than Kobe yet scored 135 more points) LeBron James is a far superior player to Kobe Bryant and redefined positionality. Especially fight back the urge to make a joke about how this is just another example of Michael "Worst Owner in the League" Jordan's inability to evaluate talent. The real question is…what the hell is Michael Jordan doing?
Michael Jordan is the best basketball player of all time. By the end of his career maybe LeBron James will surpass him, maybe he won't. Who knows? But what is Jordan doing lowering himself into a stupid, petty, dumb argument? Why is a guy that reached the pinnacle of his profession, stayed there for years and is still almost-unanimously considered the best ever so unbelievably insecure about his legacy that he offers an opinion on something this inane?
Just stay out.