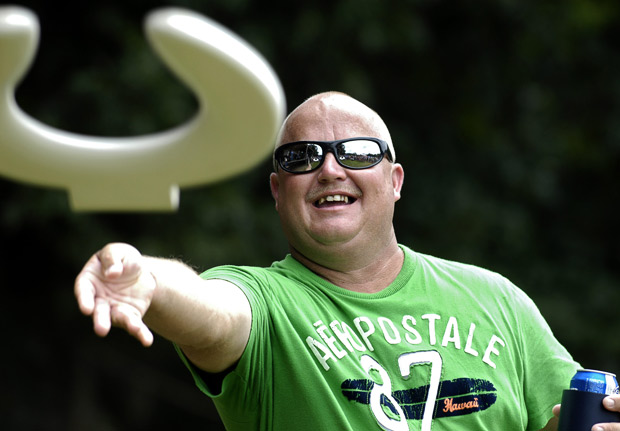 I think I'll play some Ultimate next weekend.
An Unfamiliar Ring
Dave McKenna
Grantland
This delightful long(ish)-form centers on NBA all-time great Elgin Baylor, whose legacy has been partially defined by the fact that he doesn't have a championship ring.  Or, does he?  Following news that Baylor was selling memorabilia he no longer wanted to pay to store, DC-based writer Dave McKenna (who counts Baylor as among the most important athletes from the DC-area) makes the discovery that Baylor will also be auctioning off a ring from the 1972 championship season.  How did Baylor get this ring, and why?  The article tells an interesting story about one of the all-time greats, who is remembered for his humility as well as his skill, and how that has changed over time.  This is really a phenomenal read from a writer whose work I'm not terribly familiar with (but that's going to change).
- JG
Millionaire Athletes And Affluent Fans Sure Do Like To Declare Themselves "Blue-Collar"
Ben Mathis-Lilley
BuzzFeed
I've often found the language athletes, fans and media use to describe sports bizarre. For what is ostensibly a game, there is an awful lot of warlike imagery—describing the area near the basket where big men battle for position as the "trenches", talking about how somebody would "go to war" for their team etc. In the same vein, Ben Mathis-Lilley examines the rhetoric from the NBA playoffs and finds it disconcerting how frequently millionaire athletes describe themselves as "blue-collar", as if they have much (or anything) in common with people that work in factories all day long.
- KD
Too Many Motherf***ing Words about Roy Hibbert, Language and Alienating Homosexuals
Jared Wade
8 Points 9 Seconds
Roy Hibbert's unfortunate display of everyday homophobia, and his unbridled joy in calling the media a bunch of "motherfuckers", produced passionate work from a variety of sources.  None was more passionate than this piece from Jared Wade, writer for ESPN Truehoop Network's 8 Points 9 Seconds.  Wade provides a detailed summary of Hibbert's regrettable press conference performance, and offers a nuanced critique of parsing out the difference between honest opinions and hurtful realizations.  In addition, Wade's prose (though NSFW) does a good job highlighting the ridiculousness of Hibbert's behavior, especially on television.  Worth a read for a laugh and some honest, passionate words.
- JG
Mysterious, Wise and at Peace: Duncan is Just Duncan
Joe Posnanski
NBC Sports
Most articles about Tim Duncan and the San Antonio Spurs aren't worth your time. With the team refusing to grant most reporters access, it becomes a game of writing a column from afar while trotting out overused, underdescriptive phrases like "the big three", "fundamentals", "play the right way", and "system". Joe Posnanski's article does include some of that, but it also includes extensive description of Duncan's childhood, his time at Wake Forest and includes quotes from some that know him well. Most impressively, it paints Duncan as an interesting and compelling character, all the while Duncan tries to squash any notion that he is anything but boring.
- KD
Sunday Musings: Keith Smart Chose This Path
James Ham
Cowbell Kingdom
Keith Smart is a good dude.  Warriors fans got to enjoy Keith Smart for a number of seasons as an assistant and head coach, and though he never enjoyed much success with us, was well-liked by just about everyone, within and outside of the organization.  However, that ended up being his fatal flaw, and we have a better coach now in Mark Jackson.  James Ham, Kings fan and writer, has come to the same realization about Keith Smart, now that Smart's out of a job in Sacramento following the hire of Mike Malone.  Ham makes a number of important points about "good dude" coaches who can create (or at least pretend to create) happiness and harmony, but don't win or develop players: there's no place for them in teams that want to be taken seriously.  The Kings' new owners and front office (most of whom come from the Warriors) all realize this.  And, as Ham points out, perhaps Smart realizes this as well. Happy trails, Keith, and best wishes.
- JG