Editor's Note: Just like last season, the Diss-cussants were kind enough to share their thoughts about how they felt immediately following the conclusion the NBA Finals.  Here are their responses.
***
Kevin Draper
Ironically enough, in the first year that I have ever expected my favorite team to win a playoff series, I became a self-actualized, liberated fan. Maybe it is because I read, wrote and watched so much for seven months, or maybe because I didn't disappear into a disappointing stupor halfway through March, but I enjoyed the hell out of these playoffs, and especially the Finals.
I found myself rooting for anti-narratives. Generally, sports fans (probably just people) are dumb, have all sorts of dumb opinions, and are just plain wrong. For a variety of reasons, LeBron James and the Heat especially inspire reactions from John Q. Fan, most of which are dumb. So I found myself rooting for anti-narratives. I wanted LeBron James to be clutch. I wanted Chris Bosh to be tough. I wanted Heroball to die. I wanted the Spurs to be selfish. I wanted Kawhi Leonard to be unathletic. I wanted everyone to realize Gregg Popovich is a jerk.
Not all of those things happened, but a lot of them did, and they were wrapped in a beautiful back-and-forth, seven game package. I could not have asked for anything more.
Symbol Lai
I liked watching LeBron in Game 7!!  Sometimes you watch something good for too long, you become immune that goodness and need to be reminded.
That is not to say I liked watching the Spurs lose though.  Aside from watching LeBron, I still can't bring myself to get excited about the Heat even if they played a great game.  I was actually rooting for Tim Duncan to get his fifth ring and become the anti-Kobe.  It was kind of hard to watch possibly his last chance at a championship slip away.  I mean, Timmy looked really sad!!…but that might be how he always looks…
Andrew Snyder
Actually, I was strangely unfeeling for the epic quality that games 1, 6, and 7 took on, with one exception.
As a Celtics fan, it might sound cliche (or Simmons esque) but the minute that absurd series of events led to Ray Allen rising in the corner, I knew that shot was going in, and I was pissed. Pissed at Judas Shuttlesworth for chasing a ring, pissed that CB1 had that clutch board, and pissed that I was going to see more absurd Facebook statuses that LeBron was the greatest player of all time, or that he wasn't clutch. At least he answered those questions in the eyes of casual fan with the game 7 dagger.
I guess I wanted the Spurs to win, but really only because Danny Green games 1-5 is my new pickup basketball role model. That's all I got. Adios 2012-13 season. Hello D'Andre Jordan jokes.
Jairo Martinez
My thoughts to start the series was simple: Spurs in 6. I, albeit a passionate basketball fan, cannot for the life of me stand LBJ. His talent and skill set is unquestionable. Coming straight out of high school, I thought the expectations for him were unfair. He worked and struggled but began to forge his name in the league. However his King persona began to seethe out and be a hindrance to my sensibilities as a fan and student of the game. His temper tantrums, the exaggerated facial and body gestures and general child-like behaviors erased any sportmanship his talent merits. The "Decision" further exasperated my distaste for this type of NBA player and role model. Let alone the fact lost in the whole stunt he actually was raising funds for the Boy's and Girl's Club of America.
To say that a Finals like this, where both teams appear to have the slightest of edges, makes anyone involved with the sport just scratch their head to struggle with outcomes. I strongly felt the West had a team that could exploit the kinks in Miami's armor (yes they have them).  Tim Duncan, who is the greatest Center of this generation in my opinion, is so deserving of walking away like so many try to before their time is up: as a champion. This series did open my eyes to what truly is the end of an era. I can only hope what lies in the years to come can deliver as compelling a product as I just witnessed for 7 games.
Joe Bernardo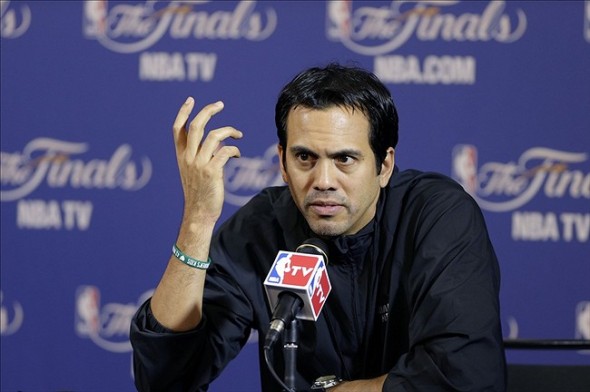 To be honest, I had no horse in the race (or as my dad would say, "cock in the fight").  I'm a fan of Lebron, Riles, and Spoelstra (half-Filipino!), but don't care for D. Wade and the rest of the Heat.  On the other side, I love T.D., Popp, and the Spurs role players, but not so much Parker, Ginobli, or the fact that they might win their 5th ring (tying the post-2000 Lakers).  At the end of the day, I was happy for Lebron.  He received the most scrutiny than any other player in NBA history, much of which was undeserved.  As for the Spurs, I feel bad, but not too bad.  This may have been their last chance, but they already have 4 rings.  All in all, I was elated by the sheer competitiveness of the series.  One of the best of all time, topped off with such a great Game 7.
Long Bui (actual Spurs fan)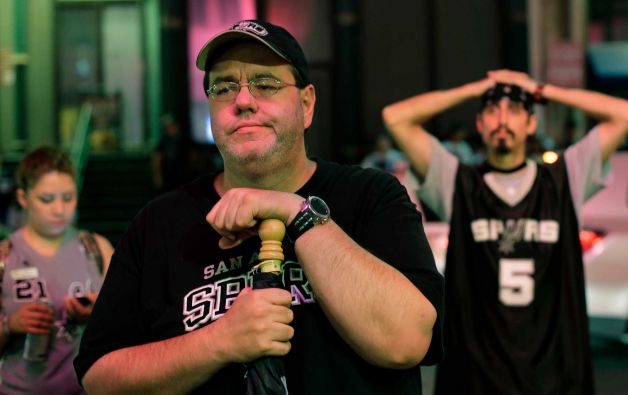 I've been trying not to think about it.
Jacob Greenberg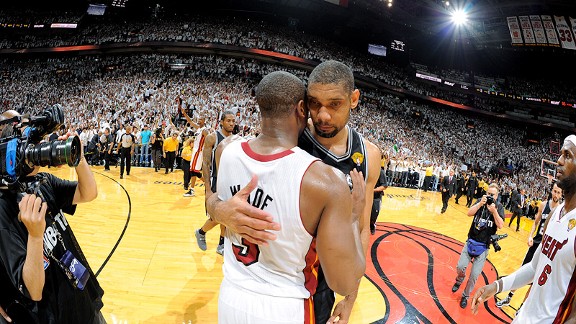 I found myself rooting for the Spurs. I think it's fairly natural to root for the team that eliminates your team, and as such, I was all for the Spurs.  I was surprised by how grumpy I felt when the Heat won the game.  There is always a certain sublte annoyance that comes with watching months of basketball only to see the same team from the previous season win the entire thing again. I've had a beer since then, and I'm feeling much more calm about it.
There is something that felt very different about this Finals. In a league that is lambasted by casual fans for being selfish and self-centered, we really were treated to one of the classiest seven-game series in recent memory.  To have that many Hall of Fame players expending maximum energy and not getting dragged into the larger dramas of the playoffs felt…almost reverent.  One thinks back to the way the Bulls barked and yelped at the Heat in a truly forgettable 5-game series, or the ways the Celtics (of old; RIP Doc Rivers' C's) treated their opponents, and assumes that's the only way postseason basketball can be played.  This series showed us a new way, where adults treat each other like adults, even though they're playing a game meant for children.
Contrary to what I proposed late last week, I'm not sure this necessarily marks a watershed moment in the NBA.  The Spurs took the biggest hit to their franchise's nearly uniform excellence since Derek Fisher's shot in 2004 by losing Game 6.  Ginobili's bad game was just that — a bad game — and I think the Spurs have all the talent they need to defend their Western Conference title.  The Heat, meanwhile, will weigh present greatness with future flexibility, and examine their luxury tax situation. There will be many interesting questions for all parties, and I'm excited to watch them play out.
Good series.  Good season.  Lots of fun.