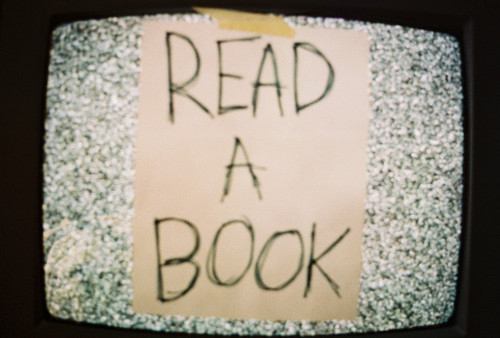 I really enjoyed Hans Peterson's piece.  It seemed ludicrous for anyone to try and make any sort of assertion not only just from the internet, but also having watched roughly a quarter of basketball the entire season.  Yet, after I read them, I was taken aback by his accidental accuracy.  There were nuances missed for sure, but the general sentiments, to me, seemed correct.
Because I'm still working on longer stuff for tomorrow, I'm checking in with Hans today, point by point.  His original piece can be found here.
*****
I thought Chicago was a team to be feared even without Derrick Rose.  It appears that was untrue.
Well, yes and no.  The 12-9 record doesn't exactly jump out at you, but it's pretty impressive considering the team is missing its leading scorer, passer, and the focal point of their offensive scheme.  They're only allowing 91.4 points per game, good for second in the league.  Like all Thibs-coached Bulls teams, they work hard, and play sound basketball.  And this, really, is a life-preserver team, situated nicely under the luxury tax threshold, and designed to essentially stay afloat until D-Rose comes back.  Right now, they're leading the Central, have the fourth seed in the playoffs, have the second best defense with Kirk Hinrich and Nate Robinson splitting point guard duties, and don't even have their best player.  I think they're in fairly good shape.
Biggest disappointments thus far: Indiana, Denver, and fans who were already complaining that they were bored with the San Antonio Spurs back in 2005.
True.  Neither team has roared out of the gate, and if the playoffs started today, neither team would qualify.  Indiana has an excuse with Danny Granger out for two more months, but David West and Paul George have played well, and they're allowing the third lowest points in the league.  Denver has bigger issues, as no player has performed up to their potential.  They are second in the league in total rebounds, but that's mostly because they're missing a lot of shots.  And yeah, San Antonio's going to be good forever.  You can change that "2005″ to "1999″.
Right now, Anthony Davis is 4th in the NBA in PER!  Granted, only 6 games.  But still…
It's intriguing.  He didn't look superb tonight against the Thunder, but his body isn't right yet.  Why are first overall picks so injury cursed?
Phoenix and Charlotte have already won 7 games each.  I thought that might be their combined total in April.
Yeah, but both are coming back down to Earth.  Or maybe neither left Earth.  Phoenix just snapped a seven game losing streak tonight on a last second shot from Goran "Steve Nash Stunt Double" Dragic.  The Bobs have lost nine straight.
That said, wouldn't you rather be a Wizards fan right now…
No.
… and be guaranteed the best lottery odds…
No thanks.  Only three teams have won the lottery since the weighted system was introduced in 1990.
…vs. a Phoenix team meaninglessly pretending to contend with a roster featuring no upside?  Who on that Phoenix roster is going to be a useful piece on a contender in the next four years?  Scola is 32.  Jermaine O'Neal appears to have taken a brief dip in the Pool of Lazarus, but he's 34.  Channing Frye?  Markieff Morris?  I guess maybe 7th or 8th men on a great team.  Phoenix should make it a point to not win another game this season.
Well right you are on this one.  Man, I was wrong about the Suns.  The team doesn't look like they enjoy playing with one another.  It's a lot of catch and shoot, and the team is as defensively poor as its always been. Given failures in Los Angeles and New York, as well as Phoenix's inability to win anything since their fairytale WCF run, I'd say Seven Seconds or Less has reached its conclusion.  And recent reports indicate that while Alvin Gentry's job is safe, neither president Lon Babby nor GM Lance Blank (former player agents) may be so lucky.
Speaking of Phoenix, did you know Michael Beasley plays for Phoenix?  Huh.  Speaking of Michael Beasley, did you know he is 23 years old?  I think I would have guessed 29.  Hasn't he been disappointing mid-level teams who played the Beasley lottery for at least a decade?  He's the new Ricky Pierce: "He's awful." "But he can create his own shot!  He's capable of 25 a game!  You can't teach natural ability!"
I'm too young to remember Ricky Pierce.  But I'm reminded a bit of a softer Bonzi Wells when I watch B-Easy play these days. So much talent, pretty nice offensive game, but even the body language says that the career clock is ticking.  Fast.
Speaking of "did you know", did you know that the Grizzlies have the best record in the Western conference?  I'm assuming everyone but me knew that.  I'm not even going to explain that or look up the statistical evidence.
Now they're third, but your point is taken.  Okay.  Well, a simple explanation is that they have four top fifteen players starting at four important positions (Marc Gasol, Zach Randolph, Rudy Gay and Mike Conley) and an All-Defensive First Teamer at the last starting position.  They are top ten in nearly every meaningful category, and lead the league in rebounding, passing and total points.  They are just a very well-run team whose core has played together for four years now.  Few weaknesses though: at 24.8 points per game, their bench is near the bottom of the league, and at times, it looks like they miss having a true backup point guard (Jerryd Bayless is a shooter).  Still, their ceiling is quite high.
I will just confidently assume that Bryant "Big Country" Reeves must have really had a breakthrough and is taking the league by storm.
Michael Dickerson or Tony Massenburg would have been appropriate here as well.
Okay.  I took the plunge and looked at the Grizzlies' statistics.  It appears they are emulating the 2004 Pistons model and playing outstanding defense while having four player put up double-digit points per game while no one puts up 20 or more.  So, people who have watched a full quarter of basketball this season: is anyone buying this?
Well, perhaps Gregg Popovich?  Yes, he rested his stars two weeks ago to moon Boss Stern.  But they also had a big game against the Grizz that Saturday.  Just a thought.  And yes, I'm buying them as contenders.  Grizz are 4-0 in games where no one scores 20.  Not that that stat means anything.
Just looked up the gambling odds.  Apparently not.  The site I looked at puts them at the sixth most likely team after the Heat, Thunder, Lakers, Spurs, and Clippers.  When more people believe in the Clippers than you, you have work to do.
Yeah, who believes in the Clippers (winners of eight straight, won 60% of their games last year) anymore?
Also, does anyone actually think a team that is not the Heat or Thunder are winning it all this year?
Yes, I believe so.  I could give you arguments why the Knicks, Celtics, and yes, perhaps even Chicago have legitimate title hopes.  The Thunder seem to have the MVP on their side this season, but Memphis, San Antonio, and, yes, even the Clippers have championship-quality rosters.
Go ahead, give me a reason to pay attention before May…
Okay.  Here's a few.
The development of a surprisingly deep rookie class.
The evolution of Damian Lillard, the potential face of the Trailblazers.
Kyrie Irving and Dion Waiters, one of the league's best young backcourts (when they're healthy).
The peaks and valleys of DeMarcus Cousins.
The possibilities for the Knicks, who are the oldest team in NBA history.
The Golden State Warriors, who find ways to win.
The saga of the Sacramento Kings.
Minnesota's descent into free agency speculation.
Carmelo Anthony's coming to nirvana.
Andre Drummond.
The Lakers.
But that's just my opinion.
…but it appears to me that D-Rose is pulling a Grant Hill circa late 1990s, the Lakers ran into age/injuries/sensitive Spaniards, and the Knicks are trying too hard compared to the teams that know they will be there when it counts.
Yikes.  I hope not.  In the length of his mega-contract with Orlando, Grant Hill missed 78 games in '00-01, 68 games in '01-02, 53 games in '02-03, 15 games in a relatively healthy '03-04, 61 games in '04-05, and 17 games in '05-06.  That's 292 games, 60% of 492 available games (not including the playoffs).  D-Rose, who signed his deal in the 2011-2012 season, has missed some games for sure, but he has a way to go to be at Grant Hill level.  He missed 27 games in '11-12, and will miss either some or all of this season.  He still has three years left on the deal after this year.  And it bears mention that Hill was 28-34 during the length of his contract, while Rose is only 23 in the second year of his deal.  Rose I think will be luckier.  I'm with you on the Lakers and the Knicks, though.
Remember when everyone hated/admired/envied Portland as the team of the future (currently 12th of 15 in the Western Conference), who somehow lucked into (i.e., Kevin McHaled into) Brandon Roy and Greg Oden, and who somehow got a top-5 PF in LaMarcus Aldridge?
Sorta.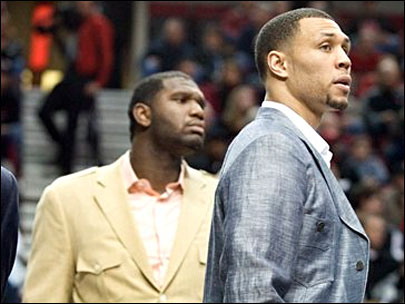 Boy, if Brandon Roy and Greg Oden only had cartilage, that Thunder/Blazers rivalry would really be something to watch in the next 5 years.
True.  It's not that encouraging that Minnesota Brandon Roy is missing time and getting "successful" surgeries for…the exact same things Portland Brandon Roy was missing time and getting "successful" surgeries for.  If they keep happening for the exact same reasons, how can they be "successful"?  But yeah, RIP 2009 Blazers. Welcome to 2012, where Damian Lillard is lots of fun, and the Blazers are still working it out.  You should watch him.
And this team waived Adam Morrison in October this year?  Seems to me like the Diabetic Larry Bird might be just what the doctor ordered about now.
They've got enough questionably skilled white forwards.  Victor Claver, Luke Babbitt, Sasha Pavlovic and Joel Freeland have combined forces to turn in 8.8 and 7.3 rebounds, combined.
Tyson Chander has a .712 field goal percentage right now.  DeAndre Jordan is second with .598.  I have two advanced degrees, and neither of them have anything to do with useful quantitative skills, but .712 is a lot higher than .598.  In fact, .712 is in Wilt Chamberlain territory (.727 in 1973 if you are curious).  This is the most amazing individual story in basketball right now, and my guess is that even if I had been watching games regularly I would not have heard anything about it.
There's your reason to watch before May, right there.  A field goal percentage.  The greatest single sports record, ever.