Isaiah Thomas, Rookie of the Month for February!  Seattle prep legend, UW star, last pick in the draft.  Thomasanity doesn't exactly have the same ring, though.  
The week that was!  It was swell, as you'll soon see.  On tap: sources closely connected to the situation tell me that trade rumors suck, as well as Shaq on TV, and frankly Clipper Darrell and the Clippers as well.  Let's get to it.
1. Trade (Rumor) Season: Officially Open.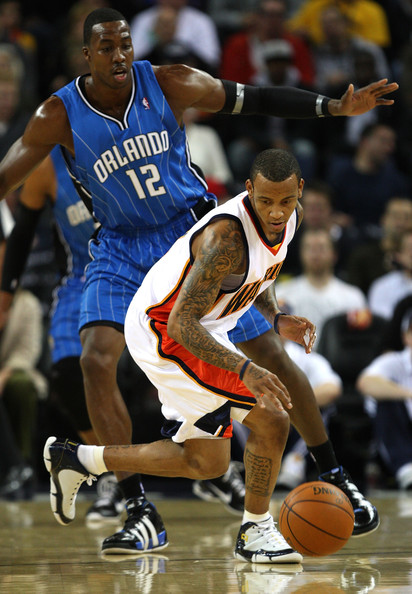 When the All-Star break ends, trade season begins, and it's hard to say exactly where we're at at this point.  The trade deadline isn't for another two weeks, so general managers are still gauging the market to see what type of value their players have, and which players may or may not be available.  Unsurprisingly, most of the trade talk has focused on center Dwight Howard, the big prize in free agency this year.  For most of the season (and some of last season, too), all talk has focused on his eventual destination.  According to most reports, Howard's wish list only contains three teams: the New Jersey Nets, Dallas Mavericks and Los Angeles Lakers.  While many other teams have registered interest in the most dominant center (by default) since Shaq, Howard has reportedly said that he'll only consider signing longterm with those three teams.
Apparently, the Magic organization have missed this memo, and are attempting to acquire players that will persuade Dwight to keep his talents in Orlando.  One of the players the Magic are targeting is
Golden State Warriors guard Monta Ellis
, who is averaging his typical 22 points and six assists per game for the hapless Dubs.  Howard has a bizarre list of players that he enjoys playing with (Hedo Turkoglu?  
Stephen Jackson?
) and Monta is near the top of the list.  This seems interesting, because the Warriors are reportedly one of the only teams that would be willing to acquire Dwight Howard without a guarantee that he'd sign longterm in Oakland.  The only way they'll get him is if they sacrifice either Monta or Steph Curry, as well as forward David Lee, and likely either/or forward Ekpe Udoh or promising rookie Klay Thompson.  It's a steep price for a guy who may not even be in Oakland at the start of next season. But wouldn't that just be a fitting Warriors ending?  The team guts their only assets in order to snag a superstar, who stated, repeatedly, that he's not signing with the Warriors.
Sounds great.
2.  The Big Lack Of Self Awareness
Vibe
published an
interview
with Shaq earlier this week, and frankly, it's a funny and telling read.  Shaq was his usual loquacious self, musing openly about a number of topics, ranging from his Lakers' rivalry with the Sacramento Kings to Steve Nash's two MVP awards.  The most interesting tidbit comes at the very beginning, when the interviewer asks him to grade his own performances on
Inside The NBA
on TNT
and NBA TV.  "Low C-minus," he said.  "I'm learning and will only get better.  I just want to keep people entertained.  I don't want to be talking with the big vocabulary and all that bullshit.  I'm short and to the point.  I'm very educated and can give you somewhat of a vocabulary, but I don't get to the philosophical side."
Well, as a PhD student (and a former Division I athlete), Shaq must be very well acquainted with grade inflation, because let me sell it to you straight: Shaq is not getting a C-minus.  No way.  A C-minus would be passable.  This season, Sir Charles' is maybe getting a C-minus.  Shaq is failing.  Plain and simple.  In his tireless effort to keep people "entertained," he's mostly just kept us confused and bored.  Apparently, what's truly inside the NBA is awkward, long pauses and lots of dead air.  Without a bevy of cuss words, ridiculous props, and a teleprompter to tell him exactly what to say, TNT-employee Shaq comes across as an uninformed, lazy former athlete/current analyst doing little more than collecting a paycheck from Turner Sports.  His insights rarely amount to anything more than half-formed observations about a game he clearly half-watched while he was tweeting some 
admittedly half-hilarious shit.
  It's pretty painful to watch, and everyone knows it.
What will it take to turn Shaq, the self-promoting, larger-than-life celebrity, back into Shaquille O'Neal, one of the greatest centers to ever play the game?  For a time, Inside the NBA was the best show on sports because it offered honest analysis from intelligent former players in an informal setting.  Now, the show has become too informal, and Shaq has played a key role in its devolution.  If I wanted to watch bad sketch comedy and endless photoshopped shit, I'd watch…I don't know, something that's not a show claiming to provide NBA analysis.  Instead, that's what I'm getting, and it sucks.  A damn shame.
I'm not quite sure how the Shaq-on-TNT saga will play out, but something needs to be done quickly to save his grade.  And in the meantime, I'm going to continue to watch
the new best NBA show in town.
3.  Won't SOMEBODY think of Clipper Darrell?!
The Knicks have Woody and Spike.  The Lakers have Jack.  The Nets have Bruce Willis.  And the Clippers?  They got Clipper Darrell.
Well, they actually have Billy Crystal.  But they also have Clipper Darrell.  Or, at least, they used to have him.
It's a long and complicated story, and I'll try to make it brief.  Yesterday, Clipper Darrell (a Los Angeles-area man named Darrell Bailey)
let it be known
on his website that the Clippers organization had told him to stop using the name "Clipper Darrell."  When Clipper Darrell announced the news, he offered no explanation, other than that he had "been told by Clipper management they no longer want me to be Clipper Darrell, a name that was given to me by the media because of my unwavering support and team spirit.  I am devastated!!!!"  Immediately people blamed Donald Sterling, which is the logical thing to do. Chris Paul and Blake Griffin took to Twitter to voice their support for their wronged cheerleader.  It looked like textbook Clipper shenanigans.
Today, however,
additional information
came out about the circumstances surrounding Clipper Darrell's censorship.  According to Bill Plaschke of the Los Angeles Times, the Clippers asked for their name back because Clipper Darrell asked for money.  They had already supplied Darrell with a free lower bowl seat, and additionally offered him a deal of either a $70 nightly salary (which is what a Clippers cheerleader is paid — there's that Sterling generosity!) with no unsanctioned interviews, or the freedom to do unsanctioned interviews without pay.  Basically Clipper Darrell wanted to get paid.  Meanwhile, it's up to the court of public opinion to decide whether the Clippers or Clipper Darrell is the just party.
if this is the biggest problem in Lob City these days, well, count your blessings, tortured Clippers fans.