Hoopsters. Hipsters with NBA jerseys. You may have seen them before on Deadspin, or at a big outdoor summer music fest somewhere near you. I had some inkling when I attended Minnesota's biggest hip-hop festival, Soundset 2012 on May 27th, that I may see a few of these characters. This inkling proved to be true. The Hoopsters were out in force for Lupe Fiasco, Atmosphere, Ghostface & Raekown, and several other notable performers.
Created with flickr slideshow.
If you're like me, and missed the witty captions I wrote for these pics, feel free to take a look at my flickr page for the full shebang!
To further elaborate, the forecast was perfect hoopster weather - hot and sunny. Tank tops certainly were a boon rather than a bane. Being a pasty white half Scottish (thanks mom!) male, I had thought about throwing on my Antoine Walker retro Celtics jersey to celebrate their Game 7 win over the Sixers the previous night, but the prospect of awful tan lines quickly admonished my thinking.
There's obviously a huge demographic crossover between hip-hop and NBA fans, and I even half expected to see several Ricky Rubio and Kevin Love jerseys. I should have known better—there would obviously be hoopsters everywhere—it had slipped my mind that Minnesota is the "hipster capital" of the country. I had also forgotten that the Thunder have effectively made hoopsterism meta — now I fully expect to see a picture of James Harden rocking a Providence Steamrollers jersey this summer on TMZ Sports.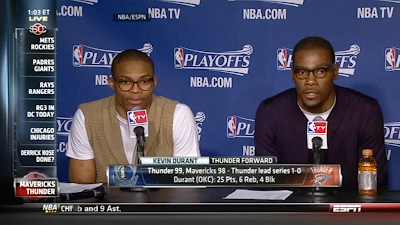 I'm going to make a bold statement about hipsterism and hoopsterism at large—it's not on the decline, as some would suggest. In fact, we're in the golden age of hoopster, and lord knows what will happen to the wardrobes of impressionable young NBA fans everywhere if the Thunder beat the Heat.
In closing, for the sake of Russell Westbrook and Kevin Durant's wardrobes, e-bay sellers, retro NBA jersey collectors, music festival fans, and hipsters (and post-hipsters) everywhere, long live hoopster culture!