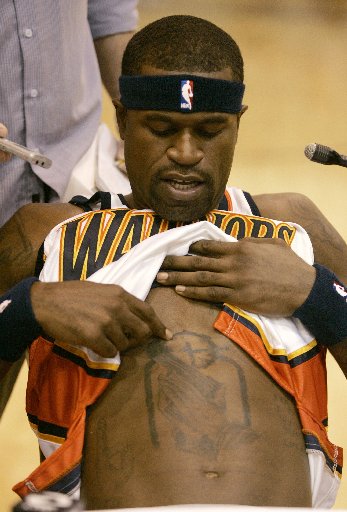 Oh, the Warriors. The answer to any question about this team, like the relationship status of that Facebook friend that thinks they are clever, is "it's complicated".
After a year derailed by high expectations and injury, the Dubs finally decided to join the tank game all the way to the 7th pick in the draft. With players like Stephen Curry, Klay Thompson, David Lee and Andrew Bogut in the starting five, there is a feeling in the air that the team is a solid small forward (or 2010-11 Dorrell Wright) away from the playoffs. This feeling has been fanned by owner Joe Lacob who guaranteed the playoffs last year, and is surely looking to start a winning tradition.
Thus, the Warriors draft room is split. Some of the time we hear that they are looking to draft somebody who is NBA-ready, and if that player isn't there at the seventh spot, they will trade the pick for an established veteran. At other times, we hear the mantra about a "changed" Golden State Warriors team, who have real talent identifiers in the room and are just looking to draft the best player available.
As a long-term Warriors fan, I know that this team is very good at pushing my emotional buttons, making me think "but wait, if these nine things break right, we will be a contender this year!" I do think that packaging the seventh pick for Luol Deng/Andre Iguodala/Rudy Gay would get the Warriors to the playoffs, but at what cost? They are still one or two superstars away for competing for the title, and shouldn't that really be the goal?
Thus, I advocate a "best player" available strategy. If that player happens to be 18, extremely raw, and filled with potential (aka Andre Dummond) even better. I'd rather take a shot at the next Andrew Bynum, and if the Warriors don't make the playoffs next year, so be it.