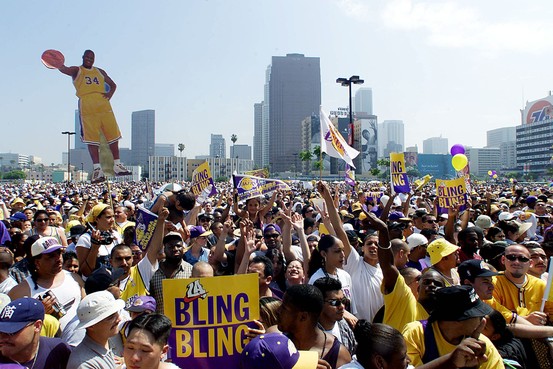 Editor's Note:  This is a guest post from Joe Bernardo, our resident Lakers fan.  Joe is a Ph.D. candidate in History at the University of Washington and a Los Angeles native.


*****
When I was in elementary school, as part of the American regime to indoctrinate young citizens (and non-citizens) with patriotic nationalism, we started every morning reciting the Pledge of Allegiance, singing the National Anthem, and choosing another patriotic song to sing as a class.  To this day, I can still recite every word of the Pledge and sing every note of the "Star Spangled Banner", "America the Beautiful", and my favorite (don't ask me why), "This Land is My Land".  I imagine every kid in the United States goes through a similar nationalistic ritutal to the one I experienced as a student in the Los Angeles Unified School District, but I came to realize that I was clearly mistaken.  Yes, students all over the country learn these expressions of loyalty, but in every school district outside of Southern California, they must also include some sort of daily recitation or musical composition dedicated to their hatred towards Los Angeles.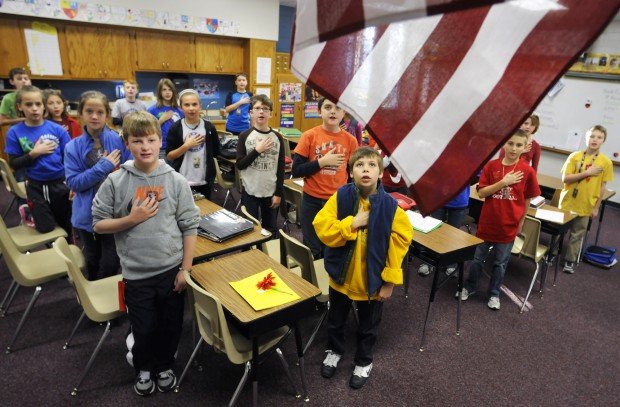 It's true! Or, at least, it seems true. As much as daily routines of nationalism make people love this country, the daily regiment of L.A.-bashing seems to have created millions and millions of L.A. haters among the populace.  I've lived nine years of my life outside of Southern California and in every conversation I happen to hear or engage in myself, people somehow include a diatribe about how much they hate L.A. and that the city is two steps removed from Hell.  Even upon an initial introduction to non-Angelenos, I consistently received some snide remark or condescending look of disgust when I told them where I was from.  (Note: I received the majority of these warm receptions during my time in San Francisco, where they consume more L.A. Haterade than anywhere else).
Of course, I knew where it stemmed from.  Usually it was an assumption that I embodied stereotypical L.A.  You know, the Hollywood-talking, Beverly Hills-shopping, beach-combing surfer bum who was image-conscious, plastic, and fake, all of which can be surmised in this hilarious SNL skit.  So, after a polite, "nice to meet you too," I tried to convince the person I was meeting that most of L.A. was just like anywhere else in America, populated with ordinary folks (mostly people of color) who never deal with Hollywood riff-raff and that most of the rich, fake cosmopolites were L.A. transplants anyway.  Unfortunately, my attempts at proving s/he otherwise always fell on deaf ears since they were already thoroughly convinced that I, along with the rest of the city, symbolized everything wrong with society.
But underneath the glitz and glamour of this town are millions of hard-working individuals who never had champagne wishes or caviar dreams, and who really make the city run.  These are the unsung heroes that work countless hours and fight hours of traffic just to eke out a living.  The janitors, the cooks, the nurses, the accountants, the construction workers…the put in their time, but receive none of the glory.  Just like in any other city.
One of these tireless workers is Mitch Kupchak.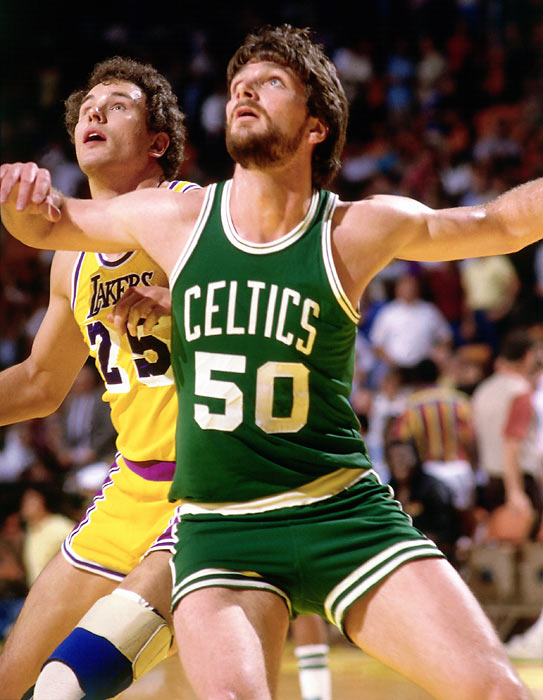 Kupchak came to play with the Lakers before the 1982 season after five fairly productive years with the then-Washington Bullets.  However, 26 games into the season, he blew out his knee, and was out for two seasons.  Although he worked hard to rehabilitate his playing career, even playing a key role off the bench in the Lakers' 1985 championship run, he was never the same and eventually forced to retire unceremoniously.  But under the tutelage of then-Lakers GM Jerry West, Kupchak learned the ropes of front office management.  He worked hard behind the scenes, helping the Lakers build contending teams.  He even earned an M.B.A. from UCLA in 1987 in the process.  After years of apprenticeship under Jerry West, Kupchak fully took the reigns of the Lakers front office in 2000.
After receiving the best news of the summer, I subsequently received many texts and FB messages from my Laker-hating friends on how the evil empire struck again or how Jerry Buss is forcing his daughter Jeannie to sleep with the owner of the Orlando Magic or how I should "never, ever, EVER say the word 'conspiracy' again".  (By the way, I still can't fathom how "basketball reasons" is the explanation for the CP3 veto.  I just can't).  When Kupchak pulled the Dwight Howard trade, most of my friends didn't acknowledge the hard work he put into the deal and just assumed the Lakers used their Sith powers to get Dwight.
So when Jacob asks how the Lakers "get the best date at the dance", the answer is: hard work and dedication, sprinkled in with a little bit of luck.  Yes, the glitz and glamour of the Lakers can entice any NBA player to move to Los Angeles, but it's the front office's hard work and dedication that really makes the organization run.  And it also doesn't hurt  that the Lakers have been extremely lucky.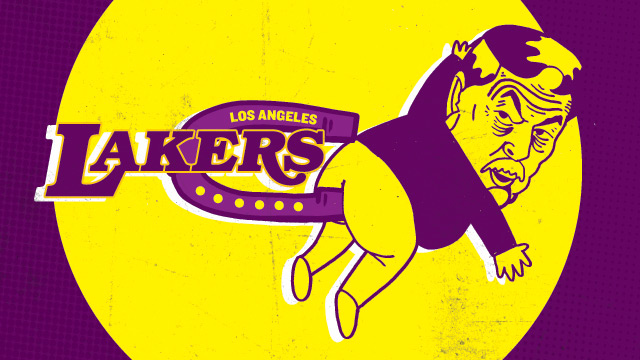 With the exception of Shaquille O'Neal, no other major championship piece in Laker history has come through free agency.  All of those pieces were acquired through trades.  And Jerry Buss is no Vito Corleone.  Nobody put a gun to the head of Milwaukee's GM to take Elmore Smith, Brian Winters, Dave Meyers and Junior Bridgeman for Kareem Abdul-Jabbar, or to New Orleans' GM to get rid of their 1979 #1 draft pick three years prior (who eventually turned into James Worthy Magic Johnson).  He didn't blackmail Charlotte to take Vlade Divac for a high school kid named Kobe Bryant, or kidnap Chris Wallace's kids to take Kwame Brown's expiring contract and picks for Pau Gasol.  The same thing goes for Lon Babby in Phoenix, to take picks for Steve Nash, and now Orlando, to take three other teams' mediocre draft picks and average players for Dwight.  They have used trades for their big pieces, and used free agency to pick up valuable role players.
And yes, Shaq was a free agent, but he would have never come to L.A. if the Lakers weren't a bona fide playoff team lead by Nick Van Exel (who was drafted 37th overall by the Lakers in 1993), Eddie Jones (the 10th pick in 1994) and Cedric Ceballos (acquired from Phoenix in exchange for draft picks).  Now would be a good time to remind you that Jerry West's only Executive of the Year award came in 1995 when he assembled this post-Showtime rag-tag group and turned them into a playoff squad.
Simply put, the Lakers have been smart.  They worked incessantly to build the best roster possible, with both an eye on the present as well as the future.  I don't know how GMs Bill Sharman (1976-1982), Jerry West (1982-2000) or Mitch Kupchak (2000-present) do it, but they are all excellent assessors of basketball talent.  They have never been caught or charged of any transgressions by the league.  Plus, they rarely let agents get the best of them (see: Ramon Sessions, Trevor Ariza, Shaquille O'Neal and Luke Walton…er, never mind, not Luke Walton).
Here's a clear example: after the ill-fated 2004 Lakers "Reloaded" squad, which featured the walking corpses of Gary Payton and Karl Malone, lost to the Pistons in the finals, the Lakers barely made it to the playoffs or were first-round fodder for the next few seasons.  In 2007 Kobe went on a media tirade and demanded a trade.  But Kupchak didn't budge (unlike 99% of the GMs in the league), knowing full well that Kobe was still valuable and in his prime.  He kept calm and slowly built the roster and trade pieces necessary to build a championship team around Kobe.  He made the controversial decision to trade Kobe's friend Caron Butler for Kwame Brown, drafted and developed an out-of-shape high school kid in Andrew Bynum, convinced Phil Jackson to come back and coach a mediocre team, and even resisted Kobe's (and fans') demands to trade Andrew Bynum for Jason Kidd   Then he pulled a rabbit out his ass and turned Kwame Brown's expiring contract, picks and then-unknown Marc Gasol into Pau Gasol.  Two championships later and Kobe hasn't said a word since.
And you can't say that the Lakers have simply bought their players a la the New York Yankees.  Jerry Buss is not George Steinbrenner.  In 2002, the Lakers won the championship with the ninth highest payroll in the league.  In 2006, the year after they missed the playoffs, they didn't put themselves in bad contract hell, and settled on having the 16th highest payroll.  In 2009, they had the sixth highest payroll, and won the whole 'Ship.  And yes, since 2010 they have carried the highest payroll in the league, but have converted fairly bad contracts and mediocre players into the team they have now.  The Lakers are also owned by a man whose wealth pales in comparison to 19 of the NBA's 30 owners, so his pockets aren't THAT deep.  He's not Mikhail Prokorhov, Mark Cuban, or Paul Allen, who can just blindly throw money at the team and hope for the best.  If other owners knew the difference between a good and bad contract, there wouldn't be as much disparity in the league.
Yes, the big market and geography gives LA an advantage, but it's not an astronomical advantage.  The Knicks, Nets, Sixers, Mavs, Warriors, Hawks, Wizards, Rockets and Clippers all play in large markets, but have just 10 championships between them.  Why is this?  And yes, the Lakers have brand-recognition.  But ask why it took Boston, Detroit, and Chicago forever to rebuild after their championship dynasties ended.  Simply put, it's the front office.  The Lakers' front office is the best poker player in the NBA.  They know when to hold and when to fold.  And they take advantage of the plethora of bad poker players around the table — that is, incompetent NBA owners who give the keys to their more incompetent general managers.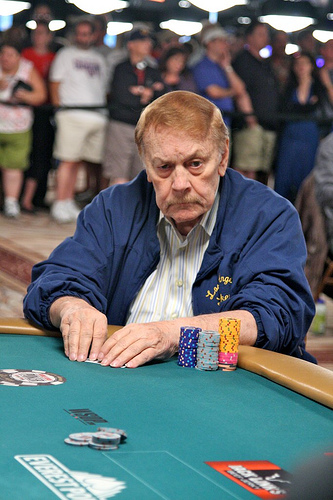 The Lakers are continually successful because they have the best management in the business.  The glitz and glamour is there, but it wouldn't be there in the first place if they didn't work their assess off to put the best basketball product on the floor.  You can't deny that.  And just remember that if this team ultimately fails to bring another title in the next two years (which, as Jacob has argued, has some potential of occurring), they will start again with no bad contract to their names when the new luxury tax rate really kicks in.  With the exception of Steve Nash, no current Laker has a contract beyond 2014.  So you can't say that the Lakers new Time Warner Cable contract automatically guarantees they will continue to pay through the roof for star players.  Well played, Mr. Kupchak.
After twenty-something years since finishing elementary school, I now question the validity of American nationalism that was so ingrained in my head when I was a kid.  So I ask that you all question your L.A. haterism as well.  L.A. isn't all Hollywood, plastic bodies, and plastic people.  There are millions of average Joes (hey!) just like you and me who work hard and lead normal American lives.  There are many who also despise David Beckham, Justin Timberlake, and Snoop Liony Lion frontcourt at Staples Center raising ticket prices so that average fans like me can't afford to go to a game.  Yes, I get it.  The Lakers win all the time.  But at the end of the day, NOBODY and I mean NOBODY would say they don't want their team to be as successful as the Lakers.
Give credit where credit's due.  Mitch Kupchak puts in hours of work and asks little in return.  Hell, give credit to Jim Buss (Jerry's son, and current Lakers overseer) for sticking with Kupchak even when his dad is out of the picture.  These people make the Lakers run, just like we make the city run.
Of course, I can't convince all of you to respect my hometown.  That's okay.  You will despise L.A. like you have since birth.  So when you do see the Lakers compete year-in and year-out, and you find your blood pressure rising as a member of the Buss family raises yet another Larry O'Brien trophy, just make yourself feel better knowing that we have no football team to root for.