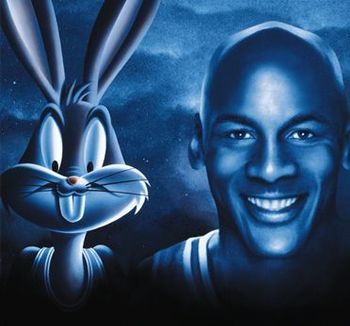 Last week, while discussing Metta World Peace's recent appearance on "Yo Gabba Gabba", I casually suggested that I should compile the top five NBA player cameos on children's television over the years.  While watching football on Sunday, I made this lifelong dream a reality.
Two things became apparent as I got started on this project.  The first is that YouTube, while impressive in terms of breadth, is a pretty poor research tool.  It's really hard to make advanced searches that don't turn up a big pile of flotsam.  The second is that it seems that NBA players generally stay away from children's television.  Perhaps they don't have enough time in their busy days, or see very few rewards that come from these types of appearances, but apparently these guys really don't go on children's shows much.
So perhaps this should be named "The Only Evidence I Could Find on YouTube That NBA Players Care About Children's Television-Watching Habits" instead.  Has a ring to it, no?
Amar'e, Melo and Grover (2012):
NBA players most frequently appear on Sesame Street.  I was able to find video evidence of Vince Carter, Dr. J and Blake Griffin getting their kicks with these urban muppets.  Makes sense too.  The commitment seems minimal, and the end result ends up being pretty funny.  In this edition, we get Melo and Amar'e teaching Grover about comparisons.  They end up being kind of dicks, and make fun of Grover for being short and not very good at basketball, despite the fact that Grover has a 19-foot vertical.
Sports Theater with Shaquille O'Neal (1993): 
I vaguely remember watching this when I was 8 years old. Shaq "hosted" a series of sports-related made-for-TV movies on Nickelodeon, which I can safely say were my babysitters for most of my childhood. In this movie, 4 Points, young Luke Williams (played by Robert Ri'chard) dreams of playing for his high school's team, but he has to overcome a bunch of dicks calling him "short" first (height, or lack thereof, plays a major role in basketball-related children programs).  Luckily he has the support of his best friend (played by Kenan Thompson), his coach (Cheryl Miller) and his father (Clifton Powell).  And Shaq?  He appears in the first minute to set up the story, and in the last 25 seconds to deliver the life lesson: "at the last second, you know who the champions are."  Well said, The Big Paycheck Collector.  How much did Shaq get paid for a minute-and-a-half of sage advice?
Steve Francis and Wilt Discuss Nutrition (2005ish):


Steve "Franchise" Francis, a former 3-time All Star whose high profile career ended rather prematurely, discusses the benefits of healthy eating with a mostly unlovable cartoon character named "Wilt" in this short for the Cartoon Network.  Francis lectures Wilt about eating right, when in all actuality, it looks like Wilt could be fattening himself up, so as not to be the next Shawn Bradley.  Ironically, the last known report of Steve Francis as a professional basketball player details him being kicked off the Beijing Shaoguang Ducks for being fat.

Dream Team Cartoon (1992):


I have no recollection of this, but how cool would this cartoon be?!  They turned John Stockton, Charles Barkley, Chris Mullin and David Robinson into the Ninja-fucking-Turtles.  Who would the villain be?  Toni Kukoc?

Space Jam (1996):


The big one.  This movie was so cool when it came out in 1996.  It was perfect for my generation of mid-1980s boys, who wanted to display some sort of masculine streak, but also acknowledge (if only to themselves) that it was okay to still like Looney Tunes as a pre-teen.  From a wider cultural standpoint, it reintroduced Bill Murray to my generation (our last exposure to him really had been the Ghostbusters movies) before we got to know him as a greying folk hero in several Wes Anderson films, and established R-Kelly as a legitimate radio star.  I went to this movie for my 11th birthday party, and it was a totally awesome birthday.  I have very few bad things to say about Space Jam.  But can we think about the Monstars for a minute?  They picked a bizarre player to steal their power from.   Charles Barkley and Patrick Ewing make sense.  Larry Robinson and Muggsy Bouges make some amount of sense, too.  But Shawn Bradley?  Those Nerdlucks needed to read their scouting reports a bit closer.