This post is an adapted fairy tale By Hans Andrew Snyderrson (2012-2142) that was uncovered on a recent trip by time travel cadet Terry Porter, reporting from the future. 
any, many years ago lived a baller, who thought so much of scoring points that once he scored 81 in a game; his only ambition was to ball so hard that mofos would want to fine him…  He did not really care so much for his teammates or coaches, the theatre did not amuse him; the only thing, in fact, he thought anything of was getting buckets. He had new low top sneakers for every hour of the day; and as one would say of a king "He is in his cabinet," so one could say of him, "Kobe is in the gym, working on his old man post up game."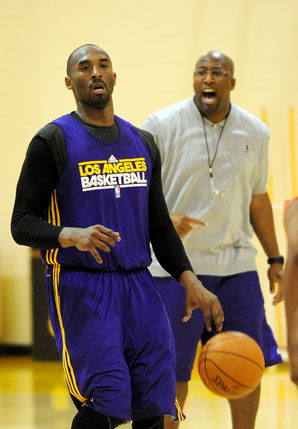 The great city of Los Angeles where he resided was very gay; every day many strangers from all parts of the globe arrived. One day a swindler named Mike Brown came to this city; he made people believe he was a competent NBA coach, and declared he could manufacture a 70 win team with marquee free agents and the Princeton offense. The offense, he said, was not only exceptionally beautiful, but full of back cuts and made of plays possessed the wonderful quality of being completely undecipherable to any man who was unfit for the league or unpardonably stupid.
"That must be a wonderful offense," thought Kobe. "If I were to be the featured player in this offense, I should be able to find out which men on my team were unfit for their places, and I could distinguish the clever from the stupid. I must have this offense implemented for me without delay." And he told Dr. Buss to gift a large sum of money to the Mike Brown, in advance, that he and his coaching staff should set to work without any loss of time. They set up two whiteboards, and pretended to be very hard at work, but they did nothing of any real consequence on the whiteboards. They asked for the finest point guards and the most precious defensive center; all they got they did away with, and worked at the Staples Center late into the night.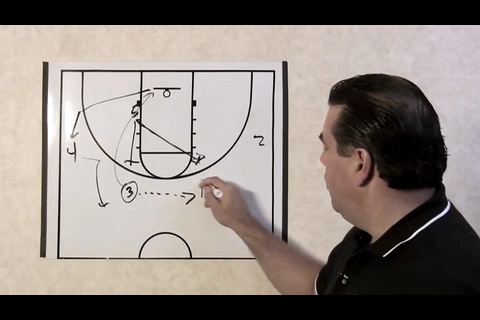 "I should very much like to know how they are getting on with the Princeton offense," thought Kobe Bryant. But he felt rather uneasy when he remembered that he who was not fit for the offense could not decipher it. Personally, he was of opinion that he had nothing to fear, since he was the G.O.A.T., yet he thought it advisable to send somebody else first to see how matters stood. Everybody on the Lakers knew what a remarkable quality that Eddie Jordan's offensive teachings possessed, and all were anxious to see how bad or stupid their teammates were.
"I shall send my honest old point guard Steve Nash to the coaching staff," thought Kobe. "He can judge best how the offense looks, for he is intelligent, and nobody understands playmaking better than he the two time MVP."
The good old point guard put on a suit and skinny tie to go with his new 'gatsby' haircut and went into the room where the coaching staff sat before the empty whiteboards. "Goodness gracious!" he thought, and opened his eyes wide, "I cannot see anything at all," but he did not say so. The coaching staff requested him to come near, and asked him if he did not admire the exquisite patterns and the beautiful backdoor cuts, pointing to the empty whiteboards. The poor old former SSOL guru tried his very best, but he could see nothing, for there was nothing to be seen. "Oh dear," he thought, "can I be so stupid? I should never have thought so, and nobody must know it! Is it possible that I am so washed up I'm going to break my fibula after two games and miss the next twenty something? No, no, I cannot say that I was unable to see the Princeton offense."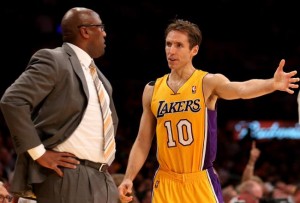 "Now, have you got nothing to say?" said Bernie Bickerstaff, while he pretended to be busily diagramming plays, using a dry erase marker with the ink cartridge removed.
"Oh, it is very pretty, exceedingly beautiful," replied Steve Nash. "What a beautiful pattern, what brilliant multi colored play diagrams! I shall tell Kobe Bryant that I the Princeton offense very much — it looks like I will be able to make plays and also knock down tons of open jump shots!."
"We are pleased to hear that," said Mike Brown and Eddie Jordan, and described to him the offensive sets and explained the curious ball movement. The old point guard listened attentively, that he might relate to Kobe Bryant what they said; and so he did.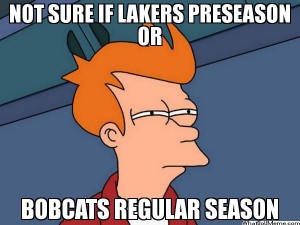 The pre season began and the Lakers, predictably, were struggling to score points. New role players like AntYawn Jamison and Jodie Meek[s] still had to develop chemistry with each other, not to mention the fact that the artist formerly known as Ron Artest started shooting threes again. Things just weren't gelling, due in no large part to a confused team on the attack, who all pretended they were running the Princeton offense that had been "diagrammed" on the magical white boards by the coaching staff. However, even in fictional tales, it's widely acknowledged that a team's preseason record means nothing, and the Lakers opened up the 2012 season on October 30th against the Dallas Mavericks missing German superstar Dirk Nowitzki.
They took the court for the first time as a fearsome foursome — Kobe, Nash, Howard, Gasol. They got rolled. Then the next night in Portland, they got rolled again, as rookie point guard Damien Lillard exposed Steve Nash (and his fibula) on defense. A trend began to emerge… the Lakers couldn't keep up with faster, more athletic teams. In a week, the Lakers were 1-4 and the gay City of Los Angeles was looking for answers.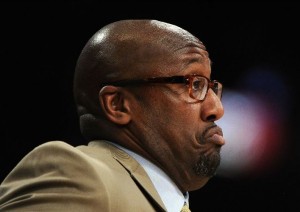 The good Doctor Buss decided that somebody would have to go - that somebody being Mike Brown, and that he had indeed been swindled. Instead of hiring the sagacious and 11-ringed Phil Jackson, the Lakers and Kobe decided to go with Mike D'Antoni, a man who was notorious for swindling in seven seconds or less. D'Antoni was notorious for keeping all the credit for himself, and while the Lakers were not built like a run and gun team, they continued, as hitherto, to toil long into the night by the light of oil lamps on a brand new offensive system, in hopes that things would turn around.
Soon afterwards, seeking deeper insight the new D'Antoni offense, Kobe sent another honest courtier, his trusty bodyguard and large manservant Dwight Howard, to the new coaching staff, to see how they were getting on, and if the new new offense was nearly finished. Like the old point guard, D-12 looked and looked at the wall of whiteboards, but could see nothing, as there was really nothing to be seen except boring isolation plays for himself and Kobe.
"Is it not a beautiful, intricate, piece of offense?" asked D'Antoni. "If I do say so myself, this is better than anything I ever drew up in Phoenix or New York," continued the mustached marauder,  showing and explaining the magnificent patterns, which, however, really could not exist without a healthy Steve Nash.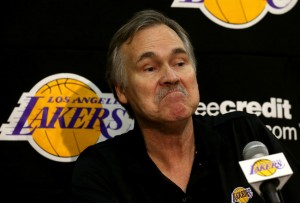 "I am not stupid," thought Dwight Howard. "I learned in Orlando that my team can't win when the offense runs through me in the post on simple iso looks. It is therefore a good offense for which I am not fit. It is very strange, but I must not let any one know it;" and he praised the D'Antoni system, which he did not see working, and expressed his joy at the beautiful playbook and the fine defensive sets, especially the zone ones. "It is all very excellent," he said, reporting back to Kobe.
Everybody in the whole city of Los Angeles talked about the new coaches and system. Never mind a hot start by the crosstown Clippers. At last, Kobe Bryant wished to see the offense himself, while it was still early in the season and there was still time to turn things around. With a number of courtiers, including Devin Ebanks, Jodie Meek[s], Metta World Peace, Steve Blake, and some dude named Sacre, as well as two who had already been there, he went to the swindler coaching staff, who now worked as hard as they could, but time and time again had failed to come up with an offense that worked for their personnel.
"Is it not magnificent?" said Nash and Howard who had been there before. "Kobe, you must admire all the different color markers and finely stenciled shapes coach D'Antoni has used on the white board." And then they pointed to the empty whiteboard, for they imagined the others could see the offense.
"What is this?" thought Kobe, "I do not see anything at all. That is terrible! Am I stupid? Am I unfit to be the greatest player of all time? Will I never win a sixth ring and match Michael Jordan? Is there no way I'm going to break Kareem's record? That would indeed be the most dreadful thing that could happen to me."
"Really," he said, turning to the coaching staff, "your offense AND defense has our most gracious approval," and nodding contentedly he looked at the empty white boards, for he did not like to say that he saw nothing. All his teammates, who were with him, looked and looked, and although they could not see anything more than the others, they said, like Kobe, "It is very beautiful." And all advised him to completely ball dominate (with Steve Nash still out) the magnificent new offense later that week in a marquee national TV game, Mike D'Antoni's return to the Knicks, which was soon to take place at Madison Square Garden in New York City on Thursday December 13th, 2012. "It is magnificent, beautiful, excellent," one heard them say; everybody seemed to be delighted.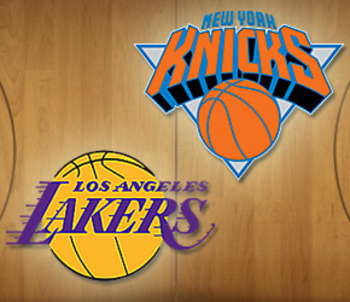 The whole night previous to the day on which the Knicks Lakers showdown was to take place, the coaching staff pretended to work, scheming to come up with a plan for how to stop the Knicks red hot three point shooting. They needed to give off the appearance that they were busy to finish the Laker's new identity. They pretended there was a plan for the team by pontificating at the local and national media, doing lots of Sportscenter interviews, and even giving Bill Simmons access to the locker room, and said at last: "Kobe's new team is ready to compete now. No more excuses."
Kobe and all his teammates then came to the hall to the locker room before the game; D'Antoni held up his arms, and gestured to the game plan on the whiteboard, and said: "This is the offense!" "This is the defense!" and "Here are our out of bounds plays!" and so on. "They are all as innovative as my 2005-6 Phoenix Suns sets, and this system should guarantee us a top-4 playoff spot with one hand tied behind our back; that is just the natural beauty of it."
"Indeed!" said all the Lakers; but they could not see anything, for there was nothing to be seen. The white boards full of jibberish hardly resembling offense or defense. Coach D'Antoni walked the team through some simple isolation plays for Bryant, told them to "fucking hustle" on defense, and quickly retreated to the corner of the locker room, nervous with anticipation for his MSG return.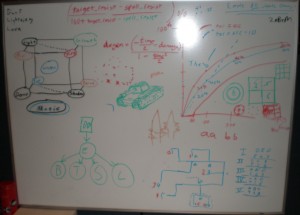 "Does it please Kobe now to graciously suit up for the game," said the coaching staff, "that we may assist Black Mamba in putting the new sets in place for tonight? Are you ready to dominate the ball?" Kobe nodded. Pau, knowing nobody was watching as he sat out in street clothes, frowned.
The Lakers took the court, and the atmosphere in Madison Square Garden was electric. The swindler coaching staff implored the team to run the sets as they'd described, but one player after another; the team began to lose their tenacity and relax their collective effort as Kobe began to jack up off balance jumpers, starting 5-14 from the field. Meanwhile, the Knicks hit eight threes in the first quarter. Carmelo was on fire. Steve Novak discount doublechecked more than once.
Meanwhile in the stands, patrons and fans were too shocked to notice how far the Lakers had fallen behind. The New York faithful didn't know how to react, they were too used to crap teams to know what to do supporting a good one, so they continued to compliment the visitors. The first half lead would probably evaporate, and the purple and gold would win at MSG per usual. "How well the plays work! How well the pieces fit!" said all. "What a beautiful team! What fine colours, gold and purple! That is a magnificent system run by Coach D'Antoni!
"I am ready to win this game," said Kobe, despite trailing by twenty in the second quarter. "Does this system not fit me marvelously? I can just jack up all the shots I want and not involve any of my teammates, especially Dwight Howard!" In the middle of the game, Kobe turned to the scoreboard and looked up at the jumbotron to see his reflection, hoping that the crowd should think he admired the 2012-2013 Los Angeles Lakers and Coach D'Antoni's new system.
His teammates, who were supposed to score 70 some odd points a game, stretched their tired legs, and pretended to know the offense; they did not like people to know that they could not understand Coach D'Antoni's instructions.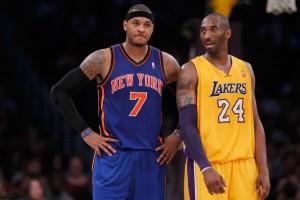 Kobe continued to march up and down the court and go mano a mano with Melo, oblivious to the Laker's growing predicament and huge deficit, and all who saw him from the TNT Studio didn't know what to do! Kenny and Charles instead made jokes about Shaq's underwear. Only Ernie Johnson seemed unable to comprehend what was happening: "Indeed, Kobe's new offense is incomparable! Look how he's leading the league in scoring! How well it fits him!" Nobody, not even Charles Barkley, wished to let others know that the 2012-2013 Lakers were looking like a borderline 8th seed in the Western Conference, for then he would have been unfit for a studio show or too smart. Never was Mike D'Antoni's system more admired.
"But The Lakers are 9-13, and their defense is 16th in league efficiency even though they play at an incredibly slow pace" said Bill Simmons' daughter from the stands, inexplicably yanked out of school so her father could fly her cross country for her first Madison Square Garden experience. "Good heavens! listen to the voice of an innocent child," said the Bill Simmons, and soon the MSG crowd began to buzz that the Lakers looked completely discombobulated on both ends of the floor. These were not the championship teams of old, the Lakers were washed up. "But Kobe has no game at all, at least in the current Laker's system" cried at last the whole people. That made a deep impression upon Kobe, for it seemed to him that they were right; but he thought to himself, "Now I must bear up to the end." And his teammates walked off the court losers, with still greater dignity, as if they were running a magical panacea: a D'Antoni system which hasn't worked since 2006, and that ultimately wouldn't really be helped by the impending return of Steve Nash.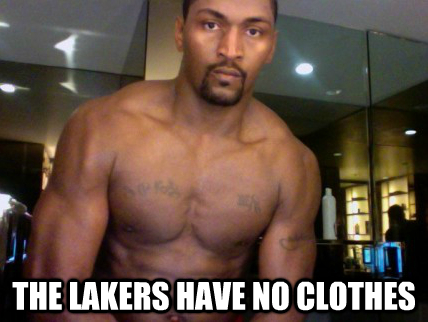 The moral of the story: the Lakers have no clothes.