(Begrudging) Diss Guy(s): Dr. Jerry Buss & The Lakers Organization 
I'll be honest: I haven't been completely comfortable with the hero worship that has taken place since Lakers owner Dr. Jerry Buss died last week.  I'm not sure why the death of a billionaire is more important than the death of any other person, other than the fact he had a lot of money in the bank when he passed.  Yet the passing of Dr. Buss has taken on a Steve Jobs-ian feel, looking and feeling a bit like a state funeral, or a community coming together after a major tragedy, not the death of an 80 year old man after a long battle against illness.
But professional sports is a exercise in the suspension of reality, so it was with keen interest that I watched some snippets of the memorial service held for Dr. Buss Thursday in Los Angeles.  Obnoxious cynic that I am, I could not help but feel a bit awestruck when I saw the array of personalities that populated the crowd.  There were two of the greatest coaches of all time in Pat Riley and Phil Jackson (three if you want to count Rudy Tomjanovich). There was one of the greatest general managers ever in Jerry West. There were countless legendary players from a variety of eras.  And they all were there for a single man—granted, one that had made them all incredibly rich—but also one that had created an illustrious fraternity, one that had created basketball gods out of men, and had garnered 10 championships over the years.
I am not a Lakers fan.  In my younger years, I may have cared more about the Lakers losing than the Warriors winning.  But my hatred of them has softened over the years, and perhaps one of the reasons is Jerry Buss.  Indeed, he was one of the most important members of an incredibly competent organization; one that has managed to stay competitive in a time when financials mattered less and superstars (and major markets) mattered far more.  But he essentially provided the funds to build an incredible organization of unbelievable players, most of whom stuck around for several years and experienced sustained success.  Perhaps it was the company of the room that made Kobe Bryant's short speech so strangely poignant; a eulogy and plea to use Buss' memory and work to push them to the playoffs; to complete an unlikely task.
I'm not sure if this event will be the galvanizing moment that will push the Lakers back into the West's top eight.  But it sure will be interesting watching them try.
—JG
Miss Guy: Kevin O'Connor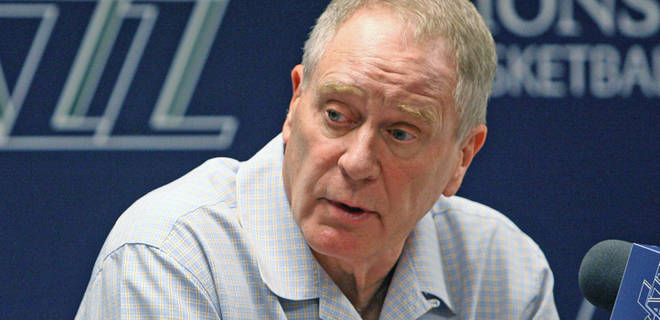 Yesterday's trade deadline passed with a flurry of relatively minor and inconsequential in the grand scheme of things trades. The biggest name moved was JJ Redick, and he was a bigger name eight years ago than he is today. The consensus seems to be that the tax provisions in the new Collective Bargaining Agreement severely dampened trade activity, but there have been other relatively inactive trade deadlines, so maybe it was just one of those years.
If there was one team that had to make a deal though, it was the Utah Jazz. As currently constructed, the Jazz are on track to go 43–39 and get blown out of the first round of the playoffs by the San Antonio Spurs.
The Jazz have two young potential stars in Enes Kanter and Derrick Favors who don't get enough playing time to see if they can fully grow into our lofty expectations of them. The Jazz have two good to very good players, Al Jefferson and Paul Millsap, who currently start at their positions. But the Jazz's present isn't too attractive (unless slightly better than mediocre is your goal), and Jefferson and Millsap's contracts both expire at the end of the year. The Jazz certainly won't try to retain both of them, and may not try to retain either.
In the coming years the Jazz have the potential to be a very good team. Alec Burks, Gordon Hayward, Jeremy Evans, Favors and Kanter is a very nice, young and cheap core to build around. They are also on track to have both the 18th and 19th picks in the upcoming NBA Draft, and have no bad contracts on their books. In this regard, standing pat at the trade deadline was a massive failure to the Jazz.
In defending the Jazz's inactivity, many are asserting that the deals "just weren't there", which certainly could be true. The absence of large scale player movement suggests it was hard to get deals done this year. But, I could just as easily flip that situation around: with so few quality NBA talents being moved, the Jazz had the two best player's available in a seller's market. Even if it was very difficult to get deals done, that is precisely Jazz Executive Vice President of Basketball Operations Kevin O'Connor's job. The next time you hear a used car salesman say "I'm sorry boss, he just didn't want to buy the car. If he isn't willing to spend the money, there is nothing I can do about it!!" will be the first.
Ultimately, the reason why Jefferson and Millsap are still members of the Utah Jazz today is unimportant. Both are quite likely to walk this offseason, with the Jazz having gotten nothing in return for two valuable assets. It may not be Kevin O'Connor's "fault" that Jefferson and Millsap are with the team, but it is his failure nonetheless.
—KD