An abbreviated Games of the Week, as All-Star Break looms large on the horizon.  Look for a more in-depth All-Star Weekend preview this coming Thursday.  In the meantime, we've got four excellent regular season games to look forward to before the forced pageantry of All Star Break descends upon us. Let's get right to it. 
Monday: Portland Trailblazers at Los Angeles Lakers (7:30 PM PST)




Do you remember when this was the greatest rivalry in professional basketball on West Coast? Man, I do.  Good times. Shaq vs. Sabonis.  Kobe vs. Pippen.  Sheed vs. The Refs.  In my opinion, enough time has passed since the 1999-2000 Western Conference Finals to finally award the series-deciding Game Seven "One of the Greatest Games of All Time" status.  Although, folks in Portland might not like to think too hard about their team blowing a fifteen point lead in the fourth quarter, an appearance in the NBA finals, and a (probable) victory against the Indiana Pacers.  Of all of the "What If?" questions regarding NBA history, "What If Portland Had Won Game 7 of the 2000 WCF?" remains one of the most compelling, at least in my mind.  In any case, the 2012 Lakers-Blazers rivalry might decide who has the honor of being eighth seed, rather than Western Conference champion/Miami Heat fodder.
Tuesday: Philadelphia 76ers at Memphis Grizzlies (5:00 PM PST)



If Memphis makes the playoffs this season, much of the credit will go to the efforts of forward Marreese Speights.  Speights was acquired from Philadelphia after star power forward Zach "Z-Bo" Randolph went down with a knee injury, and has started every game in Memphis since.  While his numbers (8 points and a career high 7 rebounds in 24 minutes per game) don't exactly scream "All Star" at you, his interior defense, ability to space the floor, and willingness to split time with Dante Cunningham, have given the Grizzlies a more than adequate stopgap while Z-Bo sits, and a potentially useful sixth or seventh man once Z-Bo (and big man Darrell Arthur) returns.  Speights has averaged 10 points and 8 rebounds in his last ten games, and the Grizz have climbed back to 18-14, good for sixth in the West.  Look for him to have a big game (and ample minutes) against his former club.
Wednesday: Utah Jazz at Minnesota Timberwolves (5:00 PM PST)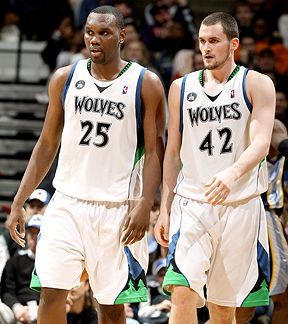 This matchup between division rivals also features a compelling matchup between two former teammates: Kevin Love and "Big" Al Jefferson.  It wasn't too long ago that Minnesotans looked to Jefferson to be the franchise savior in the wake of Kevin Garnett's trade to Boston.  And, even more bizarrely, it wasn't that long ago that people saw Kevin Love and Big Al as a Twin Towers reborn in the Twin Cities.  Much of that hope came during a magical run to begin the 2009 calendar year.  During that season, owner Glen Taylor ordered then-GM Kevin McHale to fire Randy Wittman, and become coach of the team he had assembled.  At the time, McHale had been taking heat for trading O.J. Mayo for Kevin Love on draft night, and public support had long run out for his embattled administration.  However, when he became coach, and after losing five games, McHale and the Wolves went on a magnificent run.  They went 12-3 to start the year, and McHale played Love and Jefferson together the entire time.  Jefferson averaged nearly 25 points and 13 rebounds during the run, and Love, a rookie at the time, averaged a double-double, and began to show off the rebounding prowess that's now his calling card.  However, an ACL tear for Jefferson ended their competitive streak, and the team went 10-39 the rest of the way.  Now McHale and Jefferson have long left the hinterland, but Love remains.  This should be a fun matchup between two productive forwards who know each others' games quite well.
Thursday: New York Knicks at Miami Heat (4:00 PM PST)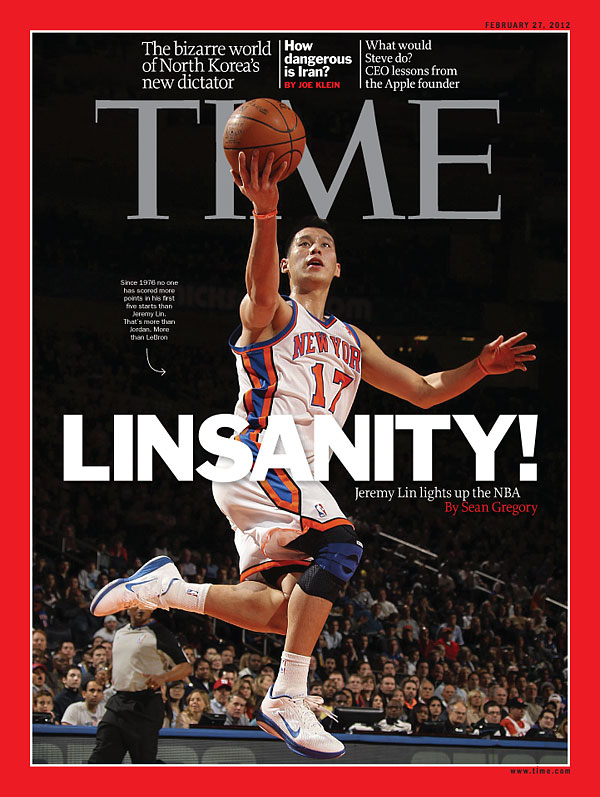 This will become the most hyped game of the season.  The sensational Jeremy Lin, who has changed the way people think of point guards, puns, and phenotype in the NBA, will take on LeBron, Wade, and Bosh at American Airlines Arena.  I will take a few moments to just state a few obvious points, as I'm fairly certain the hoopla around this game will become overwhelming by Wednesday afternoon.  But rest assured: if Lin puts up big numbers (and minimal turnovers), and the Knicks win this home game against the Miami Heat:
Linsanity will no longer be doubted, by anyone, ever again.  
The proceedings of this game, the exploits of Jeremy Lin, and the phenomenon of Linsanity will dominate all discussion at the All Star Game, regardless of the fact he won't be playing in the game.
Jeremy Lin, based on the results of 12 started games, will become a legitimate MVP candidate.  Perhaps even an MVP favorite.
All these things I know to be true.  What a strange season.