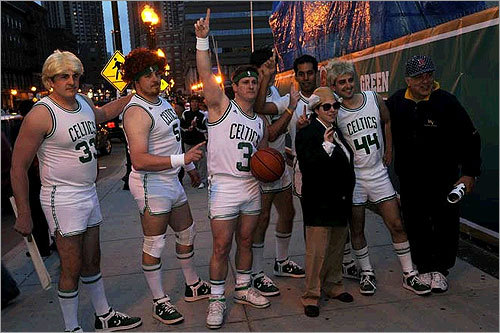 Details
Username
2008Scalabrine
Location
Boston, MA
Age
Getting Too Old For This Sh*t / Male
Division
Atlantic
2011-12 Record
39-27
2011-12 Adjusted Record
48-34
2012-13 Predicted Record
51-31
Season Goal
Against all odds, a championship
My self-summary
I'm just your average NBA Franchise born and raised in Boston, Massachusetts. I've never moved, and despite growing up in the Boston area and having a bunch of success (see: 17 NBA Titles , most ever, but I'm also super humble about it… so NBD), I like to think I haven't let the big stage change who I am. Unfortunately, because I have such rich tapestry of history to draw from, I'm a little bit of a hipster in recovery. Let's just say I still bust out the Walker Wiggle on friday nights when I stay in and have a few glasses of red wine and cry a little bit for Kendrick Perkins' 2010 NBA Finals ACL tear. Sniff Sniff… In the past, I've alternated between a Dynasty (60′s, 70′s, some of the 80′s), a basketball wasteland (Rick Pitino), and a 2008 superfriends team. For those of you who are interested in the MBTI, I am an ENFJ.
Besides playing basketball, I try to keep my aging body limber and injury free. While I'm athletic, I'm definitely no spring chicken anymore (well, except for Avery Bradley - that dude can fly around the court), so I'm planning on not to get too "banged up" during the regular season. In fact, I'm not really looking for anything serious right now, casual flings are cool, and I plan on experimenting with lots of different lineup combinations to see what's hot and what's not. Smallball - sure! Jeff Green at the 5? Sure, whatever, we're not compromising our morals, it's just The Bobcats!
If you're interested in something more long term, holler around March or April when I usually start taking things seriously. Despite keeping it professional on the court, I have a silly sense of humor in the locker room - which is important - if you don't understand our team chemistry, how are we ever going to click? Ubuntu was so 2008.
I like to think that I have a good sense of style. Green and white uniforms are a regular part of what I wear. I like intelligent fans who can talk about anything from politics, social justice, and environmental issues to beer and music. Just kidding. I like loud, obnoxious, fans who sound exactly like the main characters in Good Will Hunting. HOW DO YOU LIKE THEM APPLES? Ambition and a commitment to personal development and leadership are important (looking at you, Rondo), and dedication on defense and doing the little things that don't show up in the box score is for lack of a better word… hot.
What I'm doing with my life
Well right now it's preseason so nothing, really… Oh we did write diss tracks about Ray Allen's mom on the plane back from Turkey. Fab Melo's Brazilian stylings were sick with it — "Back in '08 before I was on Cuse/ The Big 3 were new but they couldn't ever lose /Ray your mom was in the stands for every home game/ Now the camera's lookin' every time the Heat play/ But 2012 Sugar Ray can't even take the court/ Ankles like Steph Curry/ Feet like Yao/ DNP all up in the box scorreee"
I'm really good at
FUNdamentals. Yelling unintelligible gibberish to intimidate. Winning at home. Playing like crap for long stretches of the regular season, and then falsely lowering expectations for the Playoffs (like Mitt Romney before the 2012 Presidential debates) so I can slow roll everybody.
The first things people usually notice about me
Doc Rivers is just such a nice guy. Kevin Garnett is kind of [email protected]$$hole on the court. Okay he's a huge @$$hole, but since I typed it with dollar signs and an @ symbol, just please don't tell him!
Favorite books, movies, shows, music, and food
Don't have favorites. You never know what you might like until you try it - anything is possible!
The six things I could never do without
Team commitment to defense, What the next Ubuntu could be, Flexing, The Truth, Danny Ainge, The "beat LA" chant.
I spend a lot of time thinking about
Can Paul Pierce cover anybody anymore? Will Jeff Green do anything at all in 2012-13? Is Jared Sullinger our starting 4? Is JET Terry going to stroke it like Sweet Baby Ray? Does KG have access to a fountain of youth, and if so is it hidden in Boston, or the suburbs? Or Lake Minnetonka? Could the Knicks or Nets steal our perpetual hold on the Atlantic Division title? Does anyone care about division titles?
On a typical Friday night I am
Spartacus! Or rosterbating about our back-court depth. Rondo plus Bradley plus Jet Terry plus Courtney Lee could be some fun small ball, if you know what I'm saying…
The most private thing I'm willing to admit
Despite being a consensus top 4 point guard in the league, Rajon can't shoot free throws… or jumpers. If he could, we'd be actual contenders. Not pretenders. We're probably looking at another Eastern Conference Finals ceiling, barring injuries.
I'm looking for
Girls and Guys who don't like The Heat
Players Age 20–38 (Nobody older than KG… yeah, you Sheed)
Near me, In New England, Locked Out Bruins Fans
For Laker Haters, A Backup Center, Banner #18
You should message me if
You know how to stop LeBron or Dwight Howard. You want to see what's under the Lucky The Leprechaun costume… You're interested in an outside shot at the Larry O'Brien trophy, followed by a long rebuild.