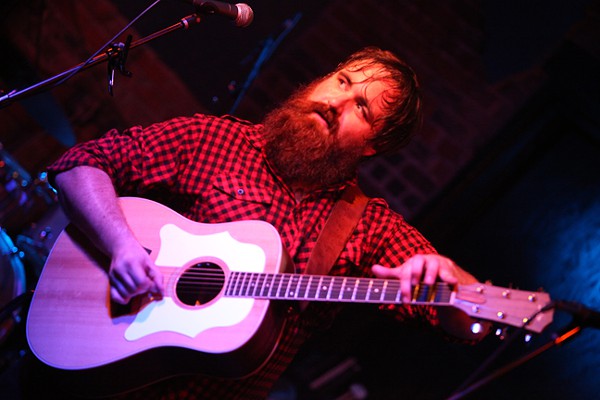 Details
Username
Memphis_Geek
Location
Memphis, TN
Age
31/M
Division
Southwest
2011-12 Record
42-24
2011-12 Adjusted Record
52-30
2012-13 Predicted Record
48-34
Season Goal
Upset a Big Boy
My self-summary
What's going on? I'm Memphis_Geek. I live in Memphis, Tennessee, by way of Vancouver, British Columbia.
I am in a band called Grindhouse. I'm the lead singer, and my four buddies play other instruments and help me out with vocals. We were all freshman year roommates, and started the band together. We formed in 1998, while we were all freshmen at Tufts University just outside of Boston, Mass. We're sorta post-punk-pre-pop, and we just love to play music together.
When we graduated in 2002, and up until 2010, it was looking like things were going to get really, really good for us. We hung around Boston, playing shows there, as well as in New York, Philly and DC. Soon our street cred was growing a bit. We had a strong following at our shows; a mix of college friends and groupies who liked our style A few indie radio stations in DC, Minneapolis, Chicago and Seattle started picking up some of our songs. Before we knew it, we were getting bigger and bigger shows in bigger and bigger venues! We had just been doing this for fun; we had no idea others liked it. Suddenly we had tons of hipster cred, and people were downloading our songs off of iTunes like crazy.
2010 and 2011 were great years. In summer 2010, we played on Friday at Pitchfork. We got to play on a sidestage at SXSW in spring of 2011. Rolling Stone once covered a Vampire Weekend show that we were opening for, and said "Grindhouse rallied the crowd with their heavy noise and powerful vocals." That was us! Me and the buds were doing it big. I was really excited.
But I've learned that things can plateau really quickly. The second part of 2011, and 2012, thus far, have been more difficult than I thought. Last year, Z-Bo, our drummer, had to take a bunch of time off to deal with drummer's knee, and hasn't gotten quite back. Our rhythm and lead guitarists, Marc and Rudy, are both awesome dudes, but have expensive tastes, and turn down a lot of shows these days. We got rid of our full time bassist, O.J., and hired two part-time bassists, (Jerryd and Tony). And we're not exactly flavor of the week anymore. There are other bands who are as good (if not better) than us at this point.
And finally: I'm getting older. I moved to Memphis because of an ex, and now that I'm here, I'm just wondering if this is what I'm meant to do forever. I love Grindhouse, but I'm not getting any younger. I'm 31. Touring has given me notoriety and hipster capital, but hipster capital doesn't pay the rent, and notoriety doesn't satisfy my loan collectors. Part of me feels it's time to settle down, get a job, and tell my friends to get going with their lives as well.
So I'm looking for someone who likes to rock, but may also be ready to settle down sooner rather than later, and get going with the tricky business of growing up.
What I'm doing with my life
Playing lots of shows around here and working two jobs as a bartender and as cashier at a used book store. It's a good life, but I wonder why I'm paying these huge Tufts' loans if I'm using my BA to bartend, take book inventory and play in mostly-empty clubs all over the country.
I'm really good at
Keeping things light and loose. It's not easy to be in a semi-successful indie band. There's a lot of angst, drugs, and competition. I try and keep things low-key as a way to look cool and collected around the bigger, more notable bands. It's how we've developed our modest fan base over time.
Favorite books, movies, shows, music, and food
We were all fans of Husker Du, The Replacements and The Ramones. I really enjoy the barbecue here, but miss the seafood from the East Coast and the indian food in British Columbia.
I spend a lot of time thinking about
Why being a rockstar wasn't as cracked up as I thought.
The most private thing I'm willing to admit
I'm thinking about "selling-out"; using my degree to get a real job and start a real life. That may mean breaking up my friends. I love Z-Bo, Rudy and Marc, but I think we may have reached our peak.
You should message me if
You wanna come to a show, and get a drink afterwards. Don't mind the get-up; I'm more mature than I look.