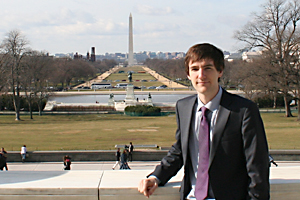 Details
Username
CAP_HILL_INTERN_35434
Location
Adams Morgan, Washington, DC
Age
23/M
Division
Southeast
2011-12 Record
20-46
2011-12 Adjusted Record
25-57
2012-13 Predicted Record
38-44
Season Goal
Playoffs or Bust
My self-summary
A cool breeze comes from above, down the escalator, past the ticketing gates, and hits Metro riders as they get off the train. These businessmen and women turn up the collar of their trench coats and march resolutely through those ticketing gates. The wind makes a funny sound, not quite a whine, as it rushes around corners underground. Every second on the escalator brings an atmosphere another degree colder. Hands fumble in pockets for ear warmers, gloves and chapstick. There's no snow on the ground, just the white urban tumbleweeds; napkins, newspapers and plates; skipping down the street. Fall has come to Washington D.C.
Fall is my favorite season because it means basketball is here. Sure, if anything, basketball is a winter sport, but there's something about the magic of the start of the season that I like best. After-all, D.C. is a basketball town, the home of Elgin Baylor, Adrian Dantley, Roy Hibbert, John Thompson, Dave Bing, Austin Carr, Kermit Washington, Eddie Jordan and Kevin Durant.
The season starts in less than two weeks. For the first time in a few years, since the Jamison-Arenas-Butler triumvirate ruled the town, I might be good. Outside of the Verizon Center cars pass, day and night, sporting flags, bumper stickers and steering wheel covers. The old adage is that nobody in D.C. is actually from D.C., and you can certainly see evidence of that. But the overwhelming conclusion is that everybody is a Redskins fan. Look at the flags passing by. Redskins. Redskins. Redskins. Capitals. Redskins. Redskins. Cowboys? Redskins.
A few months ago I had a revelation: I was too immature. Whether running the wrong way on the court or making light of violence, it was time for me to grow up. Now, I still have a youthfully exuberant John Wall at heart, but now he is surrounded by players like Nene, Emeka Okafor and Trevor Ariza. I drafted a hip new Bradley Beal this year—he's on the cutting edge—but he's a different kind of guy than Javale and Andray.
I can't change what has happened in my past, I know that, but I can change what happens going forward. Last year was the first big step, and this is the year that I regain respectability in the Eastern Conference.
I'm really good at
…Tell you what…Come out to a few games, and if you still don't know the answer to this question, ask
The first thing people usually notice about me
My fly jerseys (thanks Ted!)
The six things I could never do without
John Wall
John Wall
John Wall
John Wall
John Wall
John Wall
I spend a lot of time thinking about
Was it worth it? Those mid-2000s teams were fun, but I always got knocked out of the playoffs too early. Those teams were fun, and I had a borderline superstar in Gilbert Hibachi Agent Zero, but we were never going to win a championship. Is it okay to be good but not great?
The most private thing I am willing to admit
John Wall might never crack the top five point guards in the league. He might never be able to translate his speed into easy buckets. He may have been ruined by spending his early career around knuckleheads. We might have to start over again.
I'm looking for
Capitals fans who are looking for something to do during the lockout
Redskins fans who are looking for something to do during the playoffs
Bro policy wonks who want to cheer for the other team at home games
Barack Obama
People that are glad they don't have to watch Nick Young play
You should message me if
You live in the DMV and want to watch competitive professional sports anytime in the next 6 months.