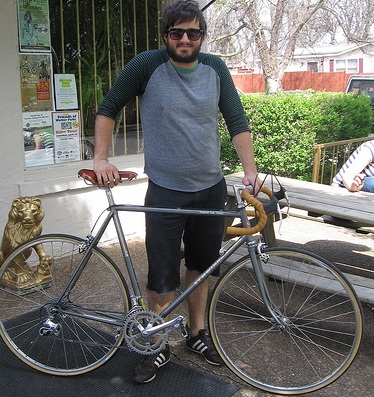 Details
Username
SlickRick_da_Love_Machine
Location
Minneapolis, MN
Age
26/M
Division
Northwest
2011-12 Record
26-40
2011-12 Adjusted Record
32-50
2012-13 Predicted Record
41-41
Season Goal
Speedy recoveries, Consistent health, & 8th Seed (or better?)
My self-summary
Hey. I'm SlickRick_da_Love_Machine. And in the words of Band of Horses, nobody's gonna love you more than I do.
I graduated from Macalester in St Paul, MN, 2008 with a degree in Political Science. I sorta tried to get an internship in something, but wasn't really sure what I wanted to do exactly with my degree. I didn't have any money, and wasn't too enthused about my prospects as a Poli Sci grad, so I went back home to Great Barrington, MA to live with my folks for a few weeks. Well…that was a few weeks too many (there's not much to do in the Berkshires unless you've got a hedge fund to manage, and I leave that up to my dad), so I headed back to the cities to sort of just figure out what do do next.
Turns out living in the cites was what was next. I really like it here. I think people give Minneapolis, and the Twin Cities in general, a bad rap. This is a great place to live! I work two jobs, one as a barista at a coffee place in uptown, and another as an office guy for an community art non profit. I live with some college friends in a place in uptown, where we have awesome house parties during the winter, see shows in the spring, and play outside all summer. I've all but given up driving; the greenway can take me wherever I want to go on my bike, and the busses around here are really good. I make more than enough with my two jobs to pay rent, get some Premiums, and have a good time with my twenties. It's a place where I feel cool 24/7 — I can wear whatever I want, drink cheap beer well into my thirties, and just feel comfortable and cool. It's almost as if college never ends here.
Really, if you gave the Twin Cities a chance, you'd find that everything that they say about it is just wrong. Man, this city is cool. It's not a collection of igloos, nor is it just a live-action role play of Fargo. This is a great place! Rhymesayers entertainment? Awesome food? Ridiculously great music? Dive bars as far as the eye can see? Fixies and flannels? Hot hipster girls? This is a post-college dreamland, a midwestern shangri-la. This is a place for people like me to be free; to discover our true selves. We're not just hedge fund manager kids, living beyond our means carpetbagging in a far flung midwestern land. There's a reason the natives come back, or never leave. And more to the point, there's a reason that people who aren't from here, stay for the long term. Here you ride bikes, play in the snow, drink good beer and eat good food. It's just better than you think, and more and more people are finding out about it.
Sometimes, I feel like a lot of the same stereotypes that are used to describe the Twin Cities that I love apply to me as a team well. This is a great place! I've got two really marketable, quality cornerstones with Love and Rubio. My supporting cast is improving, with B-Roy, AK47, Pekovic, Stiemsma and Shved among others. I've got a really underrated, respected coach in Ricky Adelman. And when all my guys are healthy, it's like the first true spring day after a long winter: beautiful.
Yeah, there are some fairly well known aspects about me that aren't great. We all know that it snows in Minneapolis, and we know that David Kahn is still the GM. But hey, we survive the snow every year, and we've survived — and gotten better — in four years of Kahn, so maybe it's not that bad after all.
That's why you should be with me. I'm not that bad, after all. Bryant Lake Bowl, anyone?
What I'm doing with my life
Preparing for winter. I'm planning on riding my bike all winter long. That means getting the tires ready to go and making sure I'm wearing a cool helmet. I wouldn't want to tear an ACL, or break a hand or anything that would put me at a steep disadvantage to get the 8th seed.
I'm really good at
Taking a bike that once had many gears, and reducing it to the point where it has no gears. Look at the social capital! Look at it!
Favorite books, movies, shows, music, and food
I'll listen to whatever's playing on 89.3 The Current. Mark Wheat rocks my world. But Mary Lucia? Calm down and take a deep breath.
I spend a lot of time thinking about
When Sufjan Stevens' next album is coming out, and whether the Brother Ali show at First Ave is sold out. Saw him and Slug at Hard Times last weekend. Those dudes are chill, man.
The most private thing I'm willing to admit
I don't know how to say this, but…I could use a bit more exposure to diversity.
Hey, hey, I'm not racist. Don't think that. After all, some of my best shooting guards are black!
You should message me if
You wanna grab a beer at the 331. It's kind of a long bus ride, but I love that place. Maybe we can take in a Dosh show.