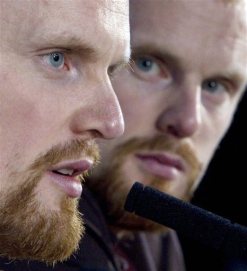 Details
Username
Thunder_Struck_69
Location
Oklahoma City, OK
Age
26/M
Division
Northwest
2011-12 Record
47-19
2011-12 Adjusted Record
59-23
2012-13 Predicted Record
60-22
Season Goal
The Whole 'Ship
My self-summary
Ya, hallo. Ve are Lars and Hans, and ve, together, are ze Oklahoma City Thundah. And ve vill CRUSH YOU.
Ve moved to zhis land in 2008, after some…shall ve say, complications vis our other business associates in Seattle. Needless to say, zay vill nevah, evah, take us lightly again. Zay know bettah, now.
Now we have built a successful operation in this godforsaken land, vhere all one can see iz rows of useless crops, and everywhere, EVERYWHERE, is ze empty bag of a McDonald's mistake. Zhis is not God's country. Zhis is not the beautiful Rhineland of our births.
But ya, it is truly basketball country. Ve, together, as Lars and Hans, have laid waste to all who have crossed our paths, ya. Ze rest of zhis league have been unprepared for the total domination that comes against playing us. Ve vill run you out of ze gym, and leave you huffing and puffing for breath like a fat recruit in ze army. Ve vill calmly line up three pointers, and launch zem vithout care or concern. Ve vill drive to the hoop, like powerful Volksvagons, and mow you down vithout asking: "are you okay, ya?" And we will nevah, evah, pass ze ball. Assists are for ze veak, ya!
You vill not be able to stop us. Ve can beat you in so many vays. Ve can speed it up, ve can slow it down. Ve vill outrebound you, out block you, and out verk you. Ve. Are. Unstoppable.
Vhat's zhat you say? James Harden? Ve don't talk about him anymore. He is…dead to us. Now ve talk about Kevin Martin. He iz ze new alpha and omega. Yah.
Anyways, vhere vere ve? Oh right. DATE ME OR SUFFAH!
What I'm doing with my life
Carb loading, ya. VHERE CAN ONE GET GOOD SPATZLE IN ZHIS TOWN? Tell me NOW.
I'm really good at
CRUSHING YOU. And zhen impressing you viz my soft-spoken, thoughtful nature, ya.
Favorite books, movies, shows, music, and food
NO TIME TO READ. Zheez glasses have no lenzes in zhem, anyvays.
I spend a lot of time thinking about
Ze Miami Heat. Zhey may have von vonce, but nevah again. Beat me vonce? Shame on me. Beat me twice? PREPARE TO DIE.
The most private thing I'm willing to admit
The clock on zhis partnership is officially ticking. Ve have two seasons to put zhis together. Or ve vill be packing, perhaps.
You should message me if
YOU HAVE NO CHOICE BUT TO MESSAGE ZHIS ADONIS.