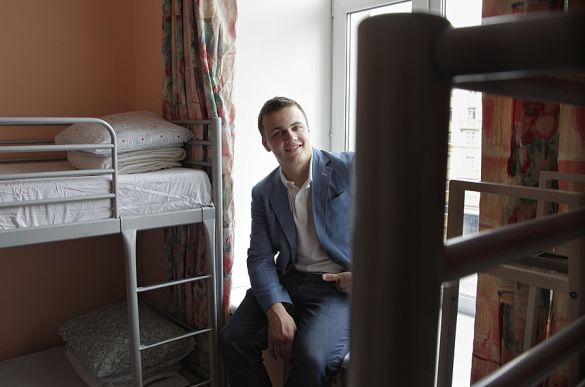 Details
Username
GLOBE_TROTTING_DINOSAUR
Location
The Universe
Age
24/M
Division
Atlantic
2011-12 Record
23-43
2011-12 Adjusted Record
29-53
2012-13 Predicted Record
32-50
Season Goal
Make new friends
My self-summary
The Toronto Raptors offer the best value for players, coaches and fans visiting the Toronto area, so come check us out! As the original NBA team in Toronto, we have always prided ourselves on our inclusiveness and worldly outlook. Of course, being so near America, we have a lot of American players, but we also have two Lithuanians, an Italian and a Spaniard. In the past we have had players from as far away as Brazil, Argentina and China. We even had the only Canadian head coach in the NBA!
Of course, as a professional NBA franchise, our amenities here at the Toronto Raptors are top notch. We play at the Air Canada Centre, a modern arena with striking art deco facades, conveniently located in downtown Toronto in the heart of all of the shopping, restaurants and entertainment White Vegas has to offer. And, of course, strip clubs.
For players we offer a top notch training staff, two extra large whirlpool baths, four sets of practice jerseys and unlimited athletic tape. Breakfast is also included with your contract.
FAQ
Q: What is the cancellation policy?
A: Up until your contract is signed you are free to leave Toronto with no penalty. Once your contract is assigned, we expect all players to show up to all games.
Q: What sets you apart from your competitors?
A: We are located in Canada, we have a DINOSAUR on the front of our jerseys.
Q: How do I know if you have availability?
A: LOL. We're the Toronto Raptors. We have availability.
Q: What if I am out, "exploring" Toronto, and I need condoms?
A: Jalen Rose will bring you some.
What I'm doing with my life
Scouring the globe for talent to make up for the competitive disadvantage of being located in Canada. Trying to convince stars that Canada's not THAT bad. Accepting travelers from all countries.
I'm really good at
Identifying and developing non-traditional bigs that are more comfortable outside the paint than inside. Perhaps it's unsurprising, but those bigs certainly don't know how to control rowdy guests.
Favorite books, movies, shows, music, and food
One of the features the Toronto Raptors is best known for is our take a book, leave a book corner of the locker room. Right now it is full of Robert Ludlum and a bunch of things in Portuguese that Leandro Barbosa left.
The six things I could never do without
Adventure, companionship, new experiences, spontaneity, camaraderie, sushi
I spend a lot of time thinking about
If Drake hadn't gotten shot and become wheelchair bound, could he have had a simultaneous career as a rapper and our starting point guard?
On a typical Friday night I am
Chatting on Skype with potential recruits in Africa and Southeast Asia.
The most private thing I am willing to admit
At times it seems like I'm less popular than the Toronto Argonauts.
You should message me if
You're more intrigued by players back stories than their abilities on the court, or if you want to see Jonas Valanciunas dunk on people's faces.