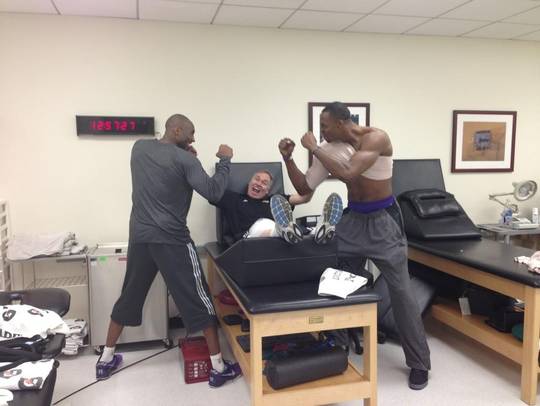 There is no nation that sends more people to work sick — and additionally, provides little to no support to those who are sick — than our beautiful United States of America.  The New York Times reports that more than 40 million American workers (about 40% of the workforce) get no paid sick leave, and instead must work when ill or worse, take unpaid sick days, which can lead to financial hardship or termination.  Additionally, the Huffington Post asserts that the weakened economy has played a considerable role in this, as sick days requests (and approvals) have dropped off by 50% since 2006, when the economy started to slip.  In all cases, workers fear being viewed as "fragile", "unreliable" or "dishonest" by coworkers and supervisors alike, and as a result, come to work (and perform essential duties) while they should be at home resting and recuperating.  This is part and parcel with the way things are done here; where efficiency and and rapidity are valued, and rest and relaxation are abhorred.
"Coming to work sick" — and failing to finish the day of work, in the end — has been a major theme for the Lakers this season.  By now you know their story: a checkbook team replete with (what people assumed were) Hall of Fame-quality veterans has been mired un underachievement and dysfunction since the regular season began, and now are languishing in the bottom half of the conference, looking up at nine different teams all trying to scrape and scratch their way into the playoffs.  If you've watched a minute of Lakers basketball this season (and considering how much they're on national television, it's fairly likely that you have), you've probably offered your opinion on what's ailing the Lakers.  You've probably focused on the team's fairly advanced age, meteoric expectations, and lack of a cohesive system.  You've looked at the three (!) different head coaches they've had this season, their revolving door at the 4, and their point-guard-by-committee offense.   There's been a lot to consider; even more to laugh at.
But if you've been paying attention, you're probably thinking the most about the injuries they've suffered throughout the season.  And frankly, in most cases, these haven't been laughing matters.  Starting point guard Steve Nash broke his leg and missed over 20 games at the beginning of the season; one of the major reasons the Lakers have not been able to fully recover from their 0-5 start.  Part-time starter (a line that deserves a post in itself) Pau Gasol has battled injuries all season, and will be laid up for the next six weeks (at a minimum) while he recovers from a torn plantar fascia in his foot.  Valuable backup forward Jordan Hill has already been lost for the season with hip issues, and reserves Antawn Jamison and Steve Blake have all missed stretches of time.  Health has played a key role in the comings-and-goings of the Lake Show, and though injuries affect all teams to some extent, they have played a public and prominent role in their delicious daily proceedings, for nearly every single one of the players on the Lakers' roster.
But health has played a particularly important role for the efficacy and credibility of Dwight Howard, the Laker's All Star (and free agent to-be) center.  Of course, Dwight is still recovering from the major back surgery he had in 2012 which caused him to miss about half of the (shortened) regular season and playoffs with the Magic, and big parts of training camp and preseason with the Lakers.  Additionally, he's been dealing with a torn labrum in his shoulder; an injury he re-aggravated last week, and hasn't played since.  This latest injury has not sat well with his teammates.  Reports came out late last night that Kobe Bryant had assumed the joint role of head doctor and chief motivator, and was going after Dwight and his injuries. "We don't have time for (Howard's shoulder) to heal," Bryant said Wednesday in an interview with ESPN's Jackie MacMullan. "We need some urgency."
Reading Kobe's statements about coming to work injured emphasizes an important point, not just about the Lakers this season, but about labor in America: dysfunction in the workplace takes many forms.  Harassment, coercion, blackmail and discrimination are all sad, tired features of the American workplace, and crimes against race, sex, religion and ability are frustratingly banal.  The worst workplaces are filled with negativity, distrust and unaccountability, where everyone feels vulnerable, and no one knows when the axe will drop.  The chain of command is unclear, no one really knows who's an ally and who's an enemy, and censorship and retaliation — probably the worst things that any individual employee can face — are normal tools employed by corrupt bosses.   These are the worst parts of the American workplace; the de facto and de jure institutions of rule that keep workers subjugated, and keep bosses in positions of enviable power.
If it wasn't abundantly clear, Kobe is the "boss" of the Lakers.  Sure, D'Antoni's the coach (sorta), Kupchak's the general manager, and Jimmy Buss is the steward (his Tommy Boy-style towards governance makes me hesitant to call him an "owner").  But the moment that Kobe was chosen over Shaquille O'Neal, and the moment when he became the highest paid player in the organization in league history, he was established as "boss" and "supervisor" of the Lakers.  It is he who makes sure the Lakers are doing what they should be doing, and adhering to the guidelines he has set out for the team.  Those who do what they're supposed to be doing avoid the boss's wrath, and may even receive faint praise.  Those who do not, suffer, and suffer mightily.
Making people work sick and/or injured, while at the same time, using tools like coercion, threats, blackmail and destructive criticism to ensure that they don't "fall out of line" again has long been a policy of Boss Kobe.  This makes sense; Kobe has been remarkably durable throughout his 17-year career, and has built a generally positive legacy based upon "toughing it out" and "playing injured", even though most studies have shown that Kobe and the Lakers play terribly when he's gutting it out.  If a player takes a long time coming back from an injury, Kobe notes it and judges.  If a player doesn't come all the way back, Kobe notes it and judges.  And if a player becomes re injured, and has to miss more time, Kobe notes it and judges.  It is a desperate workplace, run by a tyrannical, unloving supervisor.
One of my indelible images of Boss Kobe comes from a number of seasons back, when Andrew Bynum was still on the team.  They were playing the Memphis Grizzlies.  At the end of a routine play, Kobe falls down, and slides right into Bynum's knee.  Bynum, who had missed considerable time in the previous season with knee issues (and who continues to miss time due to his knees) immediately crumpled to the ground, grabbing his knee and screaming in pain and terror.  While other teammates (including a few Memphis Grizzlies) surround the shrieking Bynum, Kobe sits on the ground with a dour look on his face, cussing loudly and clapping his hands.  He doesn't get up to help Bynum.  He shows no compassion or concern.  Instead, you can almost read his mind: fuck this guy.  Fuck his knee.  Fuck his torn-ass ligaments.  Fuck his injuries.  Now we're going to lose games.  This is what it's like working under Boss Kobe.  These are his expectations: pristine health when possible, gutting it out when not.   He embodies all of the worst aspects of bosses in America, and is perhaps the biggest reason no one likes working for the Lakers this year.  His workplace is dysfunctional, and personal health and contentment is not taken seriously.  Because of these reasons, the Lakers are terrible.
For his part, Dwight has been cold but calm as he discusses his recovery from his shoulder, and how Kobe is dealing with it.  "Kobe's not a doctor," Dwight said this morning.  "I'm not a doctor." I can't believe I'm saying this, but, you go, Dwight.  You go, man.  You're absolutely right.  It's a shame more people aren't listening, or seeing the signs written brazenly upon walls throughout the Los Angeles metropolitan area.