Diss Guys: Sacramento Kings Fans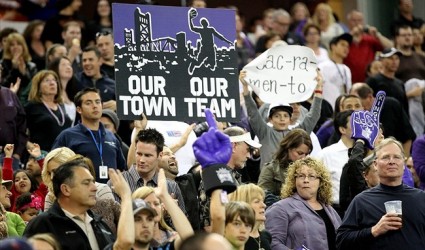 Depending upon which source you believe, a deal to sell (and subsequently move) the Sacramento Kings to a group of investors from the Seattle area is either a done deal, or the two parties haven't talked about it in months. We still don't know exactly how this is all going to end up, but we do know that there's about a 99% chance that it ends poorly for Sacramento Kings fans. And that's a shame, because Kings fans are great.
People who have never been to Sacramento like to dismiss it as California's version of a flyover state. They like to assert Seattle's, or any other city's, cultural superiority over the Kings as a reason to move the team. I mean, who cares if those weirdo California rednecks lose their team? I care, and I don't even like the city of Sacramento.
I have been to Sacramento many times in my life, and don't particularly like the city, but that has nothing to do with whether they deserve to have an NBA franchise. Because they do. Like Portland and Salt Lake City, Sacramento is a one team town, and they love their Kings. Arco Arena sold out almost every single game during a ten year stretch spanning the late 1990s to mid 2000s, and rivaled Oracle Arena and the Rose Garden for loudest arenas in the league. Even in the last few years, as relocation rumors swirled around the some terribly run Kings teams, attendance didn't sink to the level of teams like the Pistons, Nets and Hawks. Kings fans show up, and Kings fans show up loudly.
Now, Seattle is one of the Diss' favorite cities, and they deserve an NBA team. When they eventually do get a team, we will cheer for our friends and family that live in Seattle, and for the righting of a wrong perpetrated by Clay Bennett and the NBA. But if Sacramento does lose their Kings, like it looks like they will, we will all be worse off for it.
-KD
Miss Guy: Joel Freeland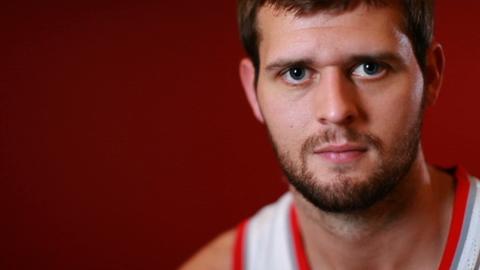 Way back when, in a magical year called 2011, a bunch of millionaires and billionaires couldn't figure out how to split up a multi-billion dollar revenue pie fairly, so they shut down the NBA until they could figure a way everyone could get rich happily.  It wasn't too much fun, and basketball aficionados everywhere were tasked with finding alternative ways to get their fix.  Some turned to the college game (bleh), some might've turned to high school (weird).  But the hardy few — or, those who had ESPN3 — went with the best option: Euroleague.  Though it was no National Basketball Association, I was still hooked pretty quickly.
For three months, I totally suspended reality, and pretended that I had a lifelong association with Euroleague.  I began to form allegiances with teams that I had never heard of, and players who were complete mysteries.  I really grew to love Nikola Pekovic on Partizan Belgrade, and I thought Sergio Llull and Victor Claver made a great duo on Real Madrid.  It was like the soccer tournament I never had any interest in watching, replete with catchy chants, raucous gyms and lots and lots of ads on the jerseys.
One of my favorite players was this big white dude (there are lots of big white dudes in Euroleague) named Joel Freeland.  Freeland, who hailed from Surrey, England, was the best player on Unicaja Malaga, based in Spain.  Freeland manned the pivot ably; a mobile center who could bang effectively down low, but still step out and hit jumpers.  He wasn't a bad defender as well, and clearly, most of everything that Unicaja did was run through Freeland.  He was the only player on Unicaja (besides Fran Vasquez) who looked like an NBA player in the flesh.  When watching the Euroleague, I thought I saw a valuable bench player in the mold of Marcin Gortat circa 2009 — a change of pace center that could maybe snag a starting job once he became an unrestricted free agent.  So, I was excited to learn that Freeland, after much bluster, was finally coming to the NBA to be exactly what I thought he should be: a backup center with the Portland Trail Blazers, who had owned his draft rights for years.
So, how's it been going?  Well, bad.  Very bad.  I didn't expect Freeland to come in and make people up in PDX forget that that whole Greg Oden thing didn't really work out, but I also didn't expect him to come in and make people miss efficient backup legends like Jeff Pendergraph or Joel Pryzbilla as much as they probably do right now.  Freeland has been one of the worst players on the team — nay, the league — since he arrived in the states.  He arrived out of shape to camp, and wasn't game ready when the season began.  Since then, he's had a hard time cracking the rotation, though he's not doing a lot to earn a permanent spot.  On the season, he's averaging 2.6 ppg and 2.3 rpg in just about 10 mpg.  He's gotten into about half of the games available to him, and when he's in, he's just not very good, a plus-minus average of about -2 when he's on the floor.  He's spent some time in the D-League (something his agent was none too pleased about) and still is playing as unimportant a role as can be in the worst scoring bench in the NBA (17.6 ppg, good for dead last).  Last night, in a nationally televised win against the Heat, Freeland was a no-show, logging 0 points, 3 rebounds and 2 fouls in seven heart-stopping minutes of play.
So, I was wrong about my lockout hero.  But hey, when my man Bo McCalebb gets here: watch out!
- JG